Tortilla wraps are very useful to have on hand as there are very versatile and you can create all sorts of different dishes using them.  The sauce mixture would actually fill 12 tortillas, but I chose, mainly because of the size of my casserole dish, to make 8 and serve the rest as a sauce on the side. Serve one each as an entree or two each for a main course.
Fenugreek, commonly known as methi, is one of the most widely used ingredients in Indian cooking but also works very well in this Mexican-inspired recipe. It has a distinct aroma and flavour and a host of health-beneficial properties. Fenugreek is used in many forms – the amber coloured seeds and dried leaves (kasoori methi) to ground powder and garden fresh saag, fenugreek is a very versatile ingredient to have on hand.
This recipe uses my Mexican Spice Mix, which I make in bulk to have on hand for other dishes – just mix the following together and keep in an airtight container and use as required:
2 tablespoons ground cumin
2 tablespoons ground coriander
2 tablespoons paprika
2 teaspoons dried oregano flakes
1 teaspoon chilli powder
1 teaspoon cinnamon
1 teaspoon cloves
1 teaspoon allspice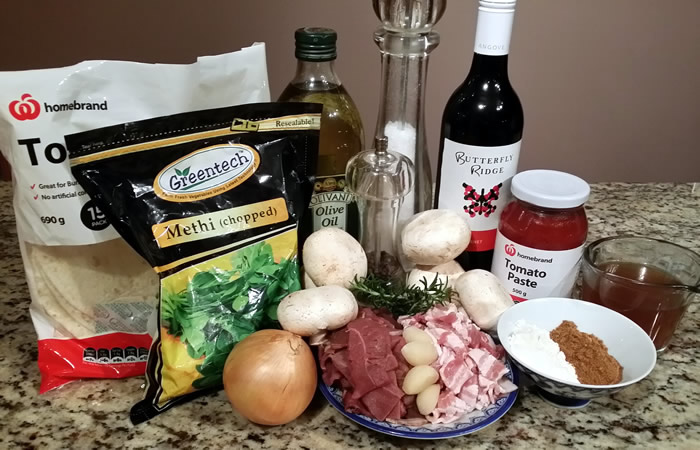 Baked Beef, Bacon and Mushroom Tortillas
(8 entree or 4 main course servings)
2 tablespoons olive oil
1 onion (sliced)
4  cloves garlic (crushed)
Few sprigs fresh rosemary (chopped)
250 grams mushrooms (sliced)
150 grams streaky bacon (chopped)
250 grams beef (thinly sliced)
Freshly ground black pepper
1 tablespoon flour
1 tablespoon Mexican Spice Mix (recipe above)
310 grams frozen methi (partially thawed)
100 ml red wine
1 cup beef stock
2 tablespoons tomato paste
8 tortillas
8 heaped teaspoons lite cream cheese
16 tablespoons grated Edam cheese
Heat oil in a large fry pan and gently fry, until translucent, the onions, garlic and rosemary.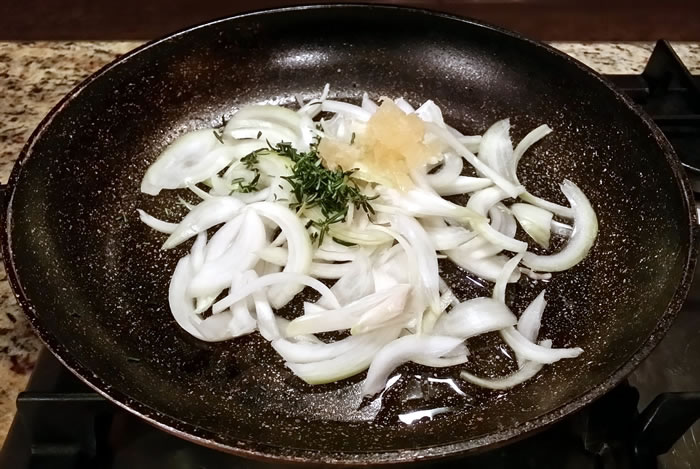 Add the mushrooms, bacon and a good grinding of pepper and continue to fry gently for a further 10 minutes.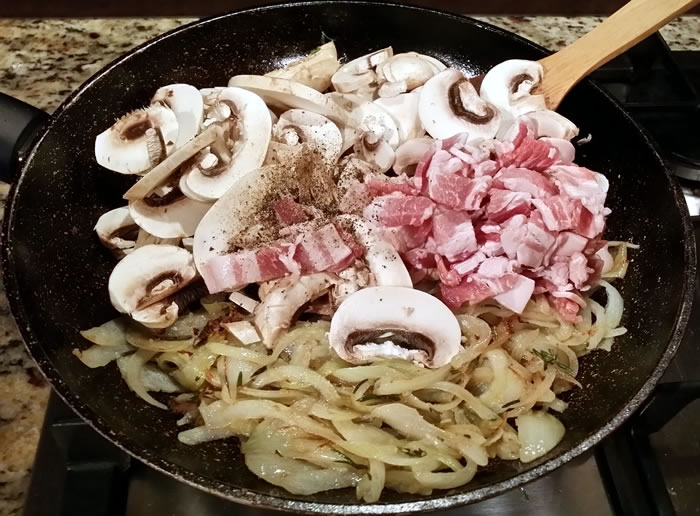 Shake the beef in a bag with the flour, Mexican spice mix and salt to taste and add it all to the pan and stir-fry gently until the meat is coloured.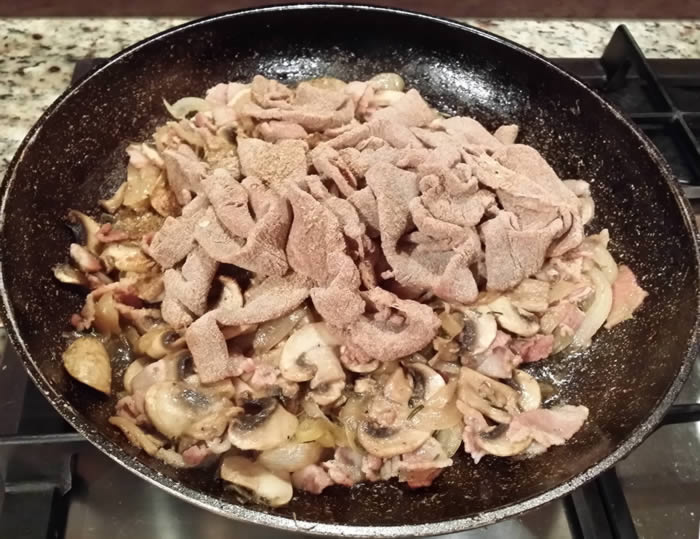 Add the red wine, stock, tomato paste and methi to the pan.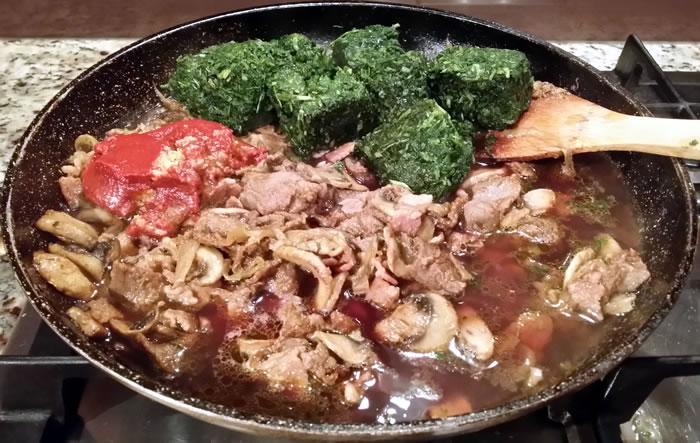 Stir until the sauce is thickened and the methi blended through.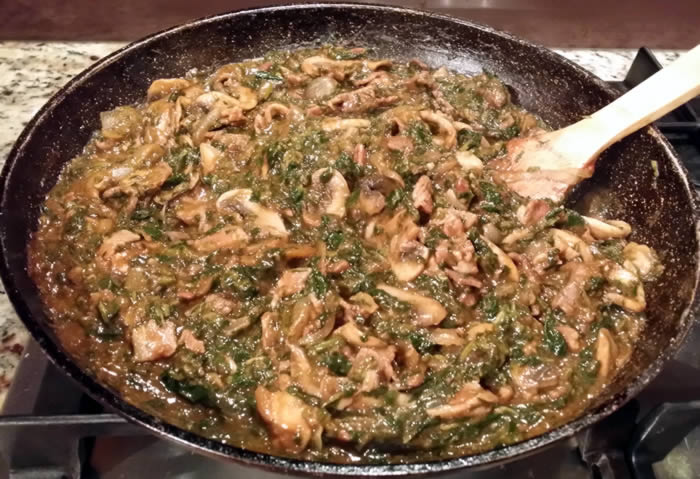 Lay 8 tortillas out on a large, clean surface and spread one teaspoon of cream cheese on each, then top with 2 tablespoons of grated cheese each and a good dollop of the mixture from the fry pan.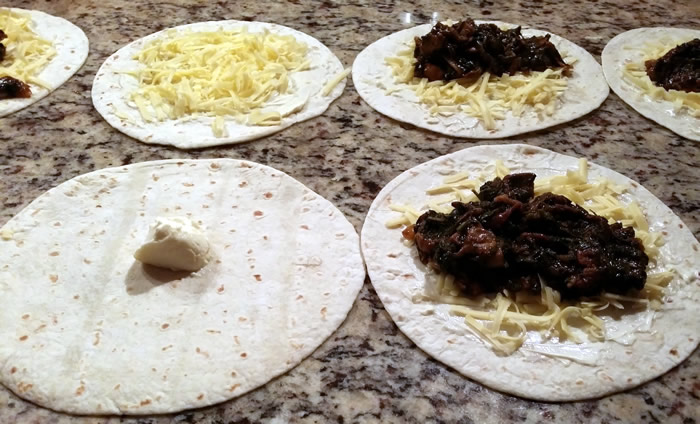 Spread remaining meat sauce on the bottom of a large oblong, greased casserole dish, then roll up each tortilla and place on top of the sauce.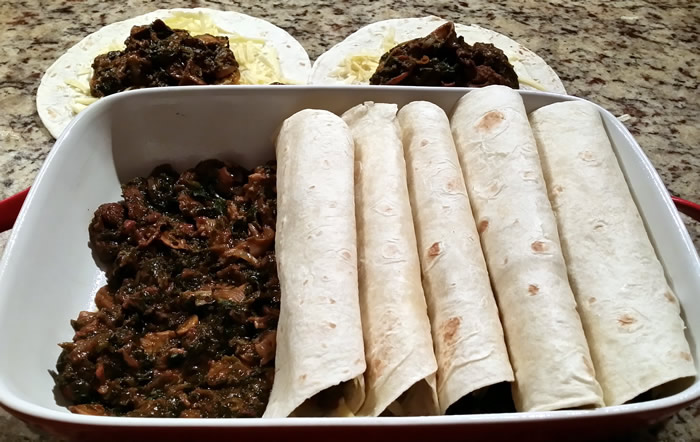 Spray tortillas with olive oil and bake at 200° C for 15 minutes.
Serve immediately with a little of the sauce from the bottom of the casserole and a dressed green salad.