Tarragon, mustard and vermouth make a wonderful sauce combination and perfect when paired with chicken and mushrooms!
If you don't have vermouth, you could substitute this with wine, but I do like the unique flavour of the vermouth in this dish.
Tarragon is a perennial herb of the sunflower family and French tarragon is superior to Russian tarragon for culinary purposes, so look for French if you decide to grow your own as I do. A popular and versatile herb, tarragon has an intense flavour that's a unique mix of sweet aniseed and mild vanilla. The leaves are narrow, tapering and slightly floppy, growing from a long, slender stem. It's a key herb in French cuisine (an essential ingredient in Bernaise sauce), and goes very well with chicken, cheese and eggs. In this recipe I have used a combination of fresh tarragon leaves and dried tarragon flakes to achieve a more intense tarragon flavour.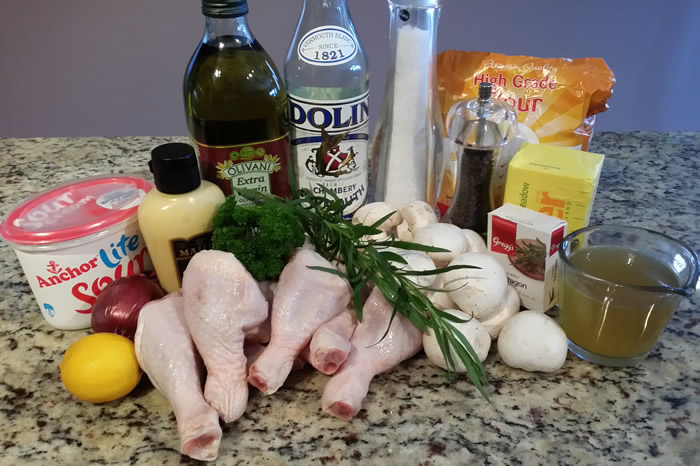 Chicken Drums in Tarragon Mustard Sauce
(Serve 4)
30 grams butter
1 tablespoon olive oil
1.25kg chicken drumsticks
2 tablespoon flour (or gluten free alternative)
1 teaspoon each freshly ground salt & black pepper
2 heaped teaspoons dried tarragon flakes
1 red onion (sliced)
400 grams mushrooms (sliced)
Juice of 1 lemon
1 heaped teaspoon Dijon mustard
300 mls chicken stock
3 tablespoons vermouth
1 heaped tablespoon fresh tarragon leaves + 4 sprigs for garnish
1 heaped tablespoon finely chopped parsley
2 tablespoons lite sour cream
Put the flour, tarragon flakes, salt and pepper in a plastic bag with the chicken and shake to thorough coat the chicken.  Set aside remaining flour mixture.
Heat the butter and oil in a large fry pan and brown the chicken on one side.
Turn, add the onions and brown other side of chicken drumsticks.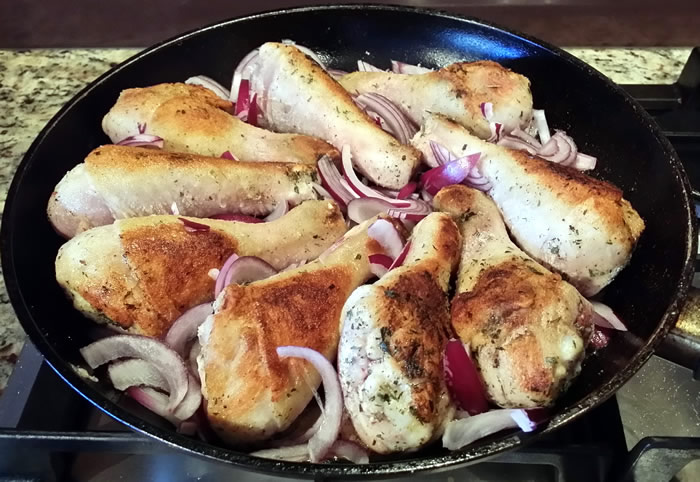 Sprinkle remaining flour mixture over the chicken and onions and stir through.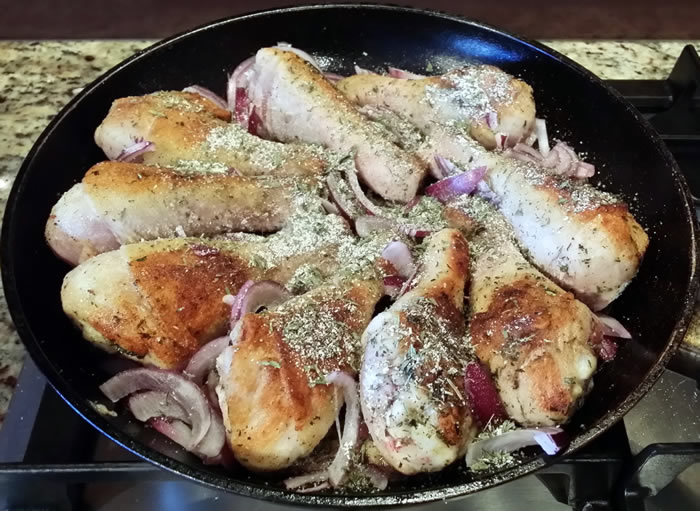 Add mushrooms and mustard and stir through.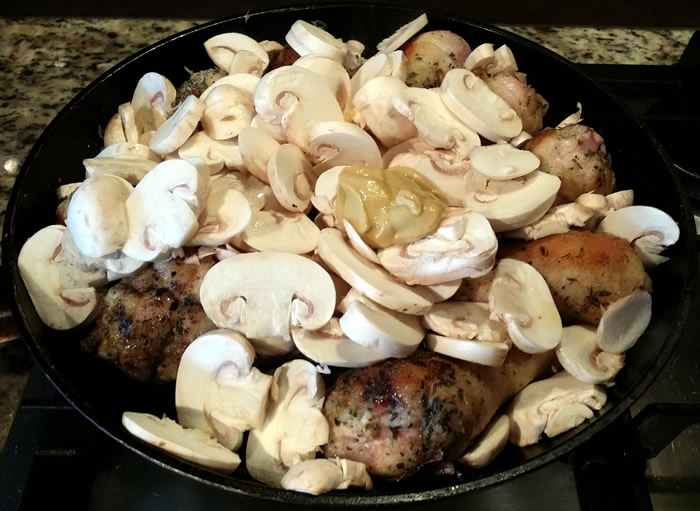 Add lemon juice, vermouth and stock to the pan and stir constantly until sauce thickens then simmer gently for 20 minutes, turning chicken a couple of times.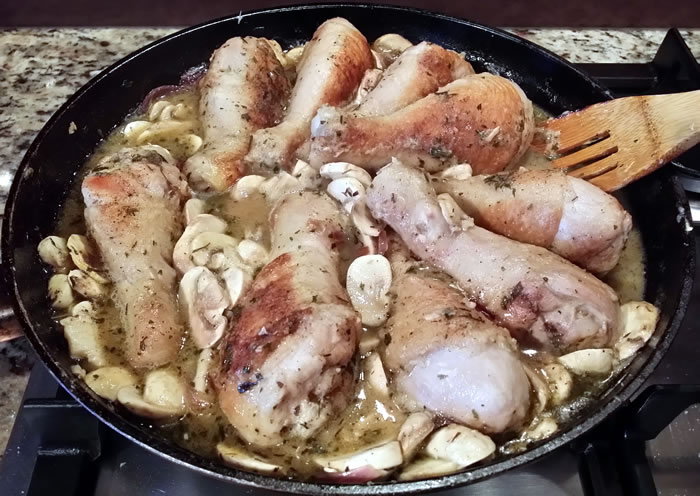 Lastly add the fresh herbs and sour cream and stir through chicken and sauce.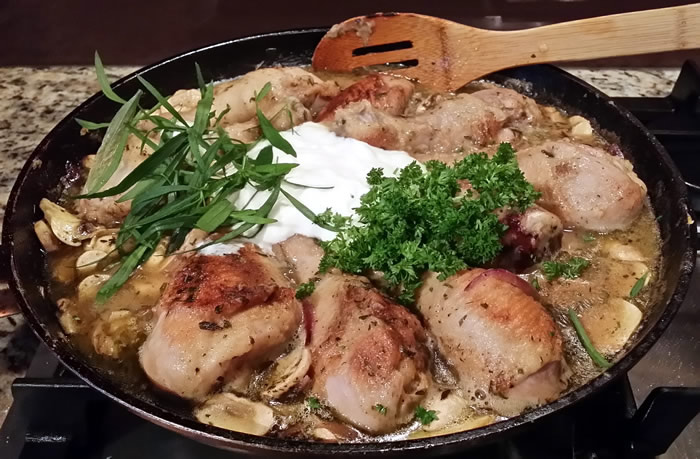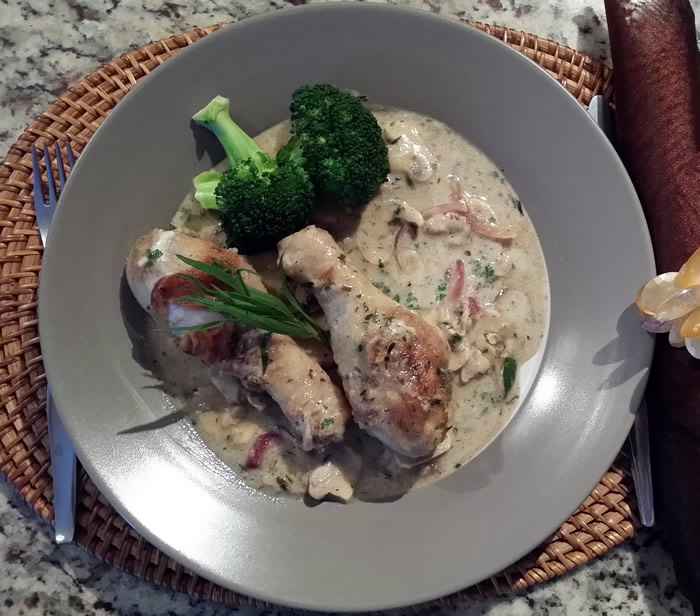 Serve immediately garnished with a sprig of tarragon