Quesadillas originated in Mexico and are made with wheat or corn tortillas filled with cheese and savoury vegetables (and chicken or beef) which are cooked on a grill, or in this recipe pan-fried and folded to form a half-moon shape. I have used wheat tortillas from Countdown (15 for $4) which makes this a very economical meal. If you want this meal to be gluten free, use corn tortillas.
Smoked chicken could be substituted with cooked, shredded roast chicken, or chicken mince or beef mince could be used, but will need to be cooked for longer.  Replace the chicken with kidney beans and corn kernels to make delicious vegetarian quesadillas.
I have used Edam cheese (which has 25% less fat than other popular cheeses) and light cream cheese to make these quesadillas as healthy as possible.
When it comes to frying the tortillas, you may want to have two fry pans "going" to reduce the cooking time, then just keep completed quesadillas warm in the oven until you have finished cooking them all.
Quesadillas are often served with rice, guacamole, sour cream, chilli sauce and lettuce salad, but for a lighter option I have just served them with dressed green salad leaves.
(Since originally posting this recipe, I have made it again adding chopped mushrooms to the onions before adding the chicken etc. and it was a delicious filling combination in the quesadillas)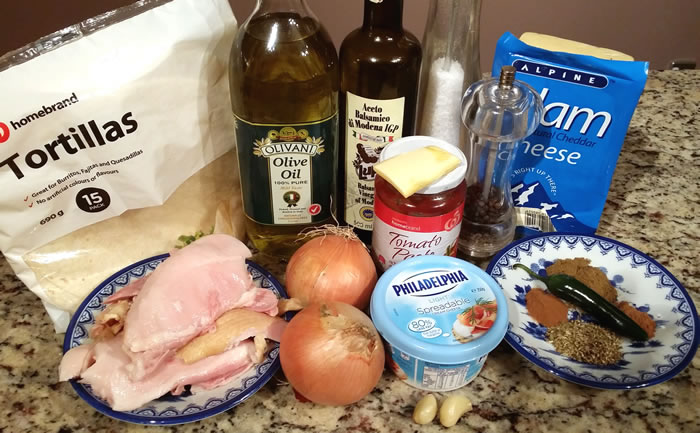 Caramelised Onion & Smoked Chicken Quesadillas (8)
(8 servings for light meal or entree / 4 servings for main meal)
3 tablespoons olive oil (plus extra for frying tortillas)
2 onions (sliced)
2 cloves garlic (crushed)
1 green chilli (finely chopped)
1 teaspoon cumin
½ teaspoon ground cloves
½ teaspoon ground cinnamon
½ teaspoon dried oregano
Freshly ground salt & black pepper
2 tablespoons balsamic vinegar
100 mls red wine (not pictured, but necessary)
2 tablespoons tomato paste
400 grams smoked chicken (chopped)
8 dessertspoons Lite spreadable cream cheese
4 cups grated Edam cheese
8 tortillas
8 small knobs butter
Heat oil in a large fry pan and add onions, garlic, chilli, herbs, spices, salt land pepper and fry gently until translucent.
Add vinegar and wine to pan and simmer gently, stirring regularly, until onions caramelise and liquid is well reduced.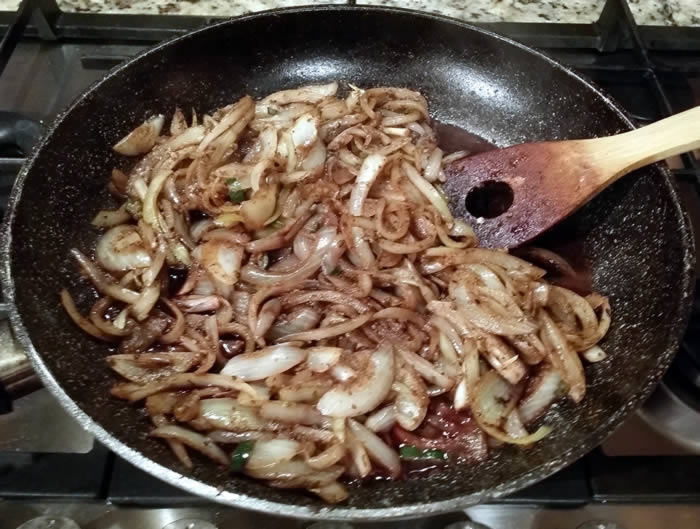 Add chicken and tomato paste to pan and mix with onions until heated through. Remove from pan, set aside and keep warm. Clean pan to use for frying tortillas.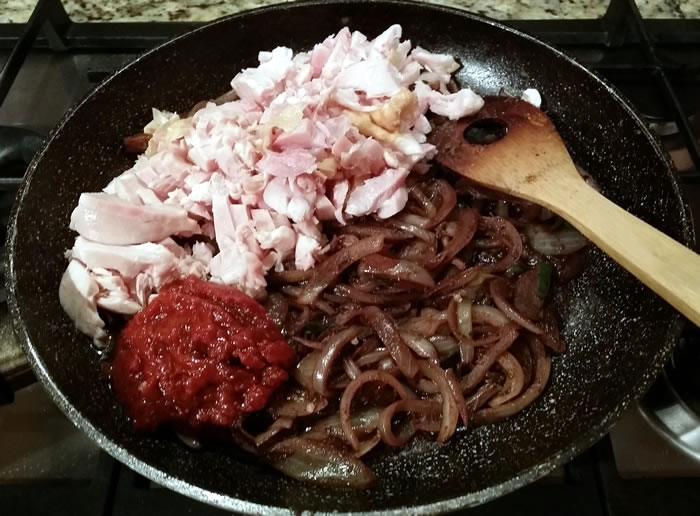 Spread one spoon of cream cheese on each tortilla then sprinkle with ½ cup cheese.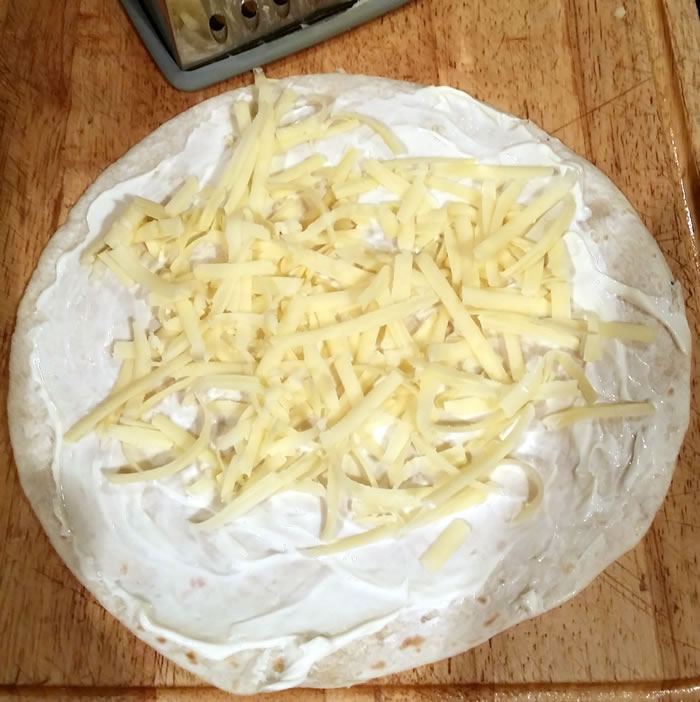 Heat a little oil and knob of butter in the fry pan and add the tortilla.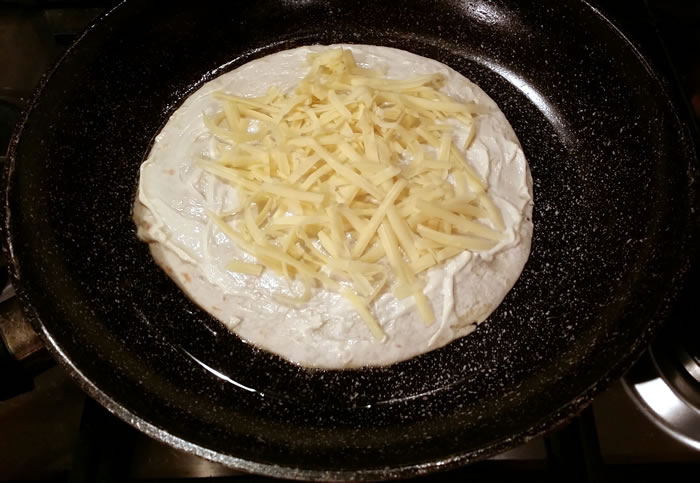 Top half the tortilla with 1/8th of the onion mixture and gently fry until the cheese is melted and the tortilla browned.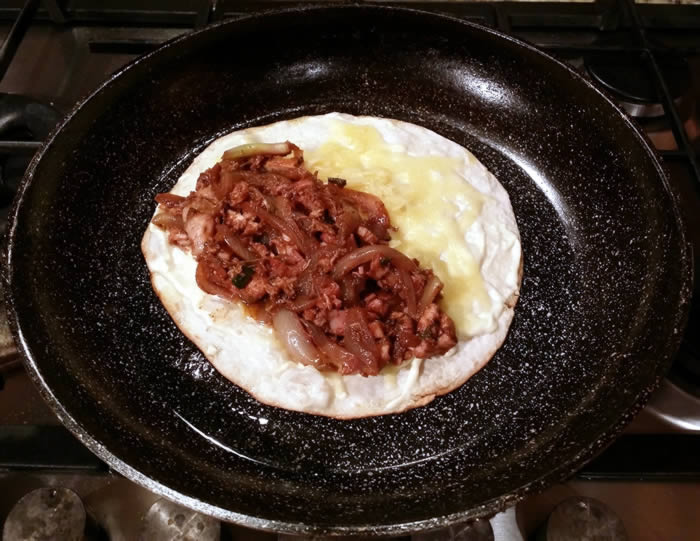 Fold in half, put aside (keeping warm) and repeat with remaining 7 tortillas.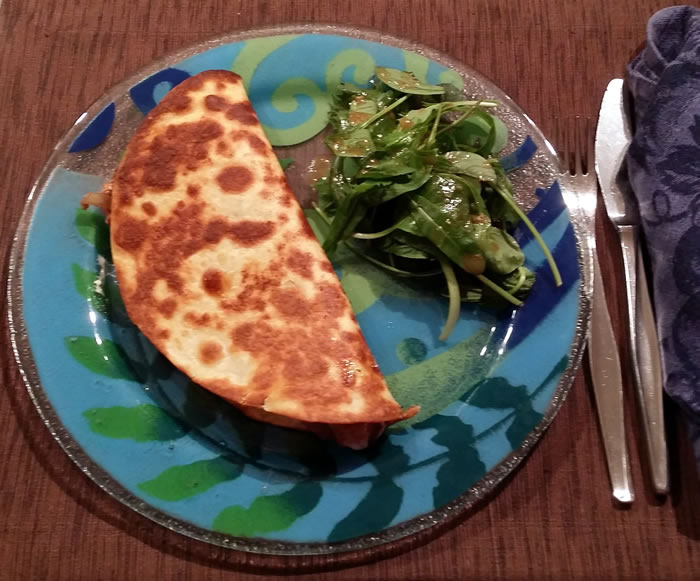 To serve, either keep it simple or do the whole Mexican feast (see suggestions above)