I've  called this Shawarma "Style" Chicken because shawarma, which actually means turning, refers to stacks of thin slices of meat, spice-marinated, on a vertical spit. The spices used in this recipe closely resemble the wonderful flavour of authentic Middle Eastern shawarma and could also be used to marinate lamb or beef.
I halved the amount of chicken when I made and photographed this recipe and have stored the other half of the marinade in the fridge for use again in a few days.
The marinade is quite spicy, so I used a mild curry powder, but if you like it "hot", you can use a medium or hot curry powder.
There is a fine line between under and over-cooked chicken, so if you find when you slice it that it is still slightly pink, just put it in the microwave for a minute or two – this way your chicken will be cooked through, but not dried out. This chicken is perfect for cooking on the barbecue, but as it is the middle of winter, this was not an option for me.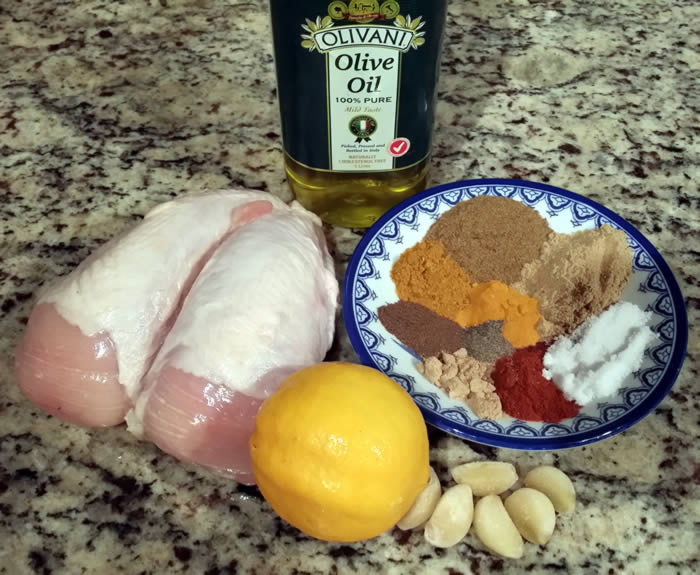 Shawarma Style Chicken
(8 servings)
1.5 kg boneless chicken breast (skin on – cut into 8 pieces)
1 tsp curry powder
1 tsp paprika
1 tablespoon ground cumin
1 tablespoon ground coriander
1 teaspoon ground turmeric
½ teaspoon chilli powder
1 teaspoon ground black pepper
½ teaspoon ground ginger
1 teaspoon ground allspice
1 teaspoon salt
6 cloves garlic (crushed)
Grated zest and juice of 1 lemon
3 tablespoons olive oil
Mix together all the marinade ingredients and rub all over chicken pieces. Set aside to marinate for at least 30 minutes or overnight if preferred.
Heat up a fry pan sprayed with cooking oil and add chicken pieces, skin side down.  Fry on medium heat for 8 – 10 minutes each side, until nicely browned and cooked right through.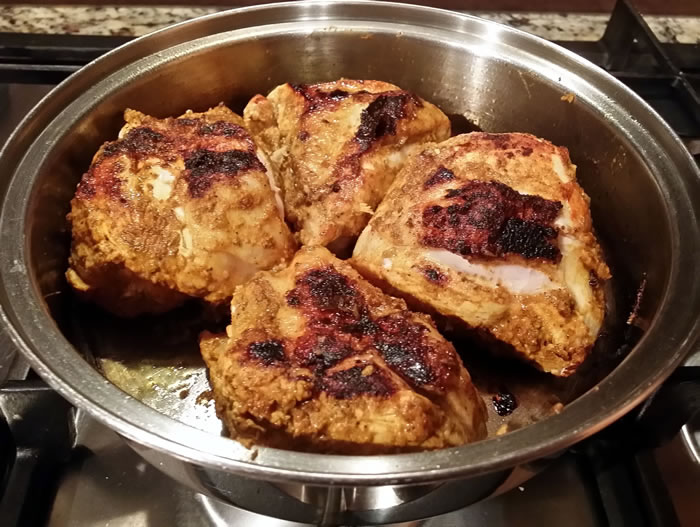 Remove from pan and slice thickly.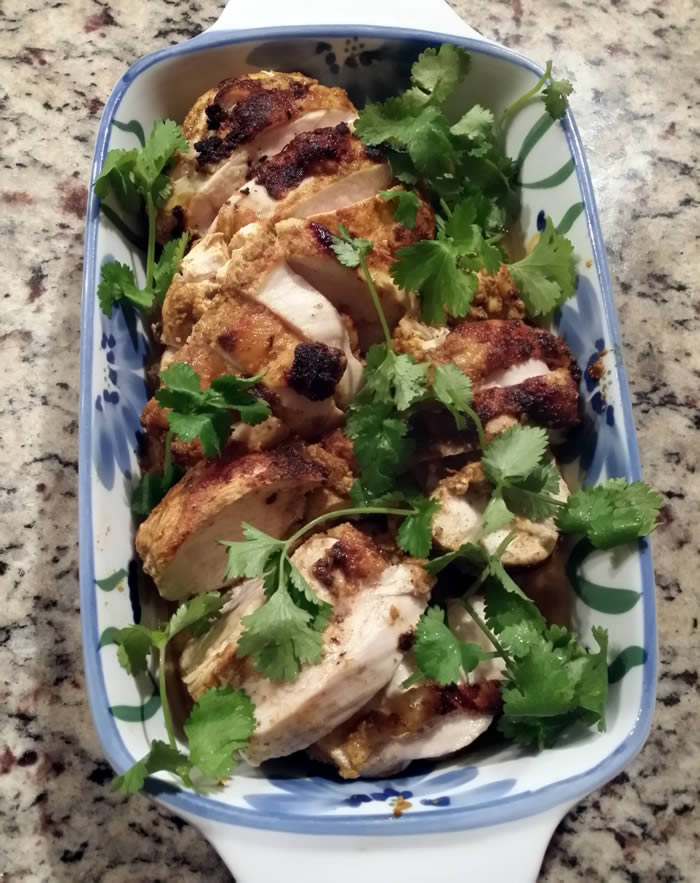 Garnish with fresh coriander or Italian parsley and serve with Lebanese bread or spicy mash (Middle Eastern accompaniments like hummus, tahini etc. would also go well)
A perfect match served with Kohlrabi Mash >>>>