I used frozen whiting fillets for this dish, but any small, firm white fish fillets will work just as well. Use snap frozen mussels or better still buy them fresh in the shell, steam in a large pot with a little water in the bottom until they open, then remove from shell (discard any mussels that don't open once steamed). The mussels I used were very large and I cut each one into three as I did with the fish fillets. If you are using small mussels, leave them whole.  My chilli powder is very hot, so 1/2 a teaspoon gives this dish just the right amount of "heat" for me – just add more or less to make it right for you.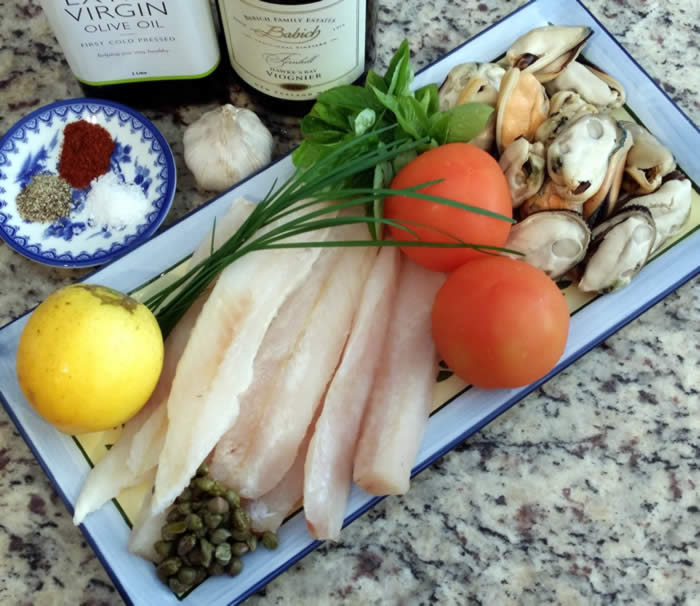 Baked Fish & Mussel Casserole
(Serves 4)
8 small fish fillets (cut into large chunks)
20 large mussels (double quantity if using little ones)
2 large tomatoes (diced)
Basil & chives (handful of each chopped)
2 cloves garlic (crushed)
1/2 teaspoon chilli powder
1/2 teaspoon each freshly ground salt & pepper
1/2 lemon (grated zest and juice)
1/2 cup dry white wine
1 heaped tablespoon capers
2 tablespoons olive oil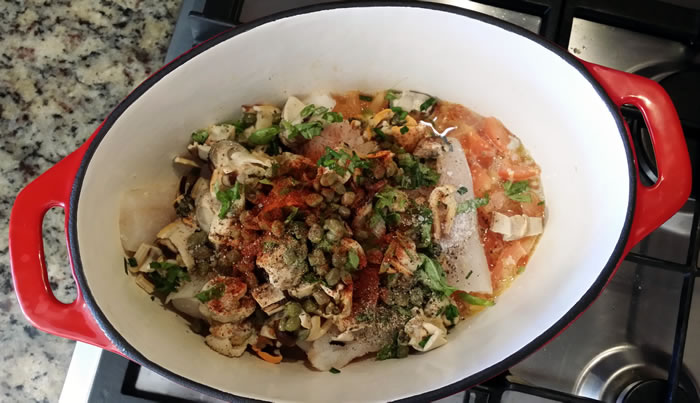 Using a stove top to oven skillet or casserole, heat the olive oil and gently fry the garlic, add chilli powder, salt & pepper and lemon zest and fry for a couple of minutes, then add the wine, tomatoes and lemon juice until heated through.  Add the fish, mussels, herbs and capers and stir gently through.  Transfer to the oven and bake uncovered at 210°C for 8 minutes.  Serve immediately in large bowls and season to taste.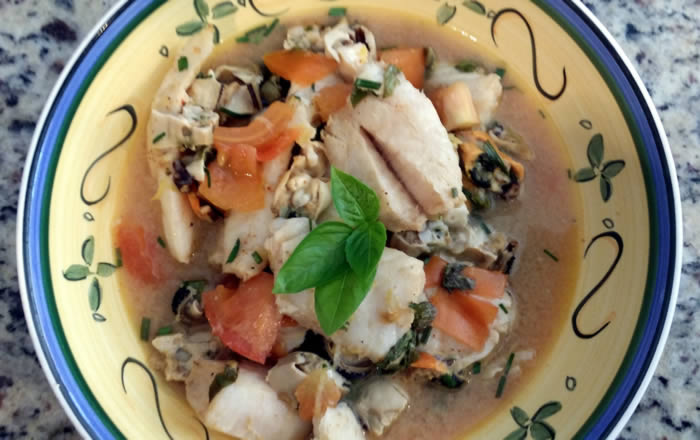 You'll need to serve with spoons as well as forks and plenty of crusty french bread or ciabatta to soak up the delicious soup. Perfect lunch dish or light evening meal.