Wikipedia says "Steak Diane is an American dish of a pan-fried beefsteak with a sauce made from the seasoned pan juices, generally prepared in restaurants tableside, and flambéed. It was popular in the middle of the 20th century but was considered dated by 1980." Dated it may be, but for me a great sauce doesn't date, so I hope you enjoy my interpretation of Steak Diane and make sure your guests get to see you set the pan on fire!
In classic Steak Diane recipes, the steak is generally cut thin, or pounded thin and to be honest I do prefer a thick steak, so just choose the steak cut and thickness that you like best (you may have to adjust the cooking time if your steak is very thin or very thick) and combine it with the sauce and you won't be disappointed. This sauce will work well with any tender cut of steak.
I've put "Serves 2-4″ on this recipe, but there is really enough sauce for 4 steaks (I skipped the carbs – potatoes/rice and had a double quantity of sauce on each steak instead)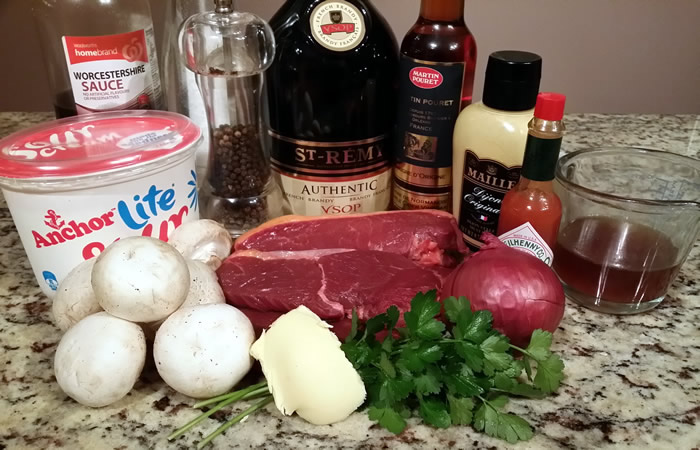 The Best Steak Diane
(Serves 2-4)
1 tablespoon butter
2/4 steaks (200 – 250 grams each liberally seasoned with freshly ground salt & pepper)
1 red onion (chopped finely)
2 cloves garlic (crushed)
¼ cup brandy
6 button mushrooms (sliced)
Few drops Tabasco sauce
1 tablespoon apple cider vinegar
150 ml good quality beef stock
2 teaspoons worcestershire sauce
2 teaspoons Dijon mustard
2 tablespoons lite sour cream
Small bunch Italian parsley (chopped + some for garnish)
Heat butter until smoking hot, add steak and sear for 30 seconds each side. Remove steak from pan and set aside keeping warm.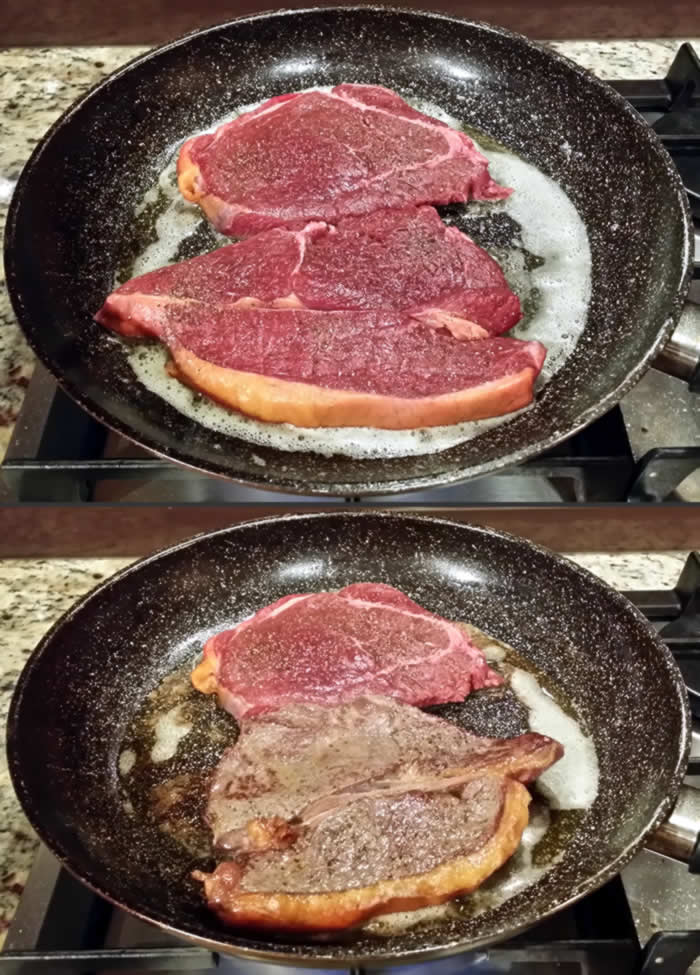 Turn heat down and add onions and garlic and simmer until transparent for about 5 minutes.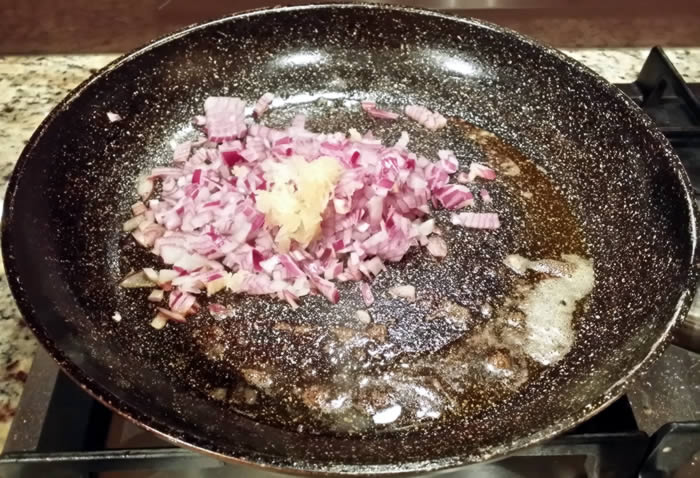 Add brandy to pan, set alight and allow to burn off.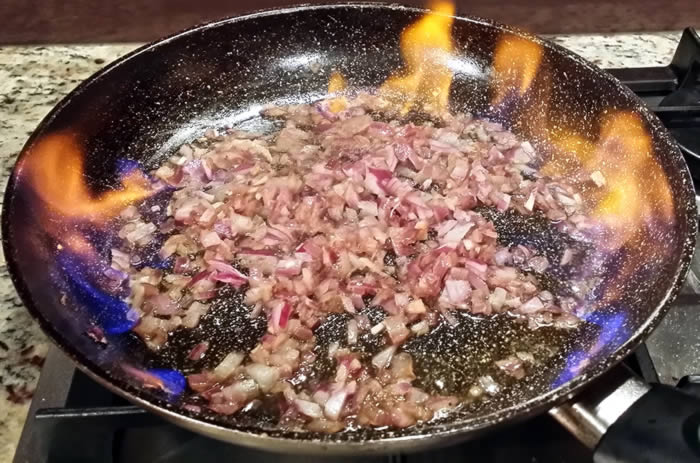 Add mushrooms to the pan and simmer for 5 minutes, stirring through onion mixture.
Add tabasco, vinegar, stock, worcestershire sauce and mustard and simmer together for 10 minutes.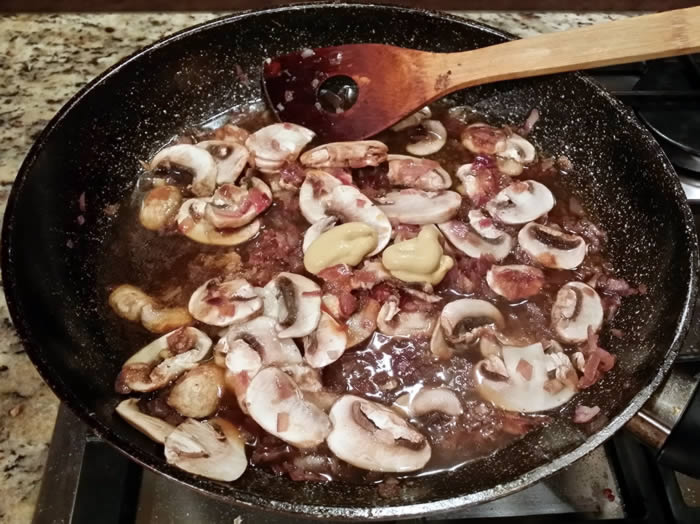 Add sour cream and parsley and stir through and season with salt & pepper if required.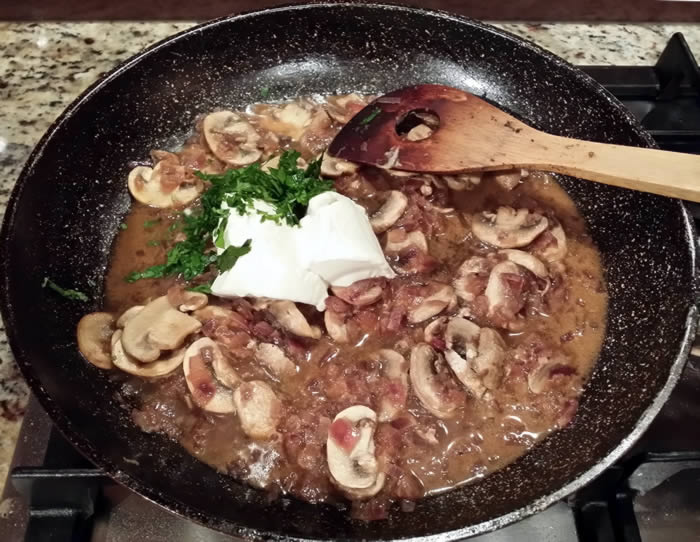 Put steak back into sauce and simmer gently for 5 – 10 minutes until steak is medium rare.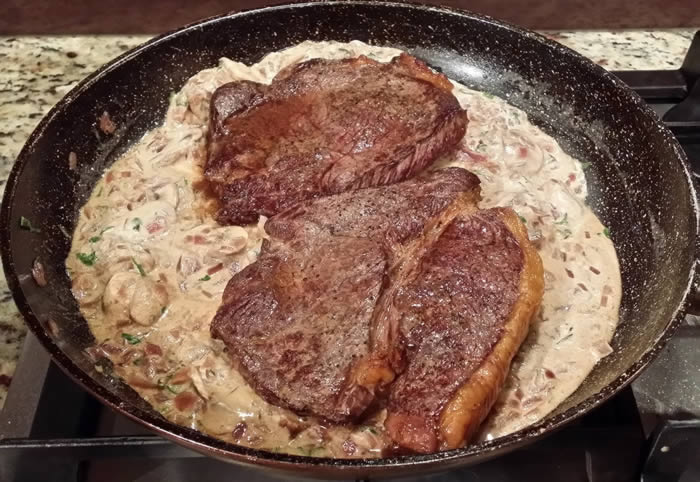 It looks nicer when you serve it if the sauce hasn't been smothered on the steak before serving.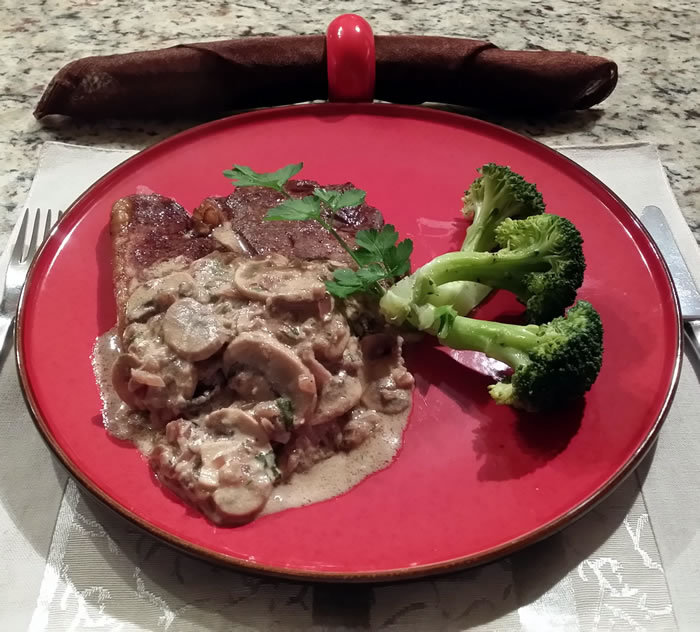 Garnish with parsley and serve with green vegetable or salad (and potatoes or rice).