There's a knack to cooking chicken breast and it's a fine line between too pink and overcooked and dry, but follow this recipe and your chicken will be perfect! I've used one large chicken breast and sliced it into two for cooking, then sliced each piece in 10mm slices for serving. (TIP: once cooked, make one slice in the thickest part first to check that it is cooked through and if not just pop it in the microwave for a minute or two while you finish off the sauce).
Adding a little butter to the oil for frying helps make the chicken skin perfectly crispy and brown and really brings out the flavour. Always cook the skin side first.
Whether you are into martinis or not, I recommend having a bottle of vermouth on hand, if just for cooking alone, but if you don't have any, you could substitute it with an aromatic wine. Vermouth is an aromatised wine, a type of fortified wine flavoured with various botanicals. The modern versions of the beverage were first produced in the mid to late 18th century in Turin, Italy.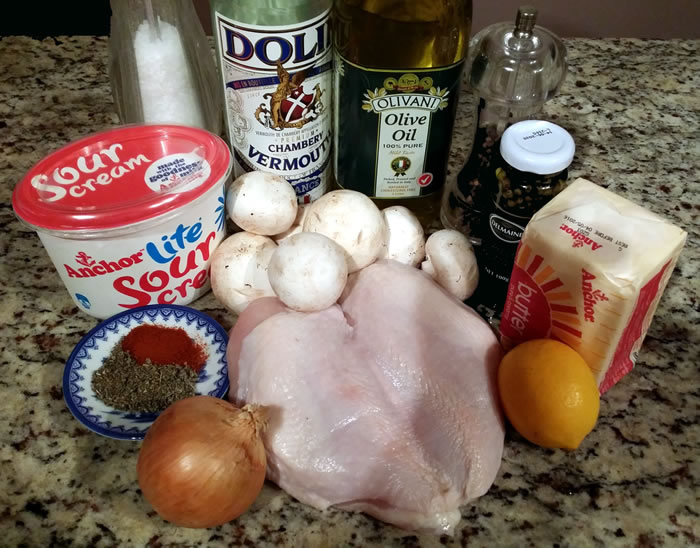 Chicken Breast in Vermouth, Sage & Mushroom Sauce
(Serves 4)
2 tablespoons olive oil
1 tablespoon butter
800 grams chicken breast (skin on – rubbed over with olive oil – seasoned with freshly ground salt & pepper)
1 onion (chopped)
1 heaped teaspoon smoked paprika (+ extra for garnish)
1 heaped teaspoon dried rubbed sage
1 teaspoon each freshly ground salt & pepper (+ extra for garnish)
250 grams button mushrooms (sliced)
1 lemon (finely grated zest and juice)
125 mls Vermouth
2 heaped tablespoons lite sour cream
2 heaped tablespoons capers
Heat butter and oil in a large frypan until sizzling.  Add chicken, skin side down and fry for 10 minutes.  Turn chicken and add onions, paprika, sage and pepper and fry gently for 10 minutes,
Add mushrooms, lemon zest and vermouth and stir through between chicken pieces, cover and simmer for 10 minutes.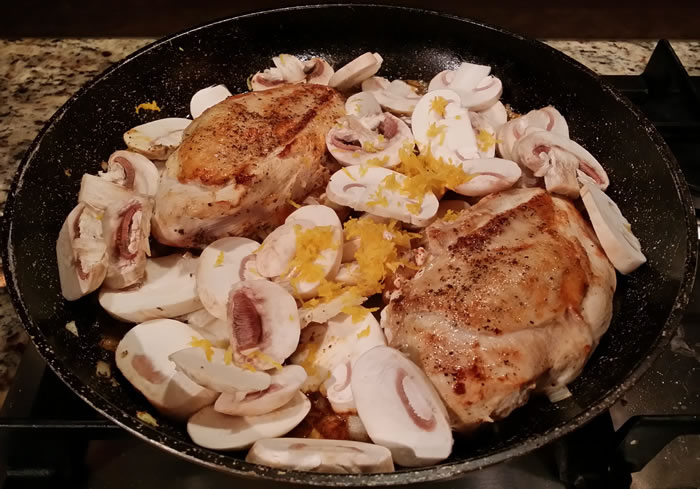 Remove chicken from pan, slice, cover and keep warm.  Add lemon juice and salt to sauce and simmer briskly for 5 minutes, then add sour cream and capers and stir through until heated.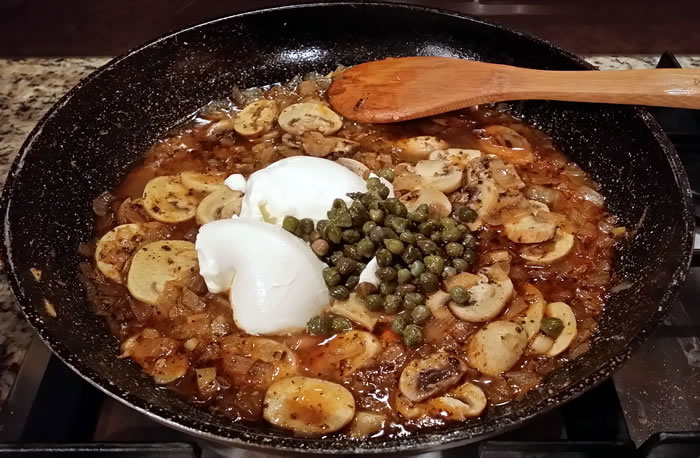 Either individually plate up chicken, or if making for larger numbers, arrange on a large plate for table self-serving.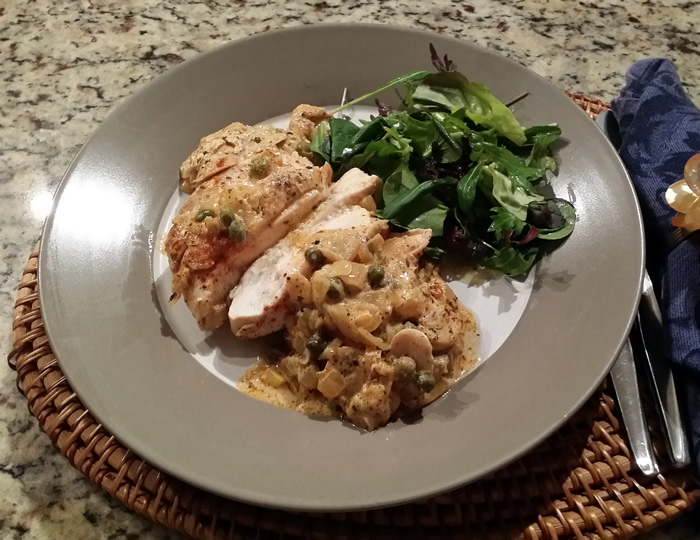 Garnish with a grinding of pepper and sprinkle of paprika and serve with salad or vegetables and potatoes, couscous or rice.