This stir fry is quick and easy, very healthy and tastes like the "real thing" … authentic Chinese!
Water chestnuts remain crunchy, even after cooking, so give the dish an interesting texture. Nutritionally, water chestnuts provide 10% each of the daily recommended value in vitamin B6, potassium (350 to 360 mg per ½ cup), copper, riboflavin, and manganese, with a respectable array of smaller amounts of other vitamins and minerals, as well. They provide a good supply of fibre as well with virtually no cholesterol.
Slice the leek, using everything except the tough outer green leaves, then wash in a colander to make sure all soil is removed.
I make my own plum sauce and it is thick, spicy and sweet and pairs wonderfully with the other ingredients in this dish.
I used whiting fillets which are perfect for this dish as they don't "break up" when cooked.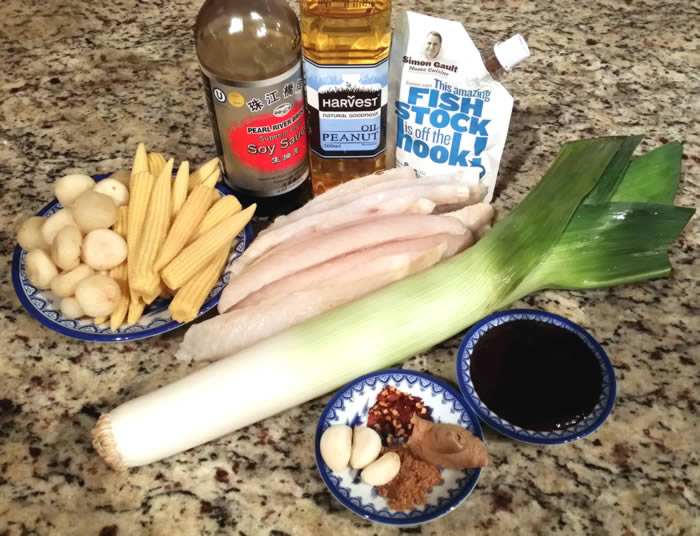 Chinese Leek & Fish Stir Fry
(4 servings)
3 tablespoons peanut oil
1 leek (sliced)
3 cloves garlic (finely chopped)
Knob fresh ginger (peeled and finely chopped)
410 gram can baby corn spears (drained and cut into 1″ pieces)
227 gram can water chestnuts (drained and cut in half)
½ teaspoon Chinese five spice powder
½ teaspoon dried chilli flakes (plus a little extra for garnish)
3 tablespoons plum sauce
1 cup fish stock
50 mls light soy sauce
500 gram firm white fish fillets (cut into 1½" pieces)
Heat the oil in a large fry pan or wok and gently fry the leeks, garlic and ginger for about 10 minutes.
Add the corn, chestnuts, spice and chilli and continue to fry for a further 10 minutes.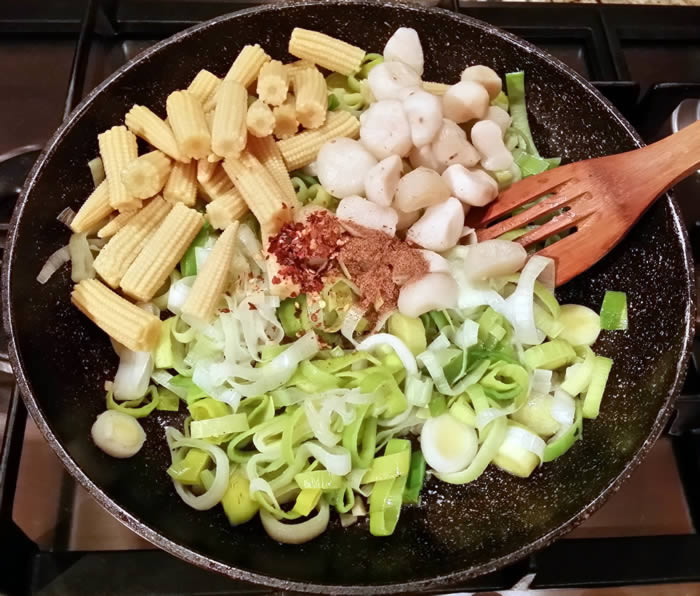 Add stock, plum sauce and soy sauce and simmer for a further 5 minutes.
Add fish and gently stir through until cooked which should only take about 5 minutes.
Be careful not to overcook the fish.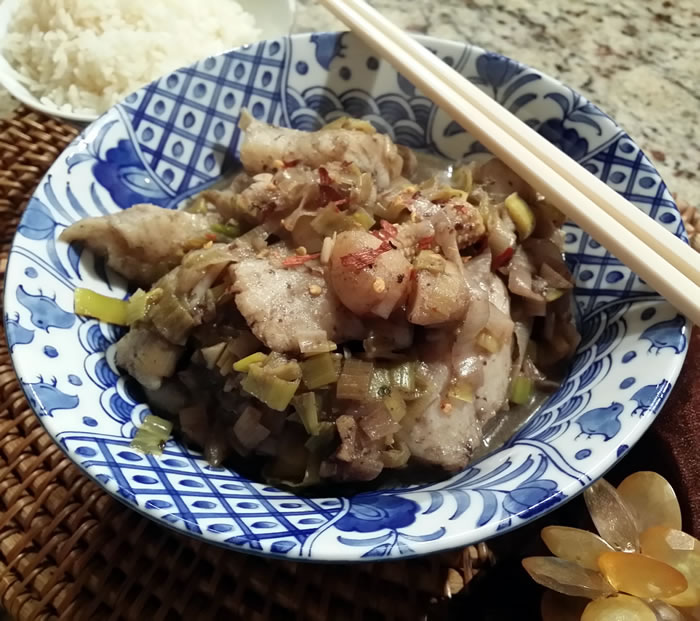 Garnish with chilli flakes and serve immediately with rice.