I recently had a lotus root dish in a Chinese restaurant in Auckland for the first time and loved it, so managed to buy it frozen from an Asian grocery store to create this dish. It is crunchy (even when cooked), delicate flavoured –  an edible root of the aquatic lotus plant. It is low in calories and possesses many vitamins beneficial to a healthy diet. Dried shitake mushrooms, Chinese cooking wine, oyster sauce and light soy sauce are also better priced when purchased from Asian food stores.
I have used Basmati rice for the base, so if you use another rice you may have to adjust the water added to suit. Cook the rice first, as you can get on with the rest of the pie while the rice cools down enough to mix in the egg.
I chose bok choy for this dish to keep everything "Chinese", but you could substitute it with silver beet or another green vegetable of your choice. Make sure you wash the bok choy in a colander once it's sliced as soil does get embedded up the stem.
Lotus Root, Bok Choy & Shitake Rice Pie
(Serves 6)
Mushrooms
1 cup dried Shitake mushrooms covered with boiling water – allow to stand for 30 minutes, then drain and use liquid when cooking the rice.
Rice base
1 cup Basmati rice
1 tablespoon sesame oil
1 teaspoon stock powder (vegetable or chicken)
1⅔ cup liquid (made up of boiling water and water drained from mushrooms
1 egg (beaten)
Mix rice, stock, oil and liquid in a large microwave proof bowl and microwave on high power for 13 minutes.  Fluff up with a fork and allow to cool down while preparing the pie filling, then mix in the egg and press into a 270 mm greased pie dish.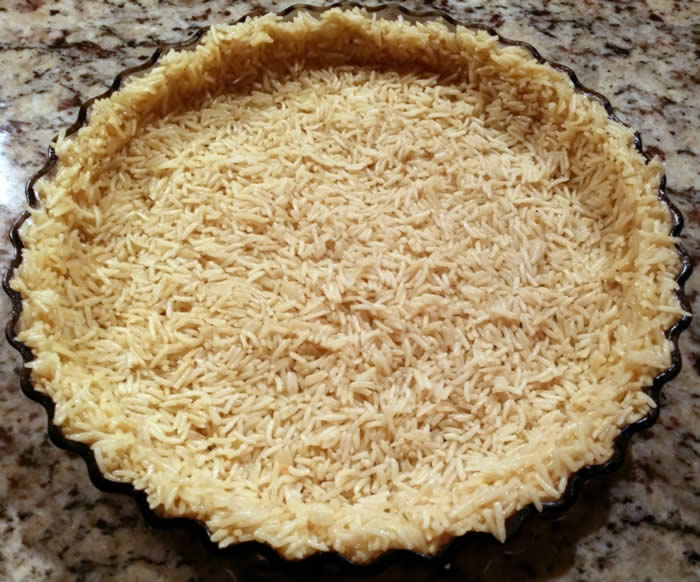 Pie Filling
3 tablespoons sesame oil
1 large red onion (sliced)
3 cloves garlic (finely chopped)
1 heaped teaspoon Chinese Five Spice
½ teaspoon dried chilli flakes
1 large bok choy (sliced)
310 gram cut frozen lotus root (thawed)
Small bunch of coriander (chopped – reserve a small amount for garnish)
1 tablespoon Chinese cooking wine
2 tablespoons oyster sauce
1 tablespoon light soy sauce
4 eggs (well beaten)
Heat the oil in a large fry pan or wok and add red onions, garlic, spice and chilli and simmer gently until onion is cooked.
Add bok choy to pan and continue to fry gently until it is cooked.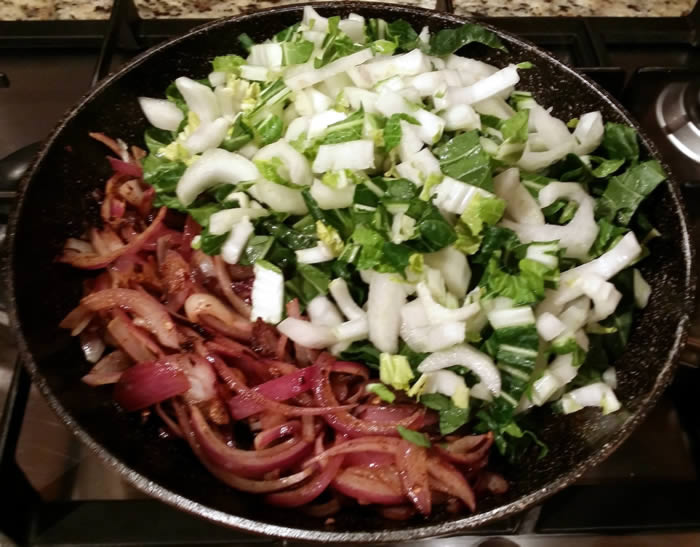 Add lotus root, mushrooms, coriander, wine, oyster and soy sauce and simmer gently for a further 5 minutes, then allow to cool a little.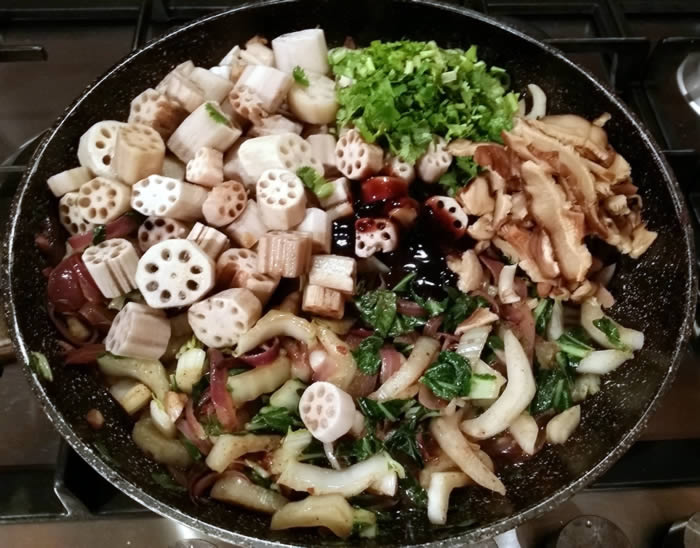 When cooled, add eggs and mix through.
Pour filling into prepared rice base and microwave on high power for 25 minutes.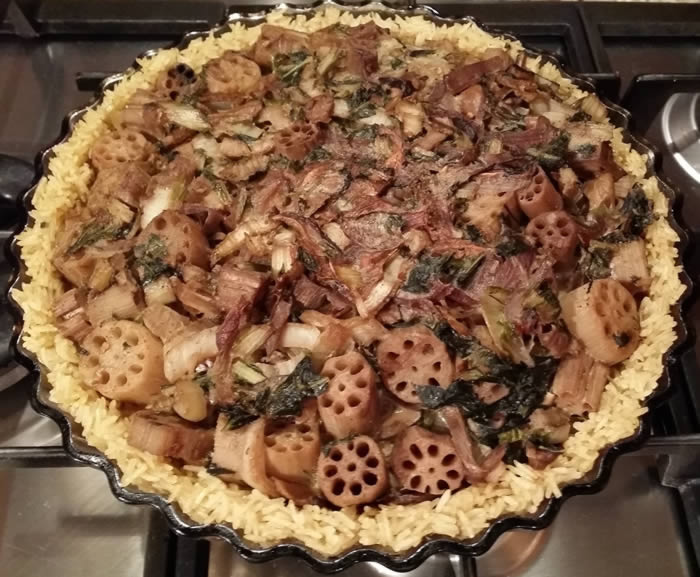 Allow to stand for 5 minutes.
Serve garnished with coriander.