This is quite a time-consuming dessert to make, but the end result is definitely worth it and there are a couple of things which I will do differently next time I make this (*detailed below)
Pandan leaves can be found in good Asian food stores, usually refrigerated or frozen. I keep mine frozen and use them as I need them.
This dish uses 2 egg whites and 4 yolks, so when separating the eggs to get the whites for the shell, put the yokes in the blender to use later for the custard.
This dessert can be made in advance and stored in the fridge until serving.
*Instead of baking it in a pie dish as I did, I would recommend using a spring-form tin with the bottom lined with baking paper, or if you do use a pie dish, line it with baking paper on the bottom and up the sides so that you can lift the pie out to serve.
*Soften butter in microwave until almost melted, rather than adding it to the shell firm as I did.
Coconut Shell Lime Custard Pie
(Serves 8)
Shell:
2 egg whites
1¾ cups shredded coconut
¼ cup sugar
25 grams butter (softened to almost melting in microwave)
¼ teaspoon salt
25 grams dark cooking chocolate (melted and cooled a little)
Nutty Chocolate Topping:
¼ cup raw skin-on, sliced almonds
2 tablespoons shredded coconut
25 grams dark cooking chocolate (melted)
Custard and assembly:
1 lime (peel zest in strips + juice)
1 pandan leaf
1¾ cups lite milk
¾ cup coconut cream
4 large egg yolks
¼ cup cornflour
¼ teaspoon salt
½ cup sugar
25 grams butter
Whipped cream to serve
Grease and line a spring-form tin or shallow baking dish with baking paper. Combine all shell ingredients, except chocolate, in a bowl until a well mixed, stiff paste consistency.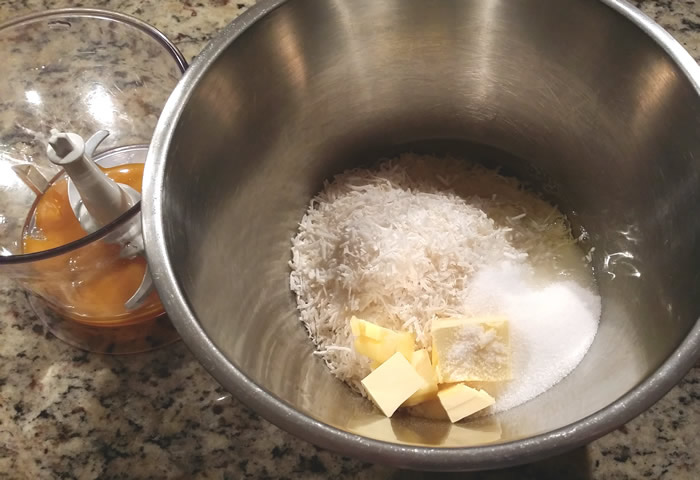 Using your fingers, press the shell mixture into your prepared pie dish (*see suggestion above for a better way to do it than pictured below).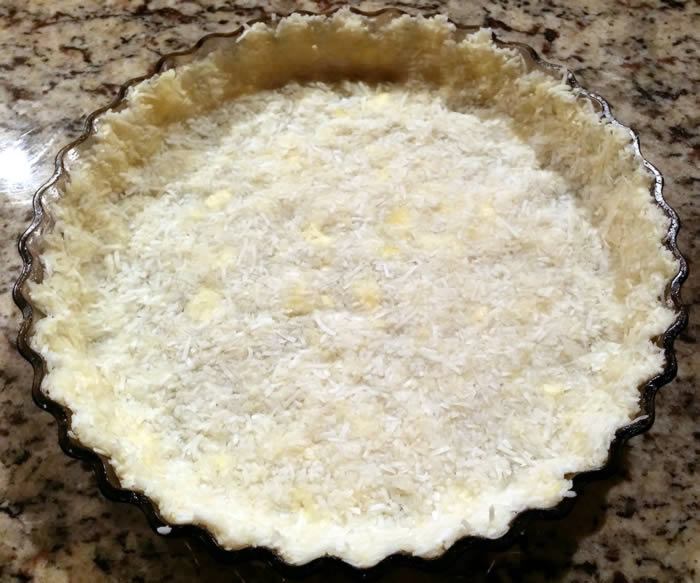 Bake at 160°C for 15-20 minutes until edges are well browned and bottom just beginning to brown.
Allow to cook then spread with melted chocolate and set aside.
To make topping, spray a small heavy-bottomed pan with oil, heat and add almonds and coconut.
Stir for a few minutes until nicely toasted.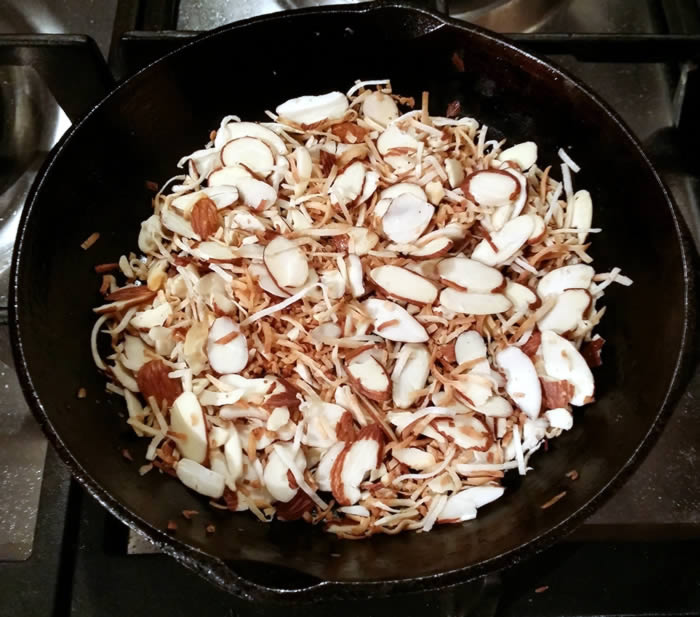 Mix with melted chocolate and spread as thinly as possible onto a piece of baking paper and put in fridge to set.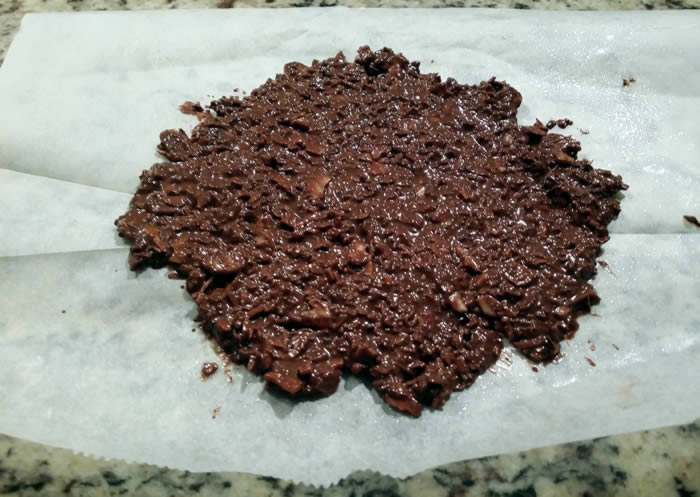 To make the custard, put milk, coconut cream, lime zest and pandan leaf into a large pot and bring to the boil, then cover and turn off heat and leave to stand for 30 minutes to infuse.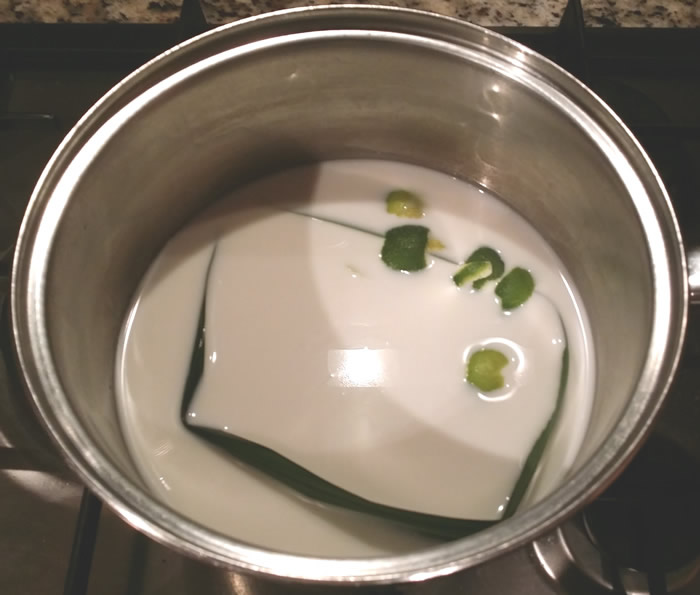 Add two more egg yolks to the ones put aside in the blender, together with cornflour, salt and sugar and blend. Take lime zest and pandan leaf from milk mixture and gently reheat, stirring in egg mixture constantly, until it turns to thick custard. Turn off heat and stir in lime juice and butter until thoroughly blended.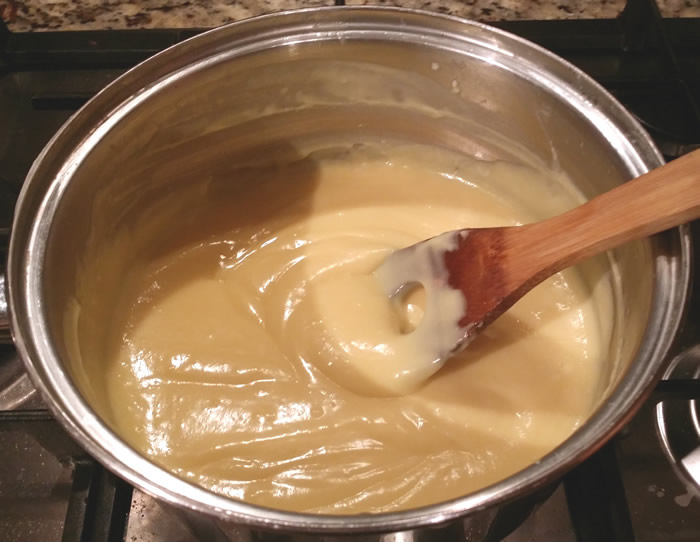 Pour custard into pie shell and refrigerate.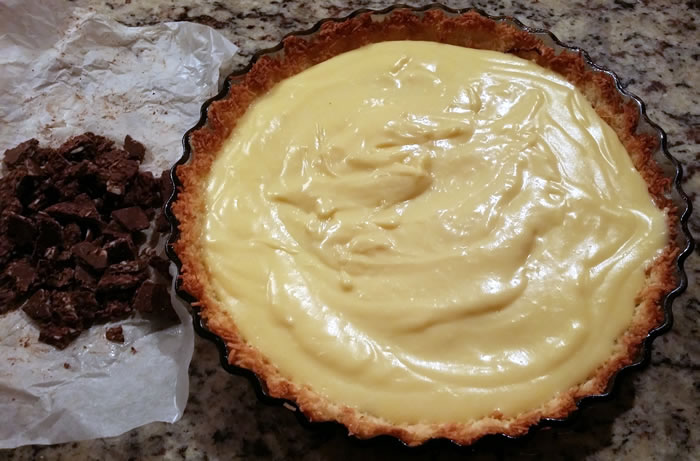 Break up nutty chocolate topping into small pieces and sprinkle on top before serving.
Serve with whipped cream.