A great recipe for busy people because everything is cooked in the one dish – the chicken can be marinated in the fridge before you go to work and the vegetables and chicken assembled and baked in probably less than an hour, including vegetable preparation. If you don't have the time to prepare the chicken earlier, just do it first and let it marinate while you prepare the vegetables.
Whenever I roast a duck, which isn't very often, I always save all the duck fat and one duck does render a lot of fat.  Providing you make sure that that there are no water soluble products in the fat and that you chill it and skim off any non-fat products off the top,  duck fat will store for a long time in the refrigerator. Duck fat is a good fat as it includes monounsaturated and polyunsaturated fats, and bad fats include saturated. Duck fat is pretty high in monounsaturated fat, and thus not too high in saturates. With a silky mouth feel, propensity for deep browning and delicate savoury flavour, duck fat seems to spin anything it touches into culinary gold – from potatoes to poultry to popcorn. It's an incredibly versatile fat, having a high smoke point, long-term freezability and unlike butter or olive oil, can be reused. With all that said, if you don't have duck fat, you can substitute olive oil, but the flavour won't be quite as interesting!
Slice up the stalk of the leek to where it spreads out in half if they are small or quarters if it is a large one, then slice at 2″ intervals, discarding tough outer green leaves, but using all the rest.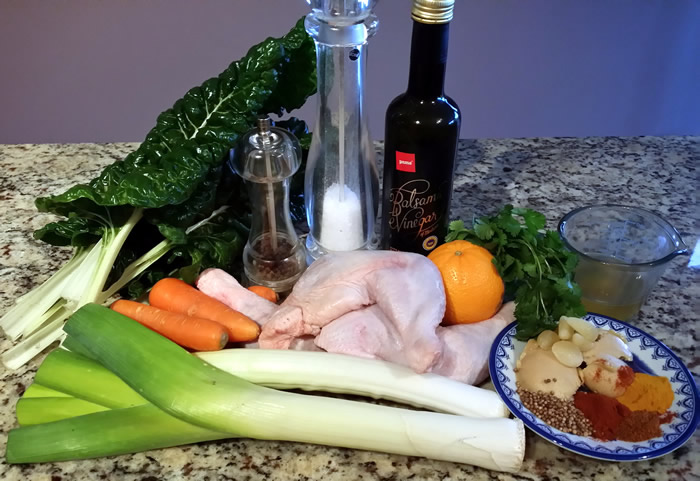 One Dish Chicken with Vegetables
(3 generous servings)
3 chicken legs (1.1kg)
2 tablespoons duck fat
1 orange (finely grated zest and juice)
2 teaspoons coriander seeds)
2 teaspoons smoked paprika
1 teaspoon turmeric
½ teaspoon ground peri peri chilli
6 cloves garlic (crushed)
3 tablespoons balsamic vinegar
2 small or 1 large leek (sliced as described above)
4 carrots (scrubbed and cut into thick matchsticks)
Few stalks of silverbeet (chop leaves and stalks)
½ cup chicken stock
Freshly ground salt & black pepper
Fresh coriander leaves for garnish
Put duck fat, orange juice, coriander seeds, paprika, turmeric, chilli, garlic and balsamic vinegar in a food processor and pulse until it is a smooth paste. Season chicken well with salt and pepper and put in a large container with the marinade and orange zest mix all together until the chicken is completely smothered (using your hands gets the best results) and set aside in the fridge for up to 8 hours or for half an hour at room temperature.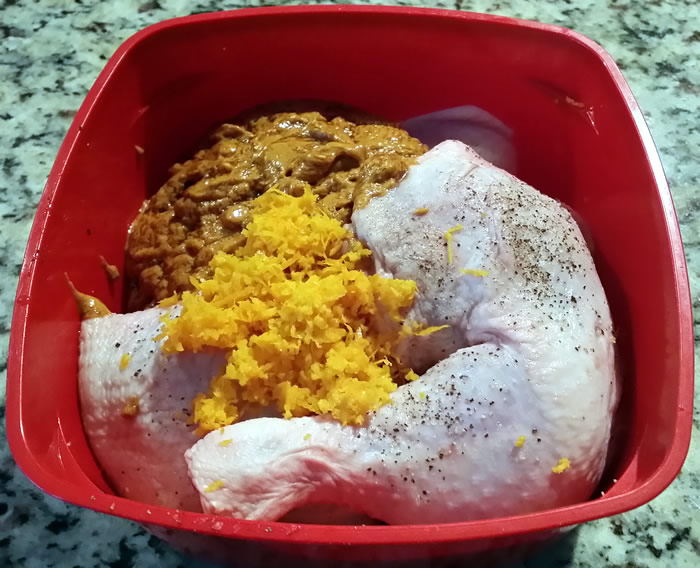 Grease a large casserole dish and spread the carrot on the bottom, topped by the leeks and then the silverbeet and season well and pour over the stock.
Place the marinated chicken on top of the vegetables.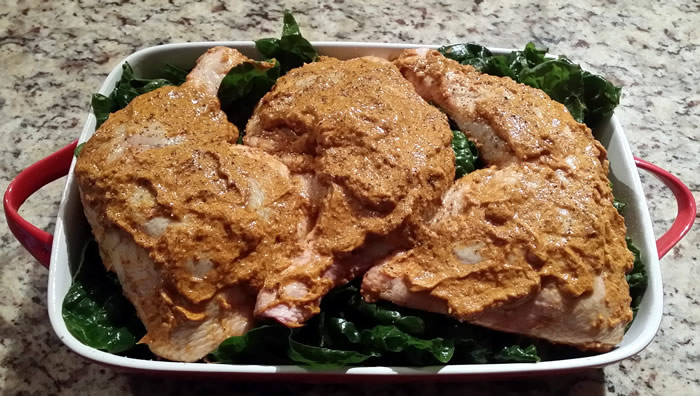 Bake at 200°C for 35 minutes.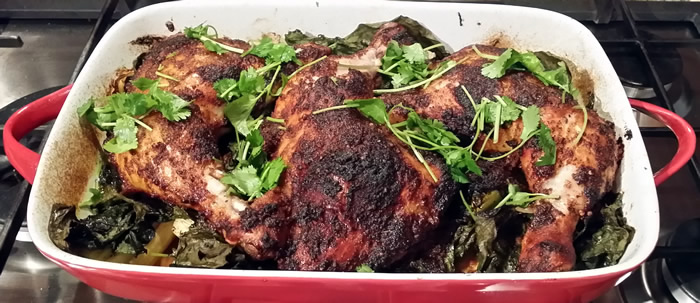 Garnish with fresh coriander.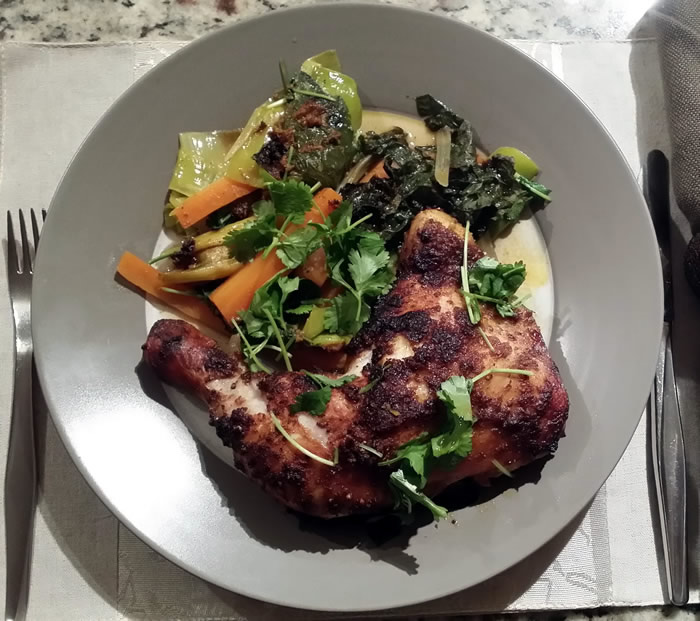 Arrange the vegetables on the plate first and then top with a chicken leg.