Boulangère  is a French term for "baker" that was traditionally used to denote food dishes baked by a "local" baker when French homes did not have access to ovens inside the home. Thus, a la boulangère became a term used to describe various food dishes baked in an oven, which today is commonly applied to dishes such as lamb boulangère for which lamb is baked in a dish with onions and potatoes placed underneath the meat. There's no meat in this boulangère recipe, but a very simple way to jazz up potatoes.
Celeriac is the dominant flavour in this dish which perfectly complements the different textures and flavours of the potatoes, carrots and apples. I've used colby cheese, but if you want a stronger flavour, substitute this for parmesan and use either chicken or vegetable stock.
This is a very quck and simple recipe to prepare providing that you have a food processor to do all the slicing of the vegetables, if not it will be a bit more time consuming.
Boulangère Root Vegetables
(6 – 8 servings)
25 grams butter
Freshly ground salt & black pepper
470 grams potatoes (scrubbed & sliced)
270 grams carrots (scrubbed & sliced)
1 small red onion (finely chopped)
470 grams celeriac (peeled, cut into large chunks & sliced)
370 grams (2) apples (cored & sliced)
250 grams stock
2 slices wheatmeal or gluten free bread (crumbed)
1 cup grated cheese
3 tablespoons olive oil
Grease a large ovenproof dish and spread the potatoes evenly on the bottom and dot with ¼ of the butter and a generous grind of salt and pepper.
Repeat with the carrots.
Then the onions.
Next the celeriac.
Lastly the apples.
Mix together the breadcrumbs, cheese, salt & pepper and olive oil and sprinkle evenly on top.
Bake at 200°C for 20 minutes (fan top and bottom) then 20 minutes (fan bottom)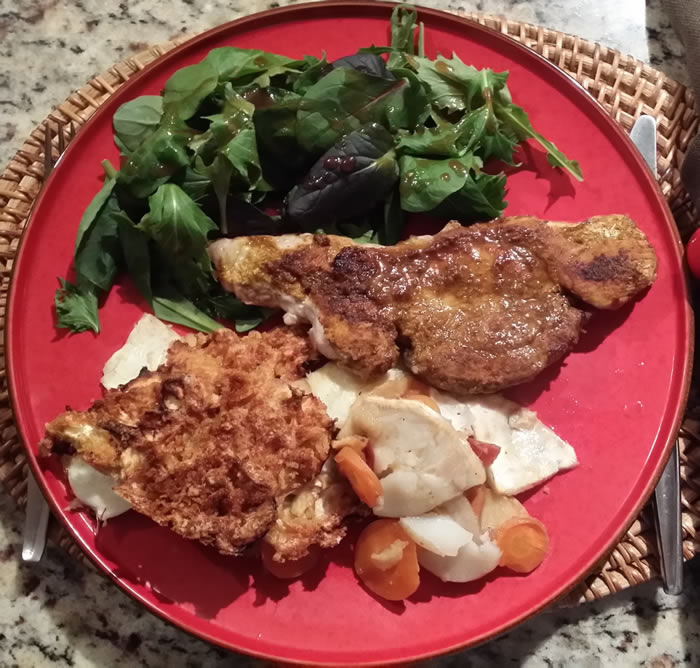 Serve with your choice of salad or vegetables and meat, fish, chicken or vegetarian alternative.