Feijoado (fey-jwah-duh) translates to "beans" in Portuguese and in Brazil a feijoado is a casserole or stew using pork (often together with other meats), spicy sausage and black beans, so this is my take on a traditional Brazilian casserole, turned into a pie using filo – full of flavour, hearty and easy to make.
Don't be put off using filo if you haven't tackled it before, it's actually very easy the way I do it – you just have to work quickly so that the filo doesn't dry out. I don't use melted butter when preparing the filo, but prefer olive oil spray which is quicker, easier and far more healthy than butter!  The sheets of filo that I used are oblong, so firstly spray your work surface with oil, then lay down the first sheet of filo, spray it and repeat with another two sheets, then cut it into two squares (repeat this twice more so you have 6 squares of prepared filo) and push each into well greased 6-hole deep muffin tin.
I cubed pork rumps steaks for this recipe, but ready-cubed pork pieces can be used. If you are not able to obtain fresh bay leaves, just add a couple of dry ones when preparing the sauce and add a compatible herb garnish before serving.
I have used Ghiotti Chorizo Velita (a delicious Spanish chorizo) and did cheat a little by using Delmaine Black Beans in Chilli Sauce, so if you prefer to prepare your own black beans, I would suggest that you add some chilli sauce as well.
Pork Feijoado Filo Pies
(6 servings)
2 tablespoons olive oil
1 small red onion (chopped)
3 cloves garlic (crushed)
500 grams pork pieces
1 x 150 gram Ghiotti Chorizo Velita (thinly sliced)
1 orange (finely grated zest and juice)
Freshly ground salt & black pepper
1 heaped teaspoon smoked paprika
8 fresh bay leaves
400 gram can diced tomatoes
390 gram can Delmaine Black Beans in Chilli Sauce
9 sheets filo pastry (or equivalent to make 6 pies)
Olive oil spray
Crumb topping (mix together the ingredients below)
½ cup panko crumbs
Freshly ground salt & black pepper
2 Tablespoons olive oil
Heat olive oil in a large fry pan and add the bay leaves, onions and garlic and fry gently until just starting to brown, then add the pork, chorizo, orange zest, 1 teaspoon black pepper and paprika and fry gently until pork is lightly browned.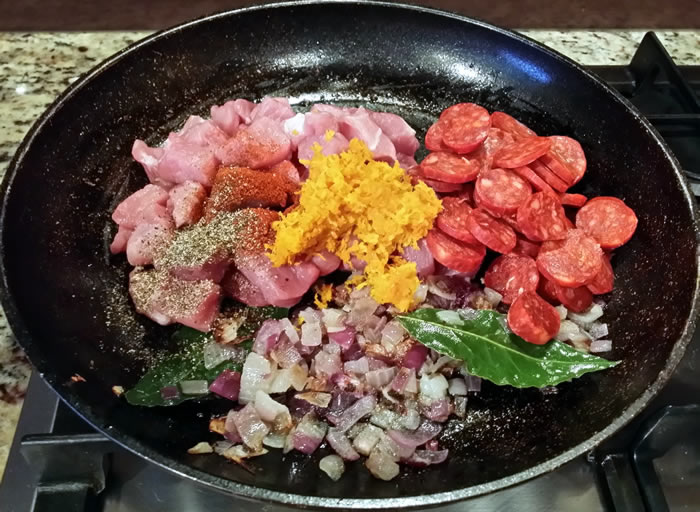 Add tomatoes, black beans and orange juice stir through on gently heat until well mixed. Turn off heat and set aside.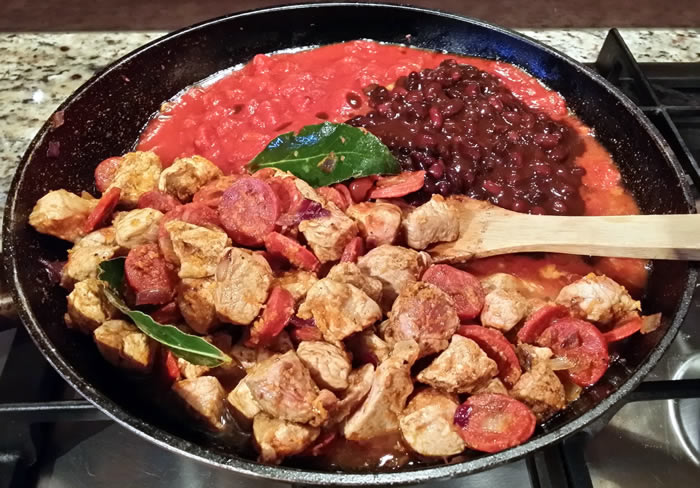 Prepare the filo as described above and line the muffin tin holes.
Using a slotted spoon and draining off most of the sauce, divide the meat mixture evenly between the 6 filo cases, top with the crumb mixture divided evenly and finally add a bay leaf to each pie.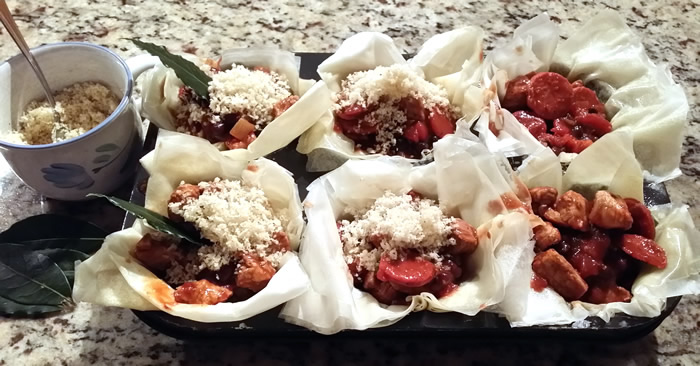 Bake at 170°C for 25 minutes.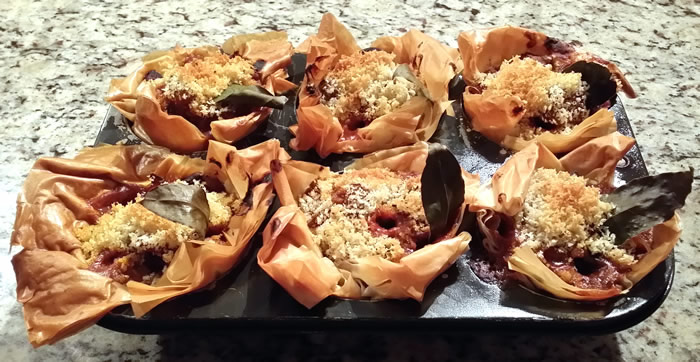 While the pies are baking, reheat the remaining sauce in the pan and just before removing the pies from the oven, spread the sauce evenly between 6 plates.
Serve immediately with a green salad or vegetables.