Chermoula is a North African marinade normally used for seafood, but great with chicken and vegetables as well. I have used coriander paste, so substitute 2 chopped tablespoons if using fresh.
I prefer to leave the skin on chicken if barbecuing as it is less likely to dry out, plus it tastes really good!  This can be done on on a stove top grill or oven grill if barbecuing is not an option.  Cooking times will vary depending on your barbecue or grill heat, but if you find your chicken is still a little pink when you slice it, just pop it in the microwave for a minute or two – better to do this than overcook it in the first place.
The Trio Rice I've used is from Thailand and a mix of brown rice, red cargo rice and black glutinous rice (glutinous rice does not contain dietary gluten – i.e. does not contain glutenin and gliadin – and therefore should be safe for gluten-free diets) and is absolutely delicious. The rice is cooked at 400 watts in the microwave, which is about half power. I used the simmer function on my microwave and it cooked the rice perfectly. Use couscous if you prefer, in fact it is more likely to be used with when accompanying chermoula dishes in North Africa.
The sweet/sour of cranberries is my choice for this dish, together with golden raisins, but you can use whatever dried fruit you fancy.
Barbecued Chermoula Chicken with Fruity Trio Rice
(Serves 4)
2 boneless, skin-on chicken breasts (about 250 grams each)
Chermoula Marinade
1 tablespoon extra virgin olive oil
½ teaspoon hot chilli powder
1 teaspoon coriander paste
1 teaspoon ground cumin
1 teaspoon smoked paprika
3 cloves garlic (crushed)
2 tablespoons fresh parsley (chopped)
1 lemon (juice of whole lemon and grated zest of ½ of it)
½ teaspoon each of freshly ground salt & pepper
Trio Rice
1 cup Trio Rice (washed thoroughly)
Dash of vegetable oil
2 cups boiling water
¼ cup dried cranberries (chopped)
¼ cup golden raisins (chopped)
3 smallish tomatoes (chopped)
1 tablespoon parsley (chopped)
1 tablespoon extra virgin olive oil
Freshly ground salt & pepper to taste
Combine all marinade ingredients in a shallow dish. Make shallow slashes on each side of the chicken breasts then add to marinade and coat all over, cover and chill for two hours.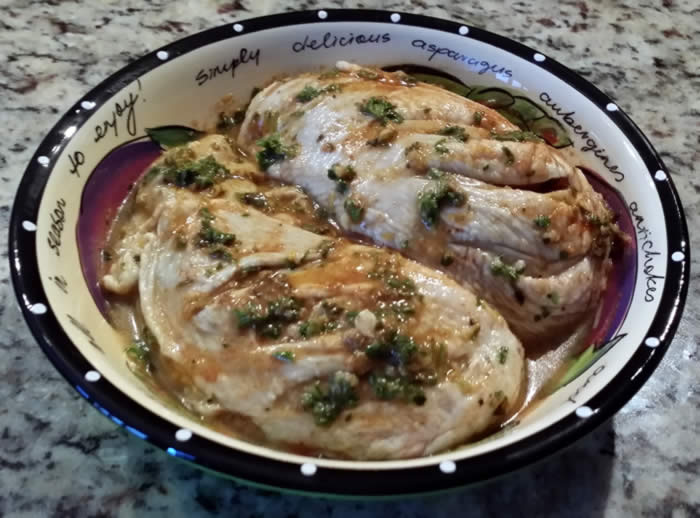 Combine rice, vegetable oil and water in a microwave proof bowl and microwave, covered at 400 watts (50% power) for 30 minutes, stirring twice during cooking. Stir through the rest of the ingredients just before serving.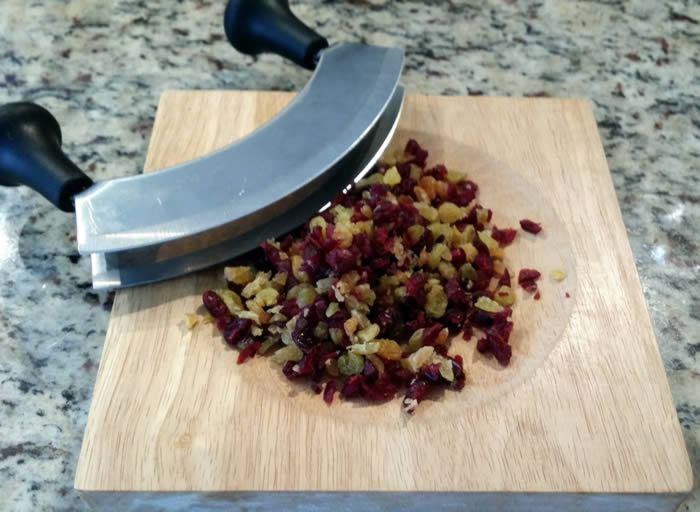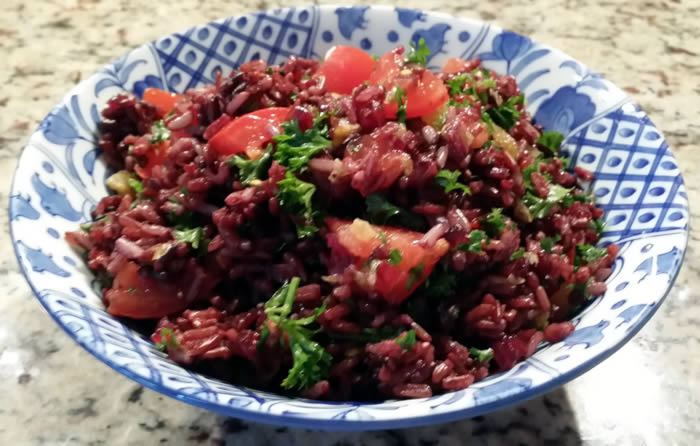 Meanwhile barbecue chicken, skin side down first, for 10 minutes each side (only turn once during cooking).
Slice and serve immediately on the rice with dressed salad leaves or cooked green vegetable of your choice.