Carrots are delicious roasted and look stunning if you use a mix of colours.  I've used purple, yellow and orange and the end result is very colourful, but even if you just use one colour, the dish will taste just as good.
Sesame oil has a rich, nutty flavour which is further enhanced by adding garlic, ginger and natural honey. I've used pizza thyme, but classic thyme or even rosemary would also work well.
Roasted Carrot Medley
(Serves 4)
6 coloured carrots (scrubbed and cut into large chip sized sticks)
6 cloves garlic (sliced)
Knob of ginger (matchstick sliced)
Bunch of pizza thyme (leaves pulled from stalks and roughly chopped)
3 tablespoons sesame oil
2 teaspoons Dijon mustard
Freshly ground salt & black pepper
Chopped coriander for garnish
Mix all ingredients except coriander in a large dish (using your hands is the most effective way of doing this).
Line a large oven tray with baking paper and spread out the carrots evenly.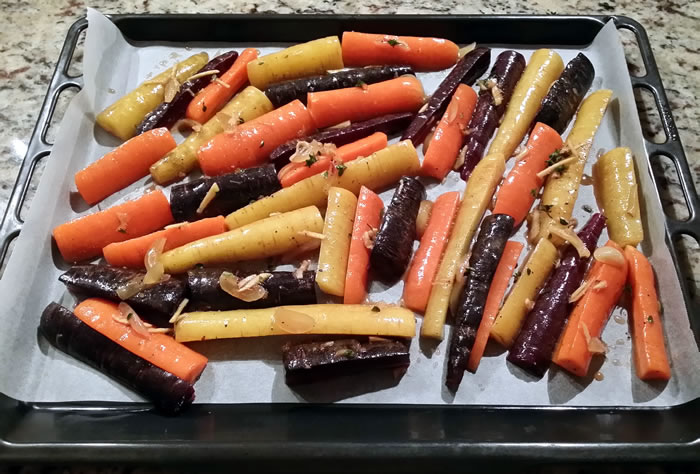 Bake at 200°C for 30 minutes (turning once after 15  minutes)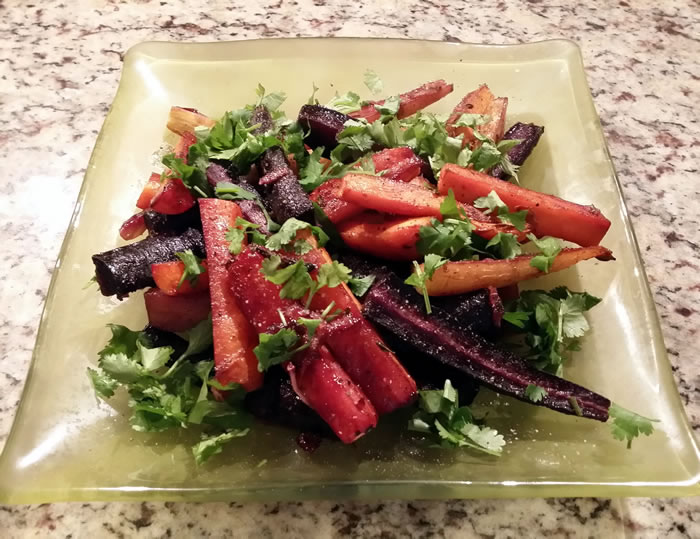 Sprinkle with coriander, freshly ground salt and black pepper and serve.