These tasty morsels are so simple to make (more about assembly than actual cooking), but look very impressive and taste even better!
I used smoked New Zealand Kahawai (in Australia this fish is known as Eastern Australian Salmon, even though it is not related to salmon of the family Salmonidae.) and made my own chilli garlic prawns, by heating a little olive oil in a large fry pan and adding garlic, chilli flakes, freshly ground salt and pepper, then stirring through the raw prawns until they just turn pink. Other suggestions for a topping are smoked salmon, smoked chicken or for a vegetarian option use olives, fresh mozzarella, or grilled haloumi.
Packets of giant shell, dried pasta are available in good supermarkets.  To cook, add a dash of oil and salt to a large pan of water and bring to the boil, add the pasta and cook for one to two minutes less than the time stipulated on the packet, gently stirring a couple of times to make sure it is all separated(I cooked my pasta for 12 minutes).
Either make your own mayonnaise or use a good quality bought one – same applies to the pesto.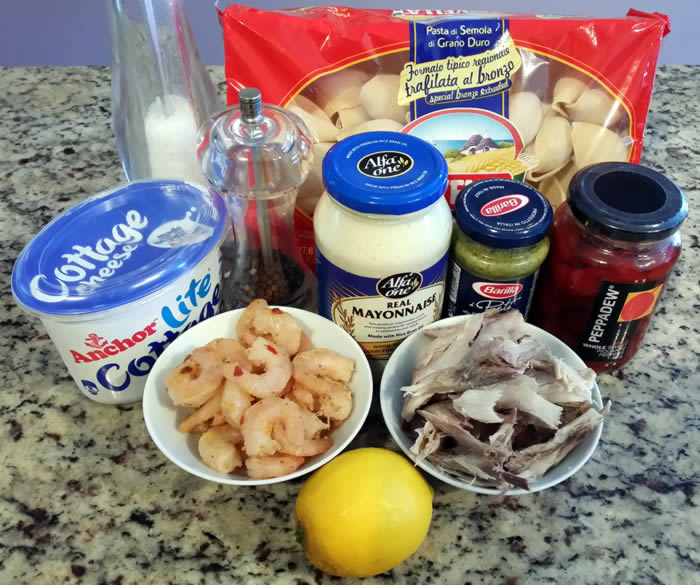 Stuffed Pasta Shells
(Makes about 40)
500 gram packet giant dried pasta shells (cooked, drained and cooled)
Large jar pickled whole baby peppers (halve each pepper)
300 grams lite cottage cheese
2 tablespoons mayonnaise
2 teaspoons pesto
Juice of ½ a lemon + 2 teaspoons finely grated zest
Freshly ground salt & black pepper
20 +/- garlic chilli prawns
20 +/- chunks freshly smoked fish
Add a capsicum piece to each pasta shell.  Mix together the cottage cheese, mayonnaise, pesto, lemon juice and zest, salt and pepper.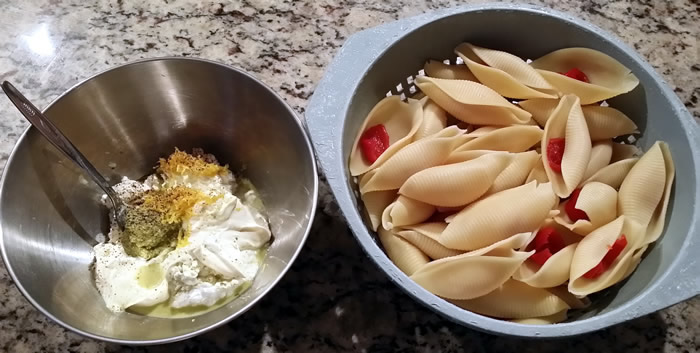 Set up an assembly line by putting a spoonful of the cottage cheese mixture into each shell beside the capsicum, then topping half with smoked fish and the other half with a prawn.
Transfer to a serving plate.
Keep chilled until ready to serve.