Not only do these crackers look great, but they are a great addition to any cheeseboard, a nice healthy snack or a perfect starter served with olive oil with a drizzle of balsamic for dipping … and best of all they are quick and simple to make!
Despite all the hype about chia seeds being the new "weight loss wonder" food, this has not been proven, but you can enjoy them for their flavour and to boost the fibre, protein, calcium, antioxidants and omega-3s in your diet.
Apart from other health benefits, using coconut flour and fine polenta has the advantage of making these crackers gluten free.
You will need fresh rosemary from the garden for the best flavour and the cute decoration on each cracker.  Choose new shoots for the garnish if possible and remove any woody stems and  just use the leaves for the rosemary that is processed with the other ingredients for the crackers.
The dough can be made the day before you want to use them, as it needs to be well refrigerated before use anyway. The crackers also store well in an airtight container for a for a couple of weeks. I actually only used one of the dough rolls (40 crackers) and the other is in the freezer, so all I have to do when I want to use it is thaw it, slice it, put the rosemary tips dipped in egg white on top and bake.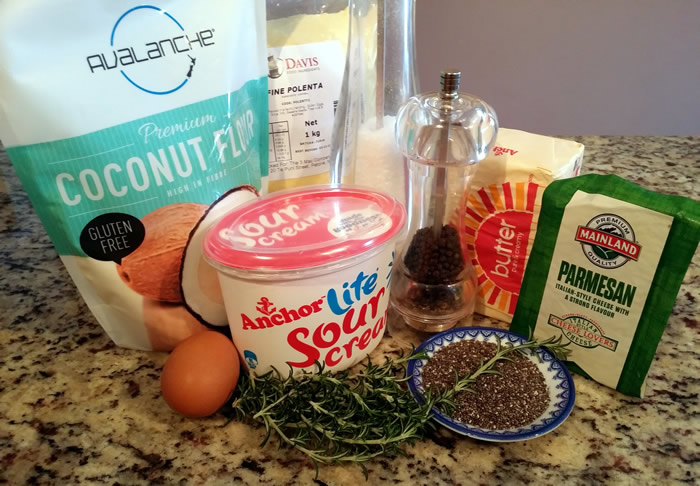 Rosemary, Chia & Parmesan Crackers
(Makes approximately 60-80 crackers)
¾ cup coconut flour
¾ cup fine polenta
1 teaspoon freshly ground salt (+ extra for garnish)
Freshly ground black pepper
100 grams butter (cubed)
5 tablespoons lite sour cream
2 tablespoons chia seeds
120 grams grated parmesan (2 cups)
2 tablespoons fresh rosemary leaves (+ 40 fresh tips)
1 egg white (lightly beaten)
Put all ingredients except rosemary tips and egg white into a food processor and blend until it forms a smooth dough.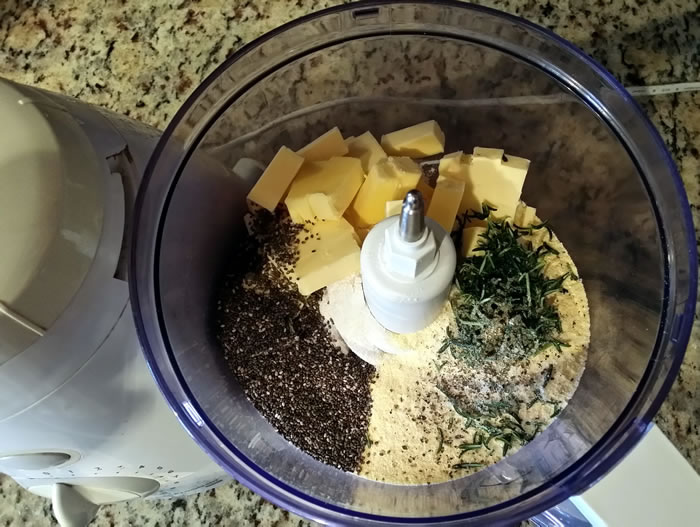 Divide dough into 2 and shape into two long sausages with flattened ends. Wrap in clingwrap and refrigerate for at least two hours.

Cut into 5mm slices and arrange on a large tray lined with baking paper. Dip the rosemary tips into the egg white and gently press one onto the top of each cracker. Top with a generous grinding of salt.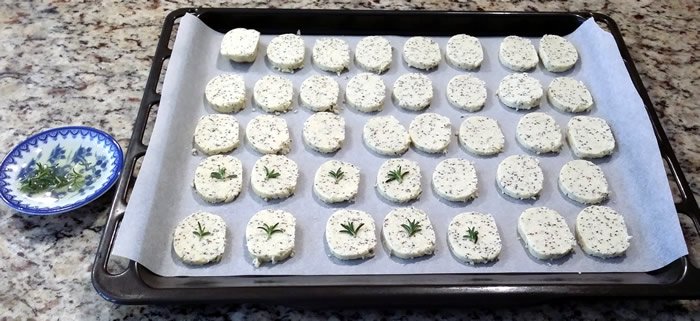 Bake at 160°C for 25 minutes (or until just starting to brown).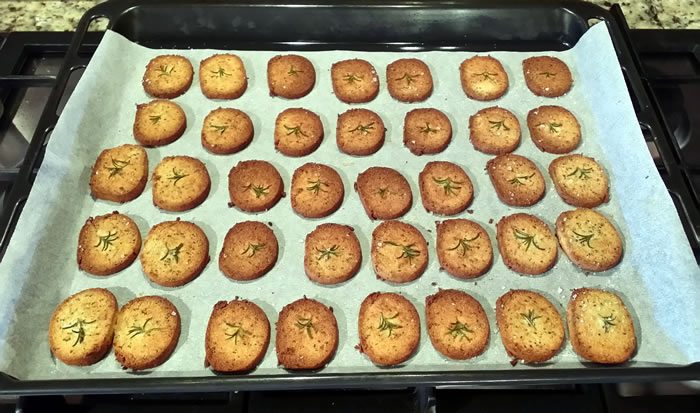 Allow to cool then serve with cheese, dips or olive oil with a dash of balsamic.