This dish looks complicated, but it's really quite easy and can be made in advance. The recipe makes two roulades, so I usually serve one the day I make it and freeze the other. It is easier to slice partly thawed and makes a great "take a plate" dish.
Only use the flesh of the smoked chicken, not the skin or fat and I prefer to use reduced fat milk and cream cheese, but if you're not watching your weight or looking after your heart, full fat milk and cream cheese are fine.
The chicken can be substituted with fresh cooked or smoked salmon or even drained tinned salmon works well.
In this recipe I used half lime pickle and half feijoa chutney (both homemade). The pickle is quite sour and chutney quite sweet, so I find the combination of both works well. If you're not into making your own pickles and chutneys, then your favourite bought one will work just as well. Again for the fresh herbs, just use what you like and have available (I used celery herb and basil from my garden).
I used two shallow baking dishes that measure 250 mm x 290 mm.  If you grease the pans first, the baking paper can be pressed down into them easily and the egg mixture stays even.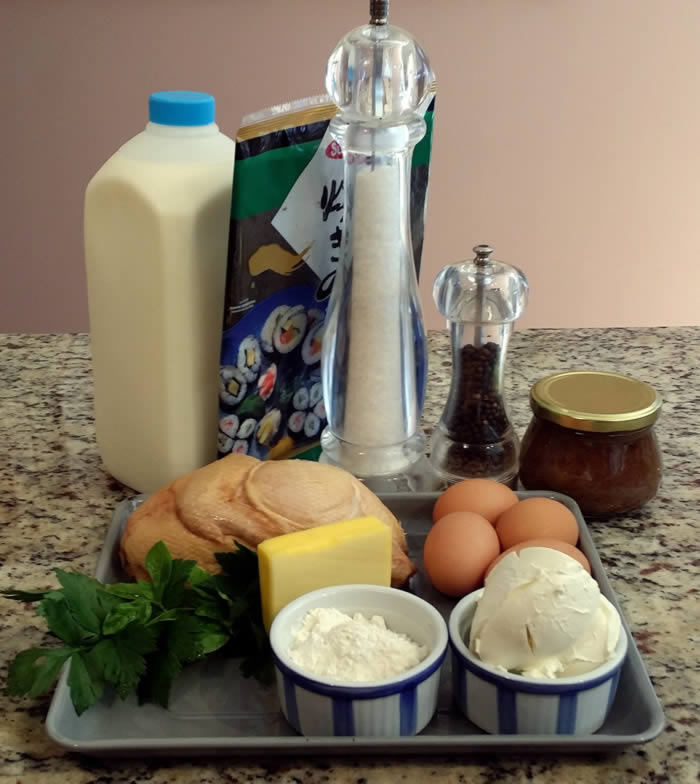 Smoked Chicken Roulade
(Serves 6 as a luncheon dish or 8 as an entree)
75 grams butter
2 heaped tablespoons flour
1 1/2 cups low fat milk
4 large eggs
2 sheets nori (roasted seaweed)
Bunch of fresh herbs (roughly chopped)
Freshly ground black pepper and salt
2 cups chopped smoked chicken
1/2 cup pickle, relish or chutney
200 grams low fat cream cheese
Melt the butter in a saucepan, stir in the flour and let it bubble for a minute, Slowly pour in the milk, stirring until thickened.  Set aside to cool a little and meanwhile blend the eggs in a food processor and then add the chopped herbs, and pulse carefully a few times (the herbs just need to be chopped a little more, not blended completely or you will end up with green roulades). Pour the egg mixture into the milk mixture slowly stirring constantly or use a mixer.  Season to taste.
Line baking dishes with baking paper and pour half the mixture into each pan (it should just cover the bottom of each) and back at 200°C for about 15 minutes or until done (should just be puffed up and just starting to brown). Set aside to cool.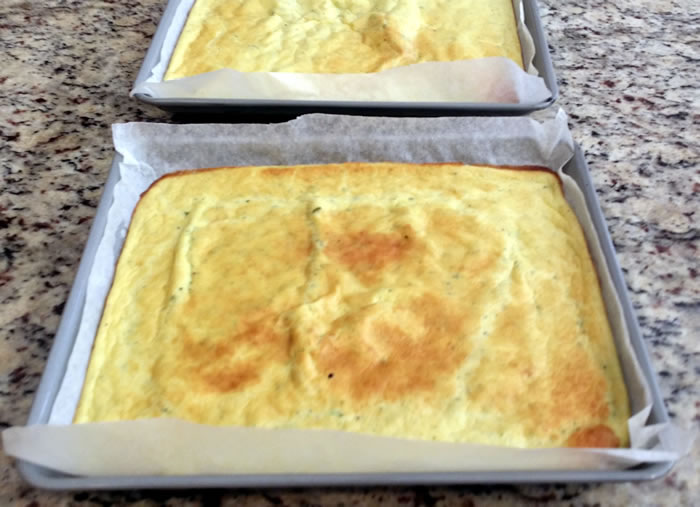 Mix 3/4 of the chopped chicken, pickle/chutney, cream cheese, salt & pepper until thoroughly blended and then add remaining chicken and gently fold through (this ensures there are some chunks of chicken in the mixture).
Lift the roulades out of the baking dish, leaving them on the baking paper.  Layer each with a sheet of nori and then divide the chicken mixture between both and spread on top of the nori and roll carefully.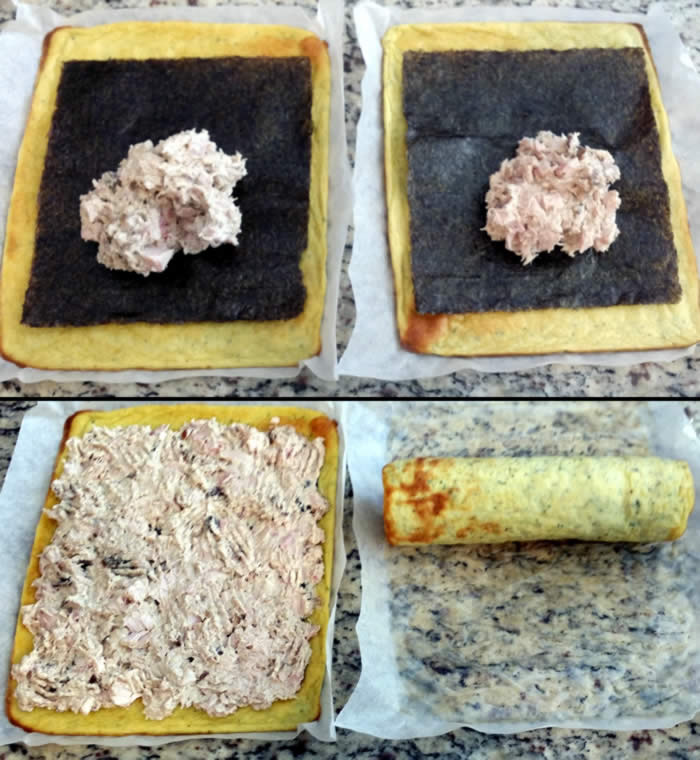 Slice and serve immediately or refrigerate, slice and served later.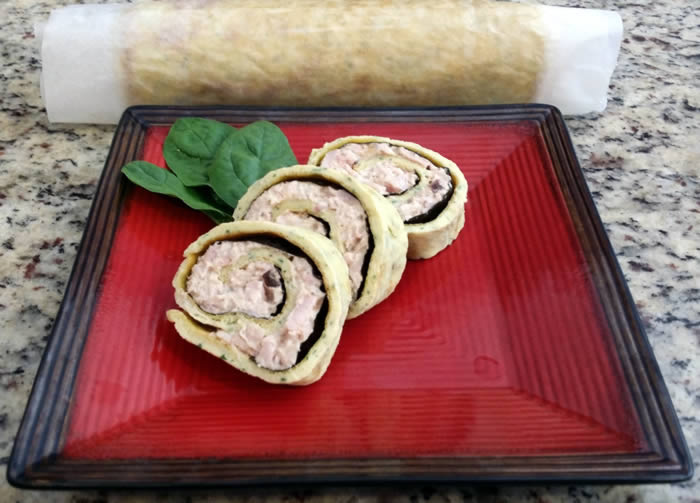 Garnish with dressed salad leaves and serve as an entree, with a dressed green salad as a luncheon dish or sliced thinly as hors d'oeuvres or party food. If just using one roulade, leave the other in the baking paper, seal in cling wrap and freeze until required.