Using just one heavy skillet, this dish is quick and simple to prepare, but guaranteed to impress! I've used red-skinned potatoes as they look better for visual presentation, but others will taste just as good. Same applies to the capsicum – the yellow makes a nice contrast with the tomatoes, but red would taste just as good. I have rosemary growing in the garden and like to use the new shoots for cooking as the stem is soft as well. If your rosemary is woody, just use the leaves and discard the stem. Large Roma cherry tomatoes look best, but again any tomatoes will work.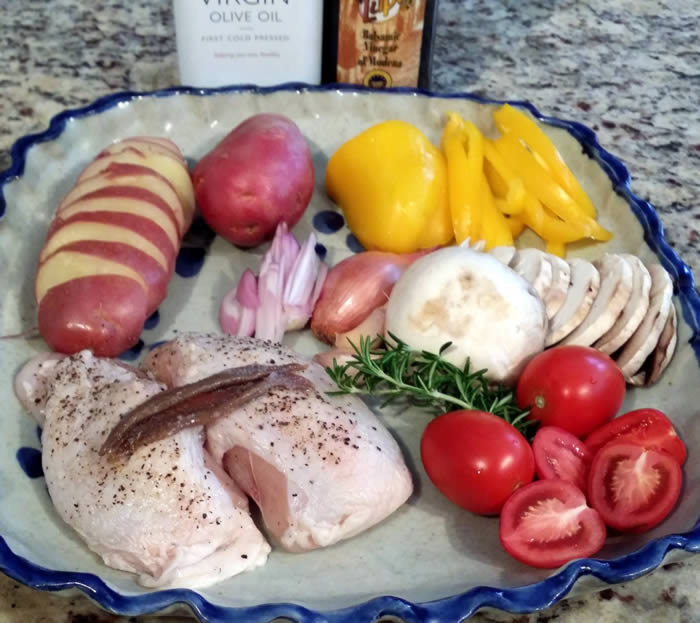 Balsamic Chicken with Vegetables & Potatoes
(Serves 2)
1 large boneless chicken breast (skin on – cut into 2 pieces)
2 red skinned potatoes (washed)
2 tablespoons olive oil
1 shallot (sliced finely)
2 cloves garlic (crushed)
4 sprigs rosemary (finely chopped)
2 anchovy fillets (chopped)
1 yellow capsicum (sliced)
2 large mushrooms (sliced)
1/4 cup dark balsamic vinegar (+ a couple of extra splashes)
4 large Roma cherry tomatoes (sliced in half longways)
Freshly ground salt & pepper
Microwave potatoes (High Power on a paper towel) for 2 minutes each side then set aside. Rub chicken with some of the olive oil and season generously with freshly ground salt & pepper. Heat the remaining oil in a skillet on medium heat and put in the chicken pieces skin side down and fry for around 7-8 minutes then turn over and cook for a further 7-8 minutes. As the chicken is served sliced, just slice 1 piece in the thickest part to check that it is cooked (cooking time will depend on the thickness of the pieces of chicken). Set aside keeping warm.
While the chicken is cooking, slice the potatoes thickly (around 7mm). Add the potato slices to the pan, which now has a little chicken fat in it as well and fry on medium to high heat for about 5 minutes on each side (this will finish cooking them and brown them nicely). Season with freshly ground salt before taking out of pan, then set aside keeping warm.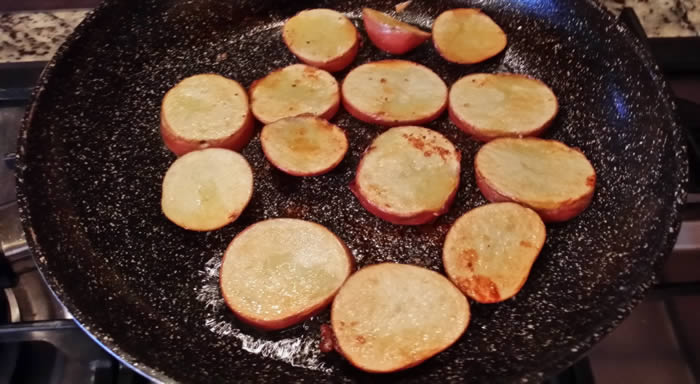 Add the shallots, garlic and rosemary to the pan and cook on medium heat until just starting to brown, then add anchovies, capsicum and mushrooms and cook for a a further 2 or 3 minutes.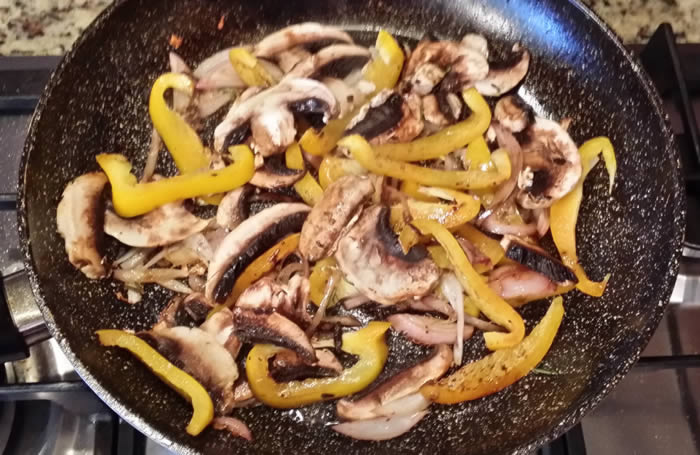 Add balsamic vinegar to pan and simmer for a couple of minutes, then add tomatoes and stir gently through just until tomatoes are heated. Season to taste with freshly ground salt & pepper. Put potatoes and vegetables on serving plates, then slice each piece of chicken and arrange on top. Splash chicken and vegetables with balsamic and serve.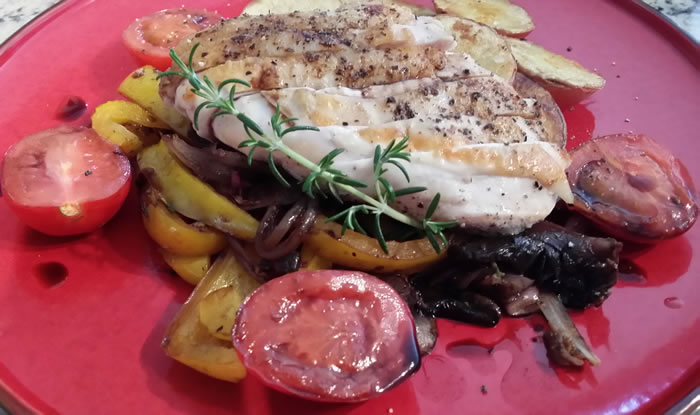 Serve this dish on its own or with dressed green salad leaves in summer or wilted spinach tossed with a dash of olive oil, salt & pepper in winter.