This Fish Cake recipe is quite plain, but I do like to be able to taste the flavour of the fish and the combination used enhances the fish without over-powering it.
I used red cod, which has quite a strong flavour, so could handle the two chillies, seeds and all, but if you are using a more delicate flavoured fish, you want to use just one chilli or remove the seeds before chopping.
Because I used new potatoes, I cooked and mashed them, skin and all, but if you prefer you can peel the potatoes before boiling. Chop potatoes into 1″ cubes, put in a pan, just cover with cold water, add a teaspoon of salt and boil until soft, then drain and mash and set aside. I used the pot I cooked the potatoes in to mix up the fish cakes (saves using a separate bowl)
Sumac is a tangy, lemony spice primarily used in Middle Eastern cooking and is available in supermarkets and Asian/Middle Eastern food stores.
Be careful not to over "process" the mixture in the food processor – it should still have "bits" in it.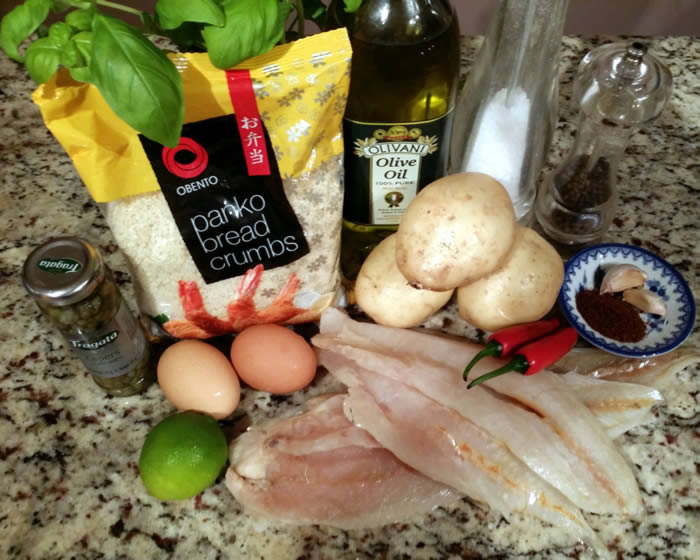 Fish Cakes with "Homemade" Tartare Sauce
(Makes 10 cakes – serves 5 as a main course or 10 as an entree)
600 grams fish fillets (roughly chopped)
600 grams potatoes (boiled and mashed – see note above)
2 cloves garlic (crushed)
Handful basil (chopped)
1 heaped teaspoon sumac
2 red chillies (chopped – including seeds)
Freshly ground salt & black pepper
2 eggs
2 tablespoons capers
1  lime (zest finely grated & use lime as garnish when serving)
Panko crumbs
6 tablespoons olive oil
Put fish, garlic, basic, sumac, chillies, salt and pepper into a food processor and process on pulse until just blended.  Add the eggs and pulse carefully until they are just mixed through.
Add the fish mixture to the potatoes, together with the capers and lime zest and mix together. Season again if necessary to taste.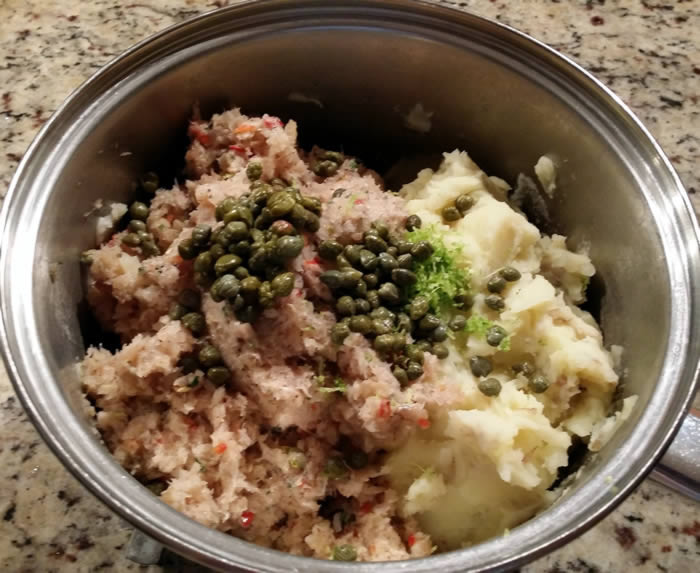 Shape the mixture into 10 cakes and then dip each cake (all sides) into Panko crumbs until well covered.
Heat half the oil in a large fry pan and gently fry half the cakes until golden, turn and fry other side the same.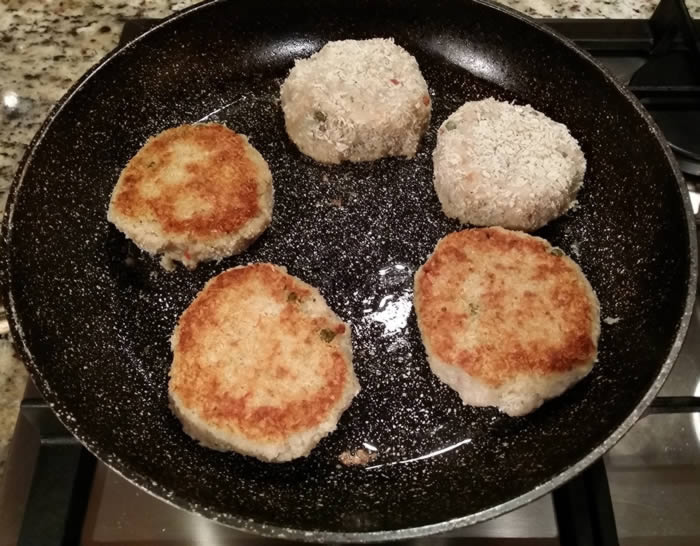 Set aside and keep warm.  Heat remaining oil and repeat cooking of the rest of the cakes.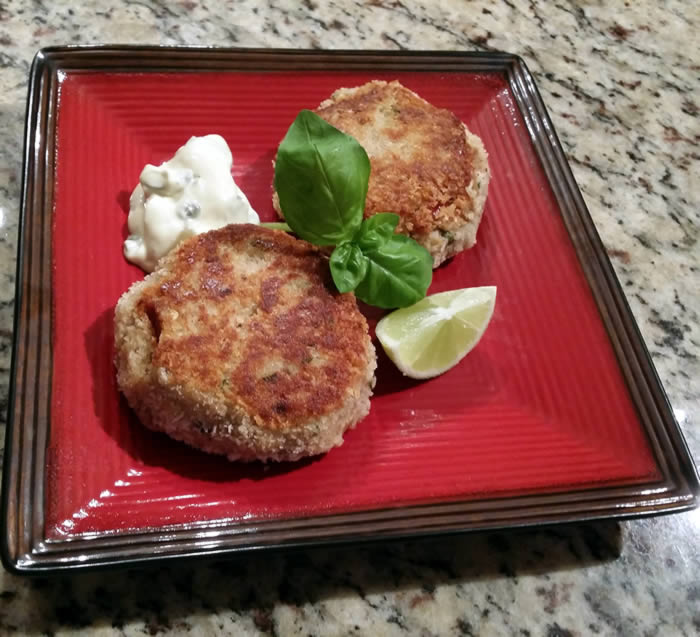 Serve with "Homemade" Tartare Sauce, garnished with basil and a lime wedge and salad or vegetables if serving as a main.
"Homemade" Tartare Sauce
(Makes 2 cups)
I use the word "homemade" loosely, as I have cheated and not everything about the recipe is homemade at all, but it's certainly far superior than any bought tartare sauce that I have tried and you don't need to tell anyone that most of the ingredients "came out of a jar" and if you use good quality mayonnaise, no one will guess.
The gherkins I used were about 2″ long each, so if you are using cornichons or smaller gherkins, increase the quantity.
I used herbs which I had growing in the garden and this combination was perfect – celery herb (lovely delicate celery flavour – like a cross between celery and Italian parsley), chives and purple basil.
1½ cups mayonnaise
1½ tablespoons Dijon mustard
1½ tablespoons white wine vinegar
8 gherkins (chopped)
3 tablespoons capers
1 red chilli (seeds removed and chopped)
5 tablespoons fresh herbs (chopped)
Freshly ground salt and black pepper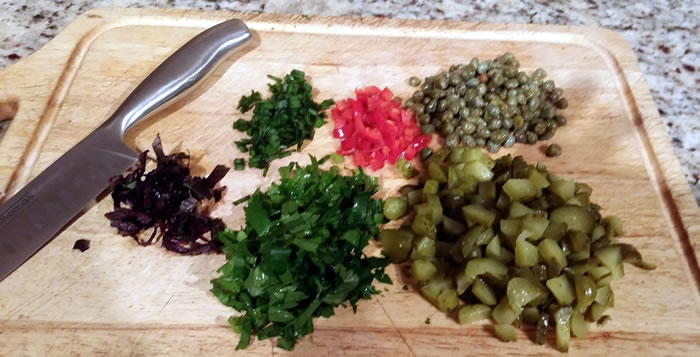 Combine in a all ingredients in a bowl.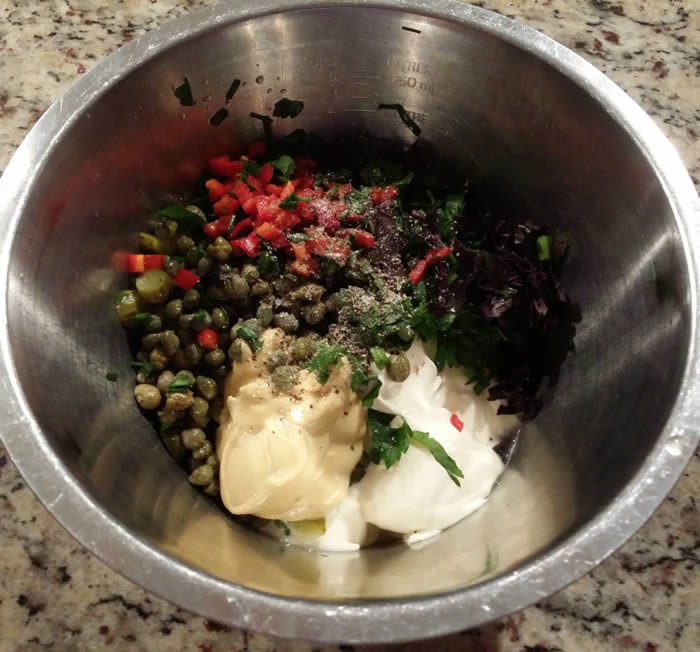 Store in an airtight container in the fridge for 2-3 weeks.