This potato dish is the best!  Easy to prepare, healthy and very more … ish!  You may want to double the quantity, but if you do, use two separate trays as they need to be spread out to cook evenly.
I don't usually use bought, pre-prepared mixes in my recipes, but have made an exception with this one, as the onion soup mix really makes this dish "the best".
I have used red potatoes, but any potatoes suitable for roasting can be used.
Best Healthy Roast Potatoes!
(Serves 4)
3 large red potatoes (cut into bite size cubes)
2 tablespoons extra virgin olive oil
1 large onion (sliced thickly)
3 cloves garlic (sliced)
1 pkt onion soup mix
Freshly ground salt & black pepper
Put potatoes in a large bowl and mix thoroughly with the olive oil, add onion and garlic and mix again, then finally mix in onion soup mix, salt & pepper. Line a oven tray with baking paper and spread the potato mixture evenly on it.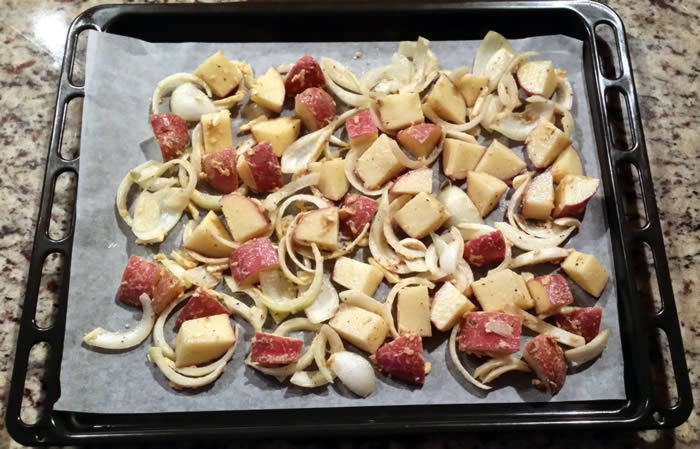 Bake at  210°C for 30 minutes or until nicely browned.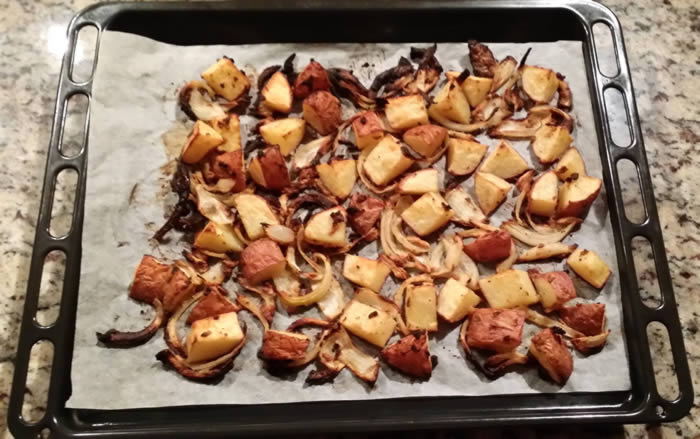 Serve immediately as a side dish or as part of a tapas selection.