This is a simple, healthy and impressive way to serve this delicious selection of fresh vegetables. I have again used one of my favourite spices ras-el-hanout to give this dish it's distinctive North African flavour.
Just assemble it as shown below and serve warm – it doesn't have to be piping hot.
Toast pumpkin seeds the same way as described for sesame seeds in my Ginger Beef recipe >>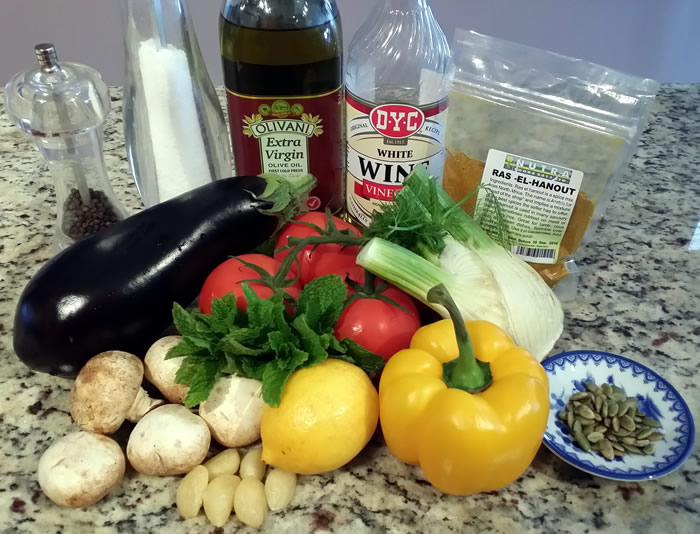 Panfried North African Vegetables
(6 – 8 servings)
Olive oil
Freshly ground salt & black pepper
1 fennel bulb (sliced)
1 yellow capsicum (sliced)
100 grams button mushrooms (quartered)
Finely grated zest of one lemon
6 cloves garlic (crushed)
1 large eggplant (sliced)
1 tablespoon ras-el-hanout
Small bunch fresh mint leaves (roughly chopped)
3 large vine tomatoes (thickly sliced)
3 tablespoons white wine vinegar
1 tablespoon toasted pumpkin seeds
Heat 4 tablespoons of oil in a large fry pan and add fennel, capsicum, mushrooms, lemon zest, garlic salt and pepper and fry gently.
When fennel and mushrooms are soft and lightly browned, remove from pan and keep warm.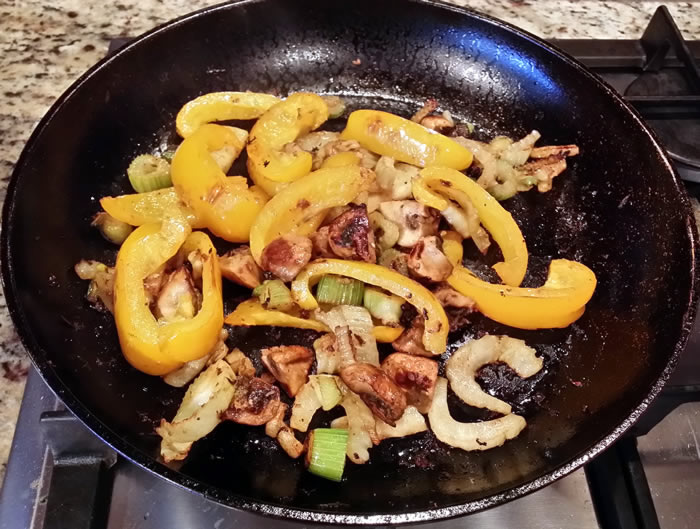 Heat another 6 tablespoons of oil in the fry pan. Season eggplant well, sprinkle with ras-el-hanout and gently fry for 15 minutes on one side, turn, adding an extra 4 tablespoons of oil.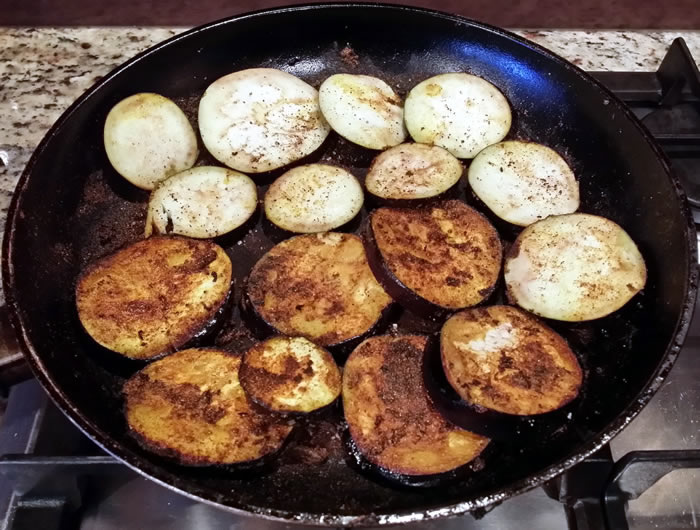 Arrange eggplant on serving dish and top with half of the chopped mint.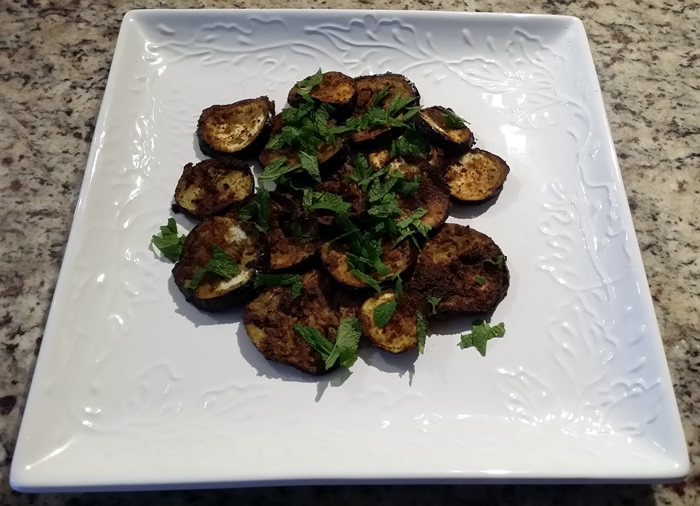 Put capsicum mixture on top.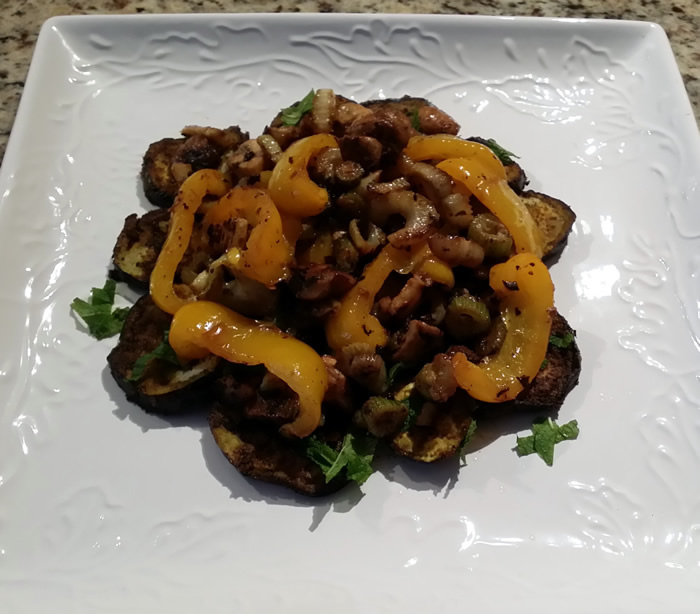 Meanwhile heat another 4 tablespoons oil and add seasoned tomato slices, gently frying for a few minutes on each side.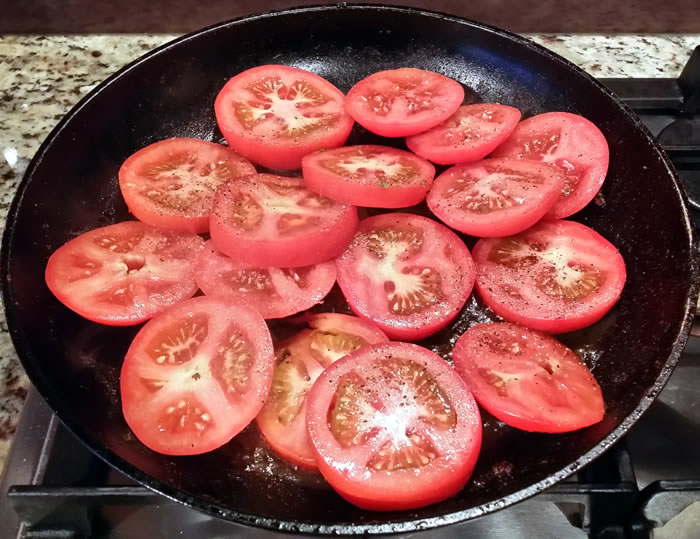 Add tomatoes to serving dish, sprinkle with vinegar and top with remaining mint and pumpkin seeds.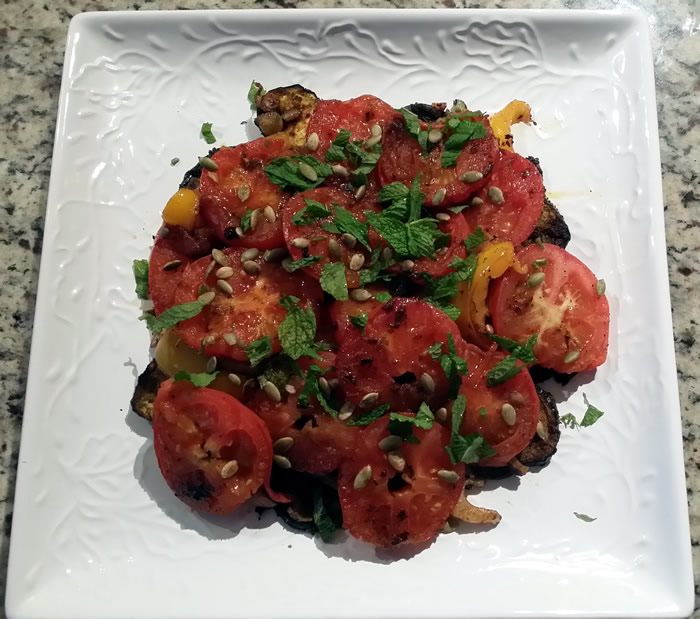 (Pictured below served with a seared tuna steak)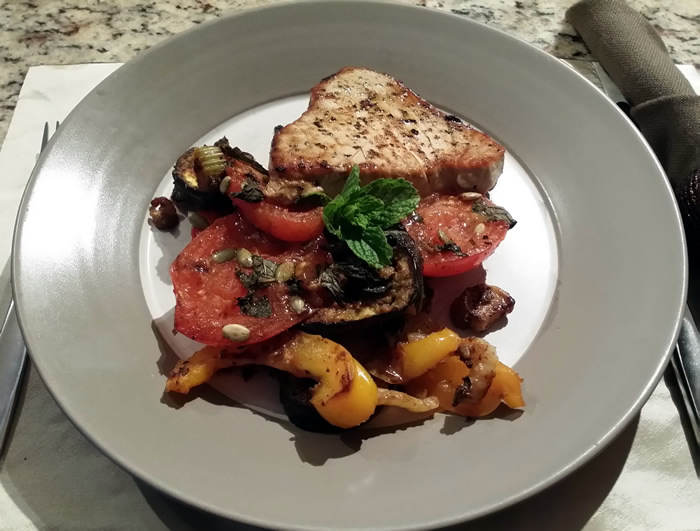 Serve hot or at room temperature garnished with a sprig of mint.