This really should be called Ginger Beef with Caramelised Chilli Onions & Toasted Sesame Seeds – a wonderful, healthy way to cook beef, with every mouthful providing an explosion of exciting flavours. Use fillet, sirloin or rump steak very thinly sliced or ready sliced schnitzel for a more economical option, although even the best cuts are going to be "easy on the pocket" because of the small quantity required.
While your meat and vegetables are marinating you can get on with making the caramelised chilli onions and toasted sesame seeds – you can make larger quantities of both of these, as the onions will keep for a few days in the fridge and the sesame seeds will keep well for a good period in an airtight container. I have used red onions mainly because of their colour, but  brown onions taste just as good. I have a little, heavy, cast iron frypan that I use for toasting seeds, spices and small quantities of nuts.  Simply spray the pan with vegetable oil and heat it on high until the oil sizzles, then add the sesame seeds.  Stir constantly and turn the heat off after a couple of minutes and continue stirring until the seeds are browned evenly – a bit messy as they tend to pop out of the pan as they toast, but worth it!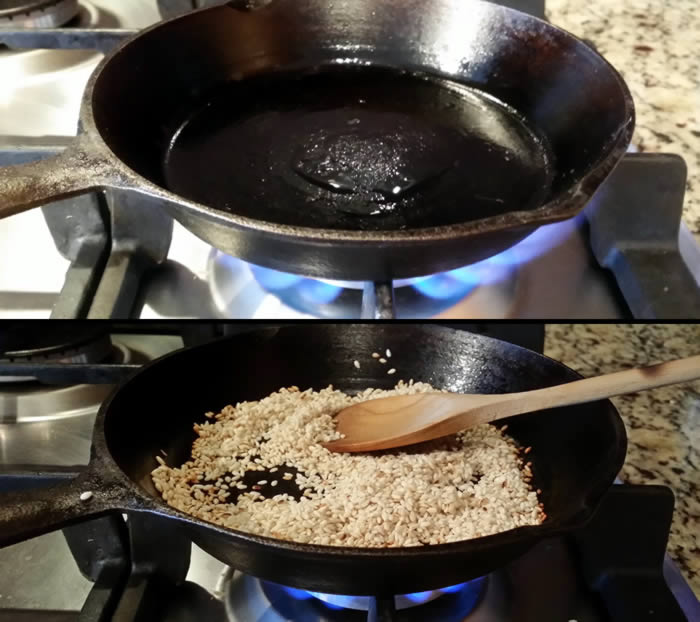 I used pak choy, but this could be substituted for other similar asian greens, 2 green capsicums (chopped into chunks) or a small head of broccoli (cut in small pieces).  I have fresh lemongrass growing in my garden, so used that, but you could use frozen lemongrass stalks or even preserved, chopped lemon grass.  If using fresh lemongrass, just use the stalk and remove any dry outer layers, bash and chop finely.  I have seen some recipes suggest that lemon zest can be used as a substitute, but I just don't think it is the same as lemongrass has a very unique sweet, lemony flavour which is quite different from lemon zest.
You can use wheaten cornflour in this dish, but using maize cornflour makes the dish gluten-free – a plus if you have guests coming that are on a gluten-free diet, or you are maybe unsure of your guests dietary restrictions.
I use one large wok to prepare the dish (apart from the toasted sesame seeds) and there is no need to clean it between steps as all the flavours end up together anyway.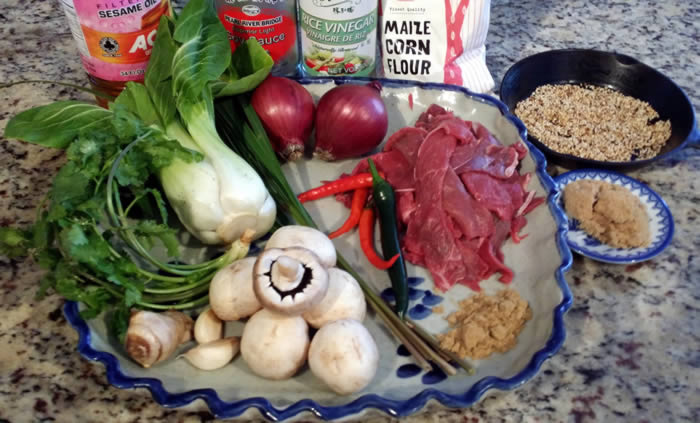 Ginger Beef
(Serves 3 for dinner – 4 for lunch)
6 mushrooms (quartered)
1 teaspoon ground coriander
MEAT
350 grams Beef (thinly sliced)
1 tablespoon maize cornflour
2 tablespoons sesame oil
2 tablespoons light soy sauce
2 cloves garlic (crushed)
Mix all ingredients thoroughly in a bowl and set aside for 30 minutes to marinate.

GREEN VEGETABLES
1 pak choy (thinly sliced)
1 piece of ginger (3 cm diameter – peeled and matchstick sliced)
1 bunch coriander (chop stalks finely and set aside chopped leaves to use later)
1 green chilli (thinly sliced)
4-6 lemongrass stalks (finely chopped)
2 tablespoons rice wine vinegar
1 teaspoon soft brown sugar
1/2 teaspoon salt
Mix all ingredients thoroughly in a bowl and set aside for 30 minutes to marinate.
CARAMELISED CHILLI ONIONS
1 tablespoon sesame oil
2 red onions (sliced)
3 red chillies (sliced longways into thin strips)
1 tablespoon rice wine vinegar
1 teaspoon soft brown sugar
1/2 teaspoon salt
2 tablespoons sesame seeds (toasted)
Heat the oil and add the onions and chillies and saute until soft, stirring regularly for about 15 minutes. Add vinegar brown sugar and salt and continue to saute, stirring regularly until they are caramelised – about another 15 minutes.  Remove from wok and set aside.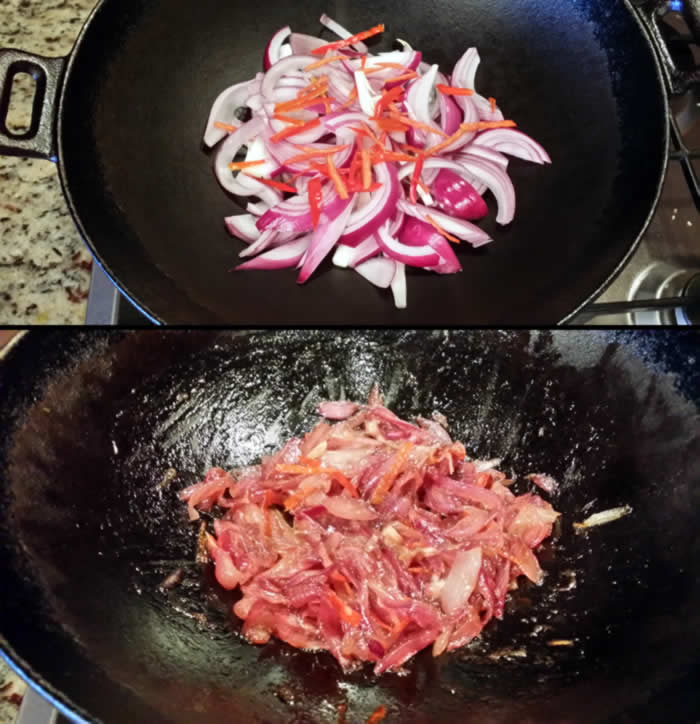 Add the marinated steak to the wok, one piece at a time and turn so they brown evenly for 2-3 minutes each side.  Remove from wok and set aside.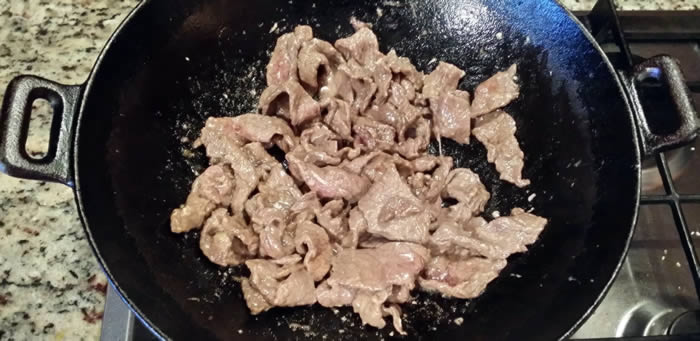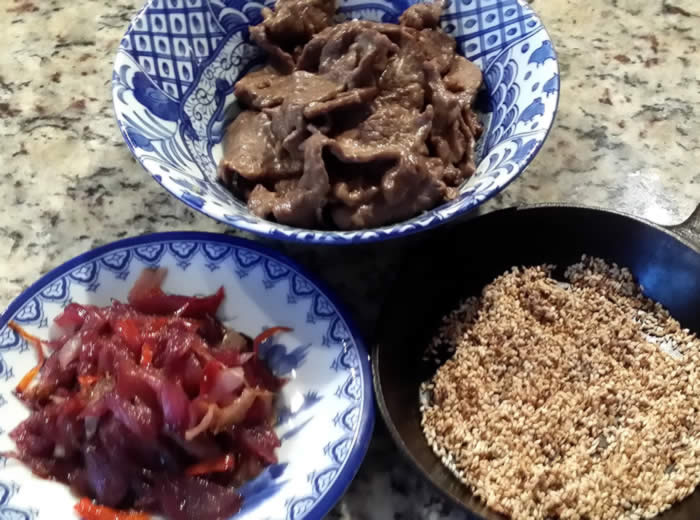 Add ground coriander to wok and brown gently, stirring to pick up any juices left from the meat, then add the vegetables that have been set aside and the mushrooms.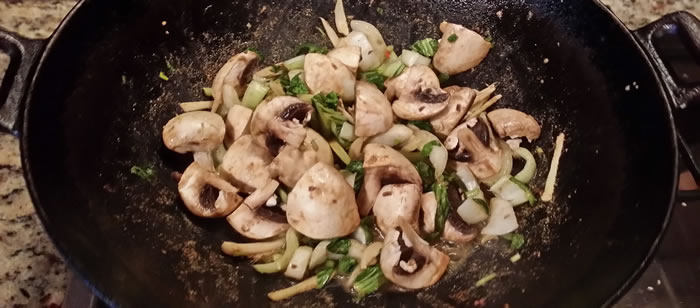 Stir fry for five minutes, then add the beef and stir until heated through.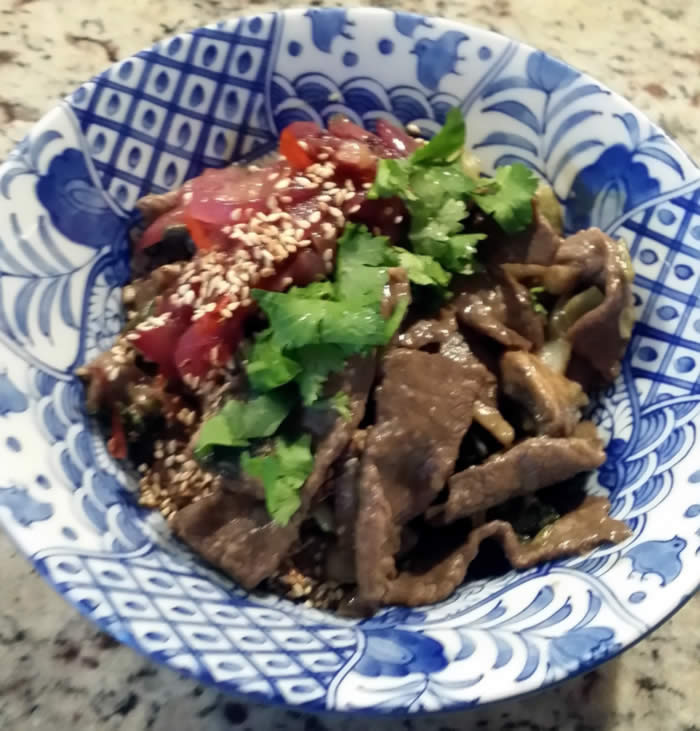 Garnish with toasted sesame seeds and chopped coriander. Serve with caramelised chilli onions, together with rice or Asian noodles.