You won't feel guilty after eating this pasta, and the wonderful fusion of the caramelised onions and fresh herbs make up for any of the naughty ingredients usually found in pasta dishes. It also costs next to nothing to make!
I've used dry spiral pasta, but any of your favourite pasta (dry, fresh or gluten-free) will work just as well.  Cook the pasta towards the end of making the rest of the dish so that it is still hot when you combine it with the vegetables to serve.
Caramelising onions does take time, but it's worth it and the broccoli and mushrooms should also be well cooked to maximise all the flavours – forget al dente for this dish!
Make sure your broccoli is very fresh, then you can use the stalks as well and they won't be chewy.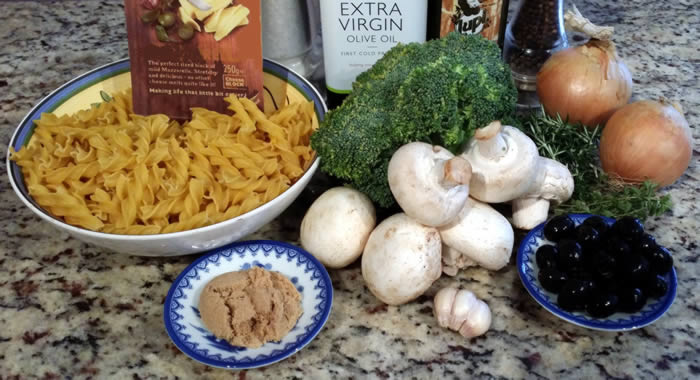 Balsamic Mushroom & Broccoli Pasta
(Serves 4)
250 grams pasta (cooked as per instructions and tossed with 1 tablespoon extra virgin olive oil)
3 tablespoons extra virgin olive oil
2 large onions (sliced)
3 cloves garlic (crushed)
1 tablespoon soft brown sugar
⅓ cup balsamic vinegar
Few sprigs each of fresh rosemary and Italian thyme (finely chopped)
1 head broccoli (cut into small pieces)
6 large mushrooms (sliced)
Freshly ground salt & pepper
2 heaped tablespoons pitted black olives
Shavings of parmesan cheese
Heat the oil in a large frypan and gently saute the onions for at least 15 minutes, stirring occasionally until they are opaque (don't let them brown). Add the garlic, brown sugar, vinegar and herbs and continue to saute for another 15 minutes until nicely caramelised. Add the broccoli, stir through and cook gently for 10 minutes, then add the mushrooms and continue cooking for a further 10 minutes.
Season generously with salt and pepper, then stir through the olives and pasta. Served immediately topped with shaved parmesan cheese and a sprig of rosemary or thyme.
Seriously good, full of flavour, guilt-free pasta and it really doesn't need to be served with anything else!