If you love pizza but don't love what it does to your waistline? Well here is the answer and believe me you won't miss that fattening pizza dough!
I used a cauliflower that I actually grew myself, planted six and ended up with only two, but they were perfect and tasted so much better than "bought ones".
The secret to the base is to make sure that you squeeze out as much excess water as you can from the cauliflower once it's cooked, so you will need to allow time for it to cool down a bit so that you can do this.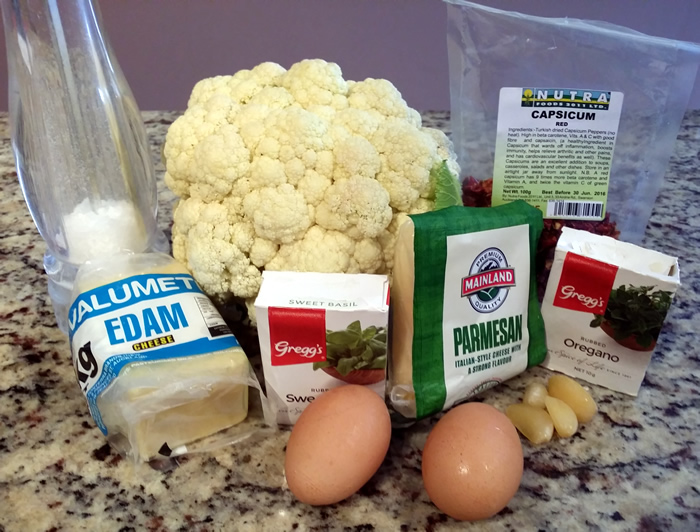 Cauliflower Pizza Base
(makes enough for one good-sized pizza)
1 large cauliflower (cut into small pieces)
1 cup edam cheese (grated)
½ cup parmesan cheese (finely grated)
1 teaspoon each dried basil leaves, oregano flakes and capsicum flakes
4 cloves garlic (crushed)
2 teaspoons almond meal
½ teaspoon freshly ground rock salt
2 eggs
Pulse cauliflower in food processor until it forms fine crumbs then microwave covered on high power for 5 minutes. Allow to cool enough to squeeze out excess water using a clean tea towel or muslin cloth.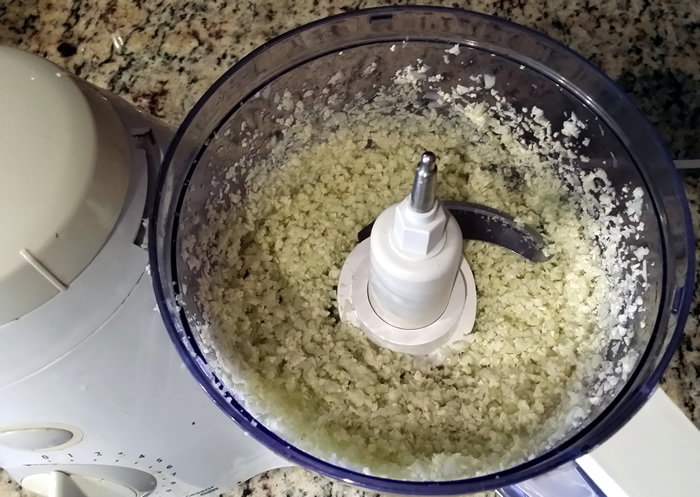 Mix cauliflower thoroughly with all remaining ingredients.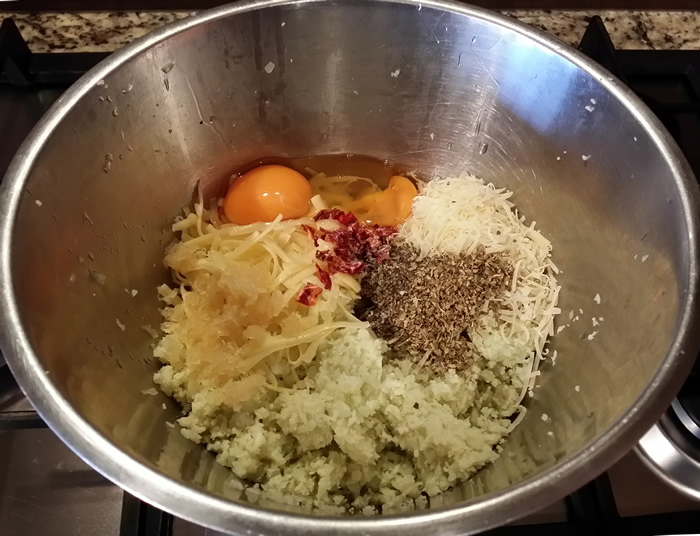 Put pizza stone in oven and heat to 230° C for 10 minutes. Meanwhile spread pizza base onto baking paper sprayed with olive oil and transfer to pizza stone and bake for 8-11 minutes until it is starting to brown.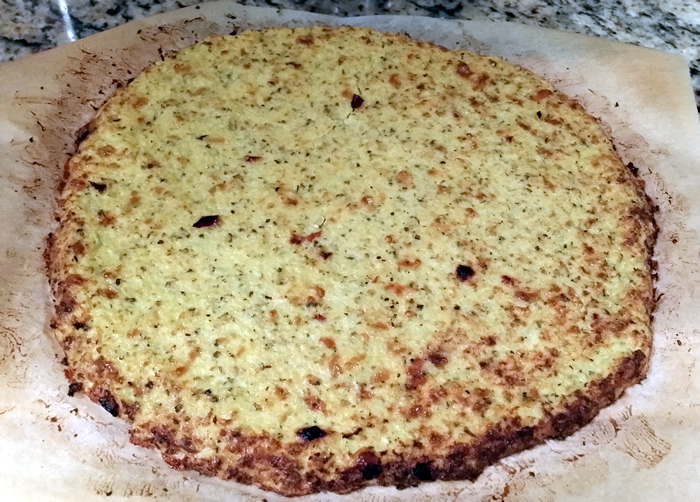 ******************
I started preparing this sauce while the base was cooking so that I could leave the pizza stone heated in the oven to use to complete the pizza – have it heated to 220° C for the final stage.
The following is a basic pizza sauce recipe which you can use on your pizza and add whatever else takes your fancy to make a delicious, healthy pizza. I've used fresh asparagus and salmon pieces, topped with a mixture of grated edam and parmesan cheese and a good grinding of fresh black pepper.
I've used pizza thyme in the sauce, but you could use plain thyme or even rosemary for a slightly different flavour.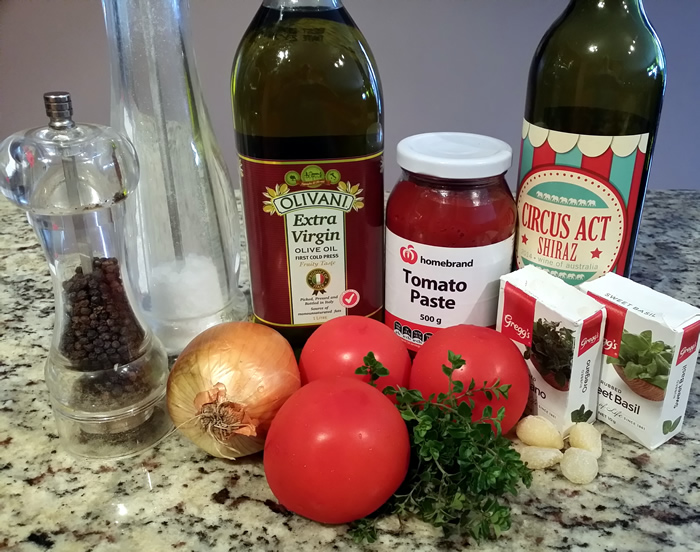 Homemade Pizza Sauce
(enough for one Cauliflower Pizza Base)
1 tablespoon olive oil
1 onion (chopped)
3 large vine tomatoes (chopped)
1 tablespoon tomato paste
1 teaspoon each dried basil and oregano flakes
1 bunch pizza thyme (strip leaves off stalks apart from tender new growth on top)
1 teaspoon freshly ground rock salt
1 tablespoons red wine.
Blend all ingredients together in a food processor, then simmer on high heat until reduced and thick, stirring regularly, which will take about 30 minutes.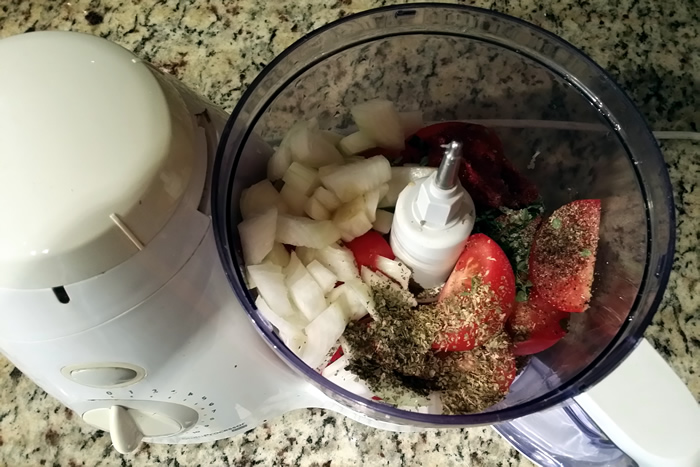 Spread half the pizza sauce on the base, then add your choice of fillings and top with remaining sauce.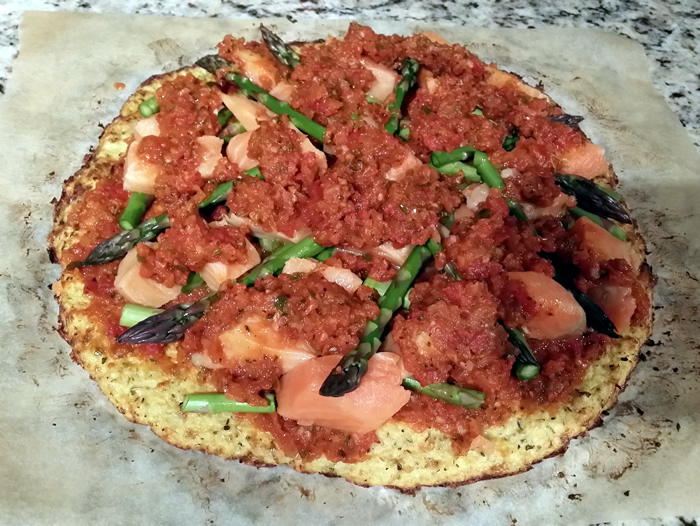 Sprinkle liberally with cheese/s of your choice.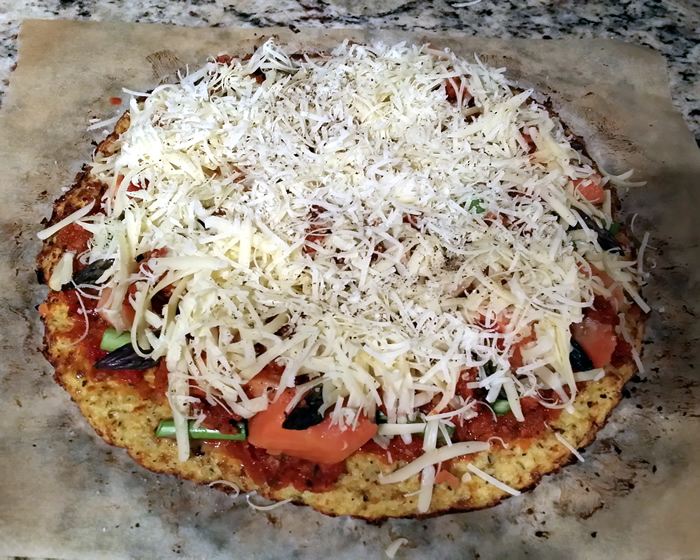 Put back on the pizza stone in the oven at 220° C for 8 minutes.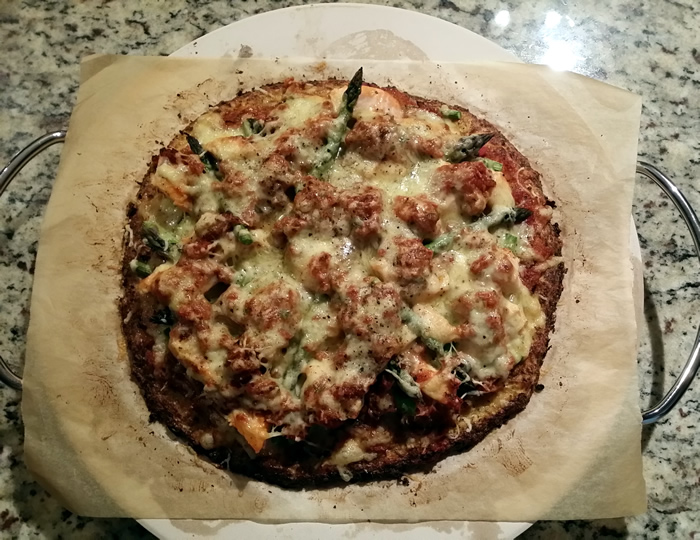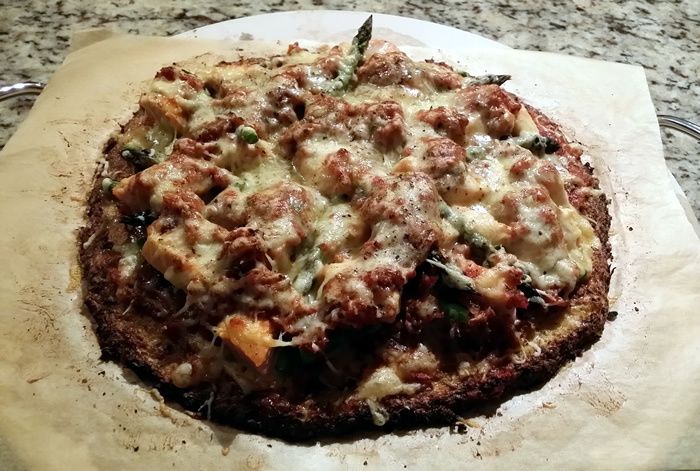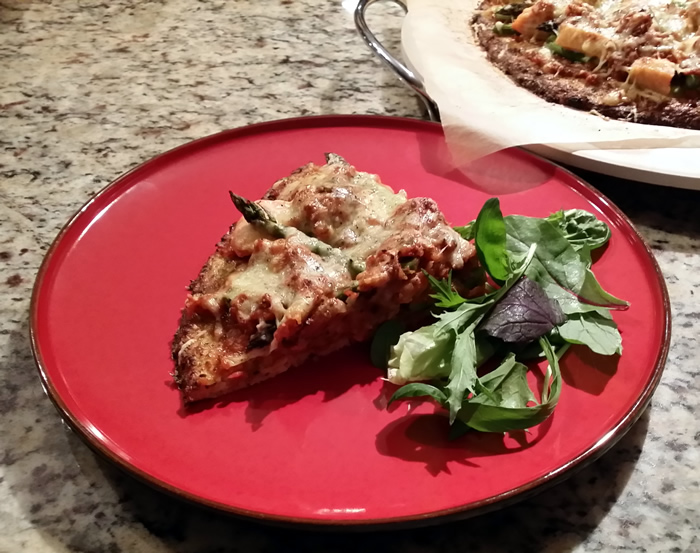 Serve immediately with a dressed green salad.