This recipe is quick, easy and healthy, taking just a few minutes to prepare and 15 minutes to cook. The wonderful spicy, lemony flavour works well with any fish and is perfect served with Kohlrabi Risotto >>
Spiced Baked Fish
(Serves 2 as a main course or four as an entree )
500 grams fish fillets
2 lemons (sliced with pips removed)
6 tablespoons olive oil
1 heaped teaspoon ground cumin
1 heaped teaspoon paprika
½ teaspoon ground tumeric
½ teaspoon each freshly ground salt & black pepper
Small bunch coriander (chopped)
Put fish in a large dish with the oil, spices, salt, pepper and coriander and completely coat the fish (best to use your hands).
Line an oven dish with baking paper and half the lemon slices.
Lay the fish on the lemon slices then place the remaining lemon slices on top.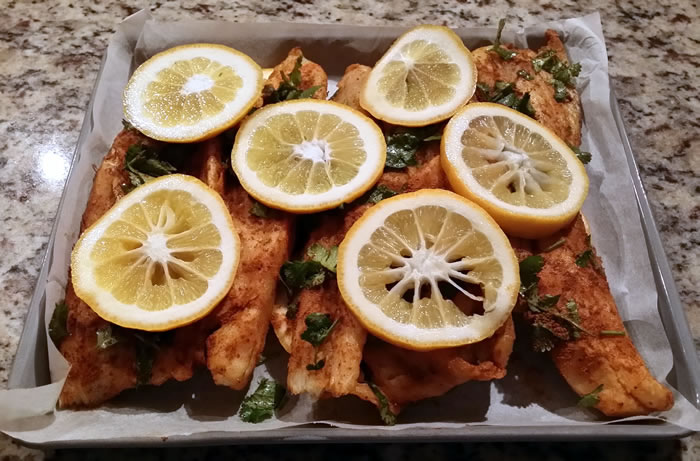 Cover with tin foil and bake at 180°C for 15 minutes.
Pictured below served with a sprig of fresh coriander and Kohlrabi Risotto >>
Serve immediately garnished with a lemon slice from the baking dish.