Not pancakes as you know them, but a delicious meal and interesting way to serve fish – perfect as a lunch dish or light, dinner main course.
I use the term Korean loosely, as this is my twist on Korean Pancakes, which would more commonly be made with a handful of shrimps and spring onions, but I've used a "bucketful" of fish pieces and red onion slices, hence the deconstructed (too much filling, so impossible to flip in one piece), but they taste great and that's what counts the most!
This recipe makes two large pancakes – the first I made by putting the batter in first and the second I made putting the vegetables and fish in first – I quite liked the combination of the two as the onions were browned in the second one that ends up on top, but if you want the end result to look more like pancakes, make both by putting the batter in first.
Use GF flour instead of high grade wheat flour to make this dish gluten free.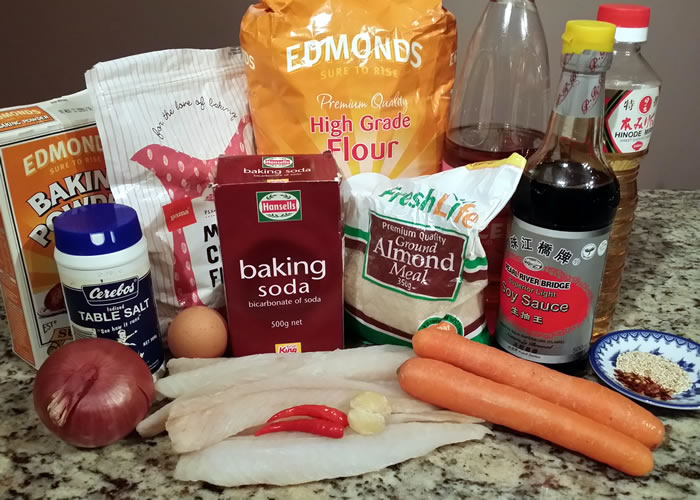 Deconstructed Korean Fish Pancakes
(4 servings)
1 cup cold water
1 egg
2 cloves garlic (crushed)
2 red chillies (chopped)
¾ cup high grade flour
¼ cup almond meal
2 tablespoons cornflour
¼ teaspoon baking powder
Pinch of baking soda
1 teaspoon salt
2 tablespoons sesame oil
500 grams fish fillets (cut into small chunks)
2 carrots (grated)
1 red onion (finely sliced)
3 tablespoons sesame oil
——————–
Dressing
2 tablespoons light soy sauce
3 tablespoons mirin
2 teaspoons water
1 teaspoon sesame oil
½ teaspoon dried chilli flakes
1 teaspoon toasted sesame seeds
Mix all ingredients together.
——————–
Blend together in a food processor or bullet, the egg, water, chilli and garlic. Gradually add the rest of the dry ingredients and blend until it forms a smooth, thick batter.
First method
Heat 1 tablespoon of oil in a large fry pan and pour in half the batter.
After a couple of minutes on medium heat, add half of the carrot and fish.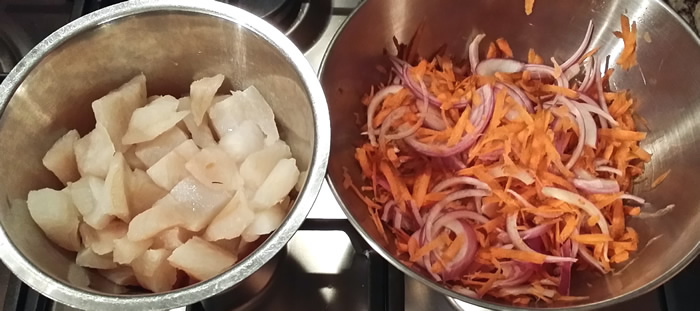 Cook until batter is completely set.
Flip and cook the other side until fish and batter is cooked (about 5 minutes). Transfer to a large serving dish and keep warm in the oven.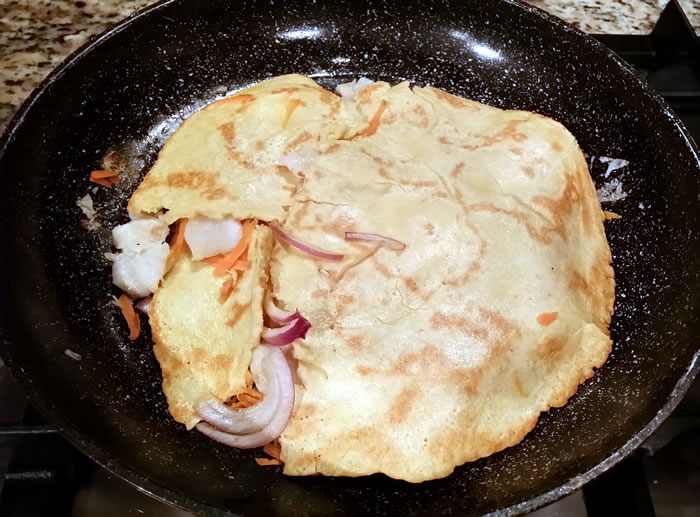 Second method
Heat 1 tablespoon of oil in a large fry pan and add the remaining carrots and onions and gently fry for 5 minutes.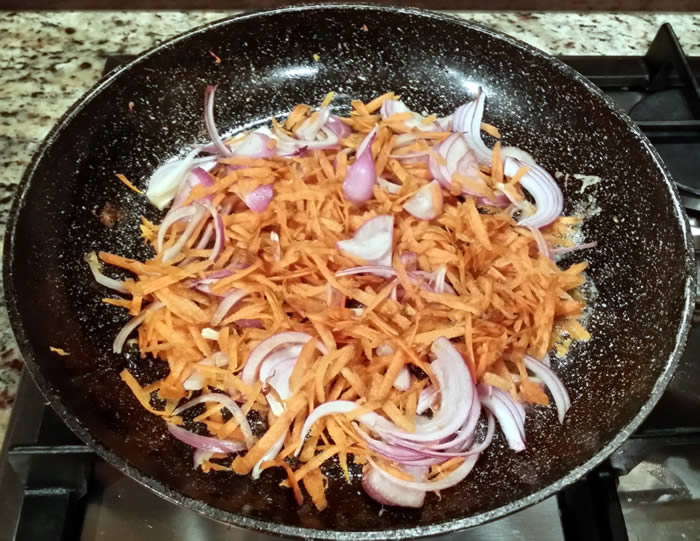 Add the remaining fish.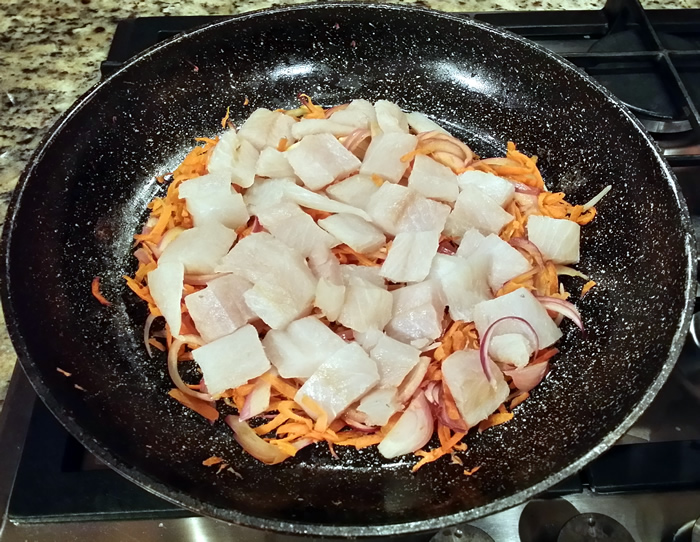 Pour over the remaining batter.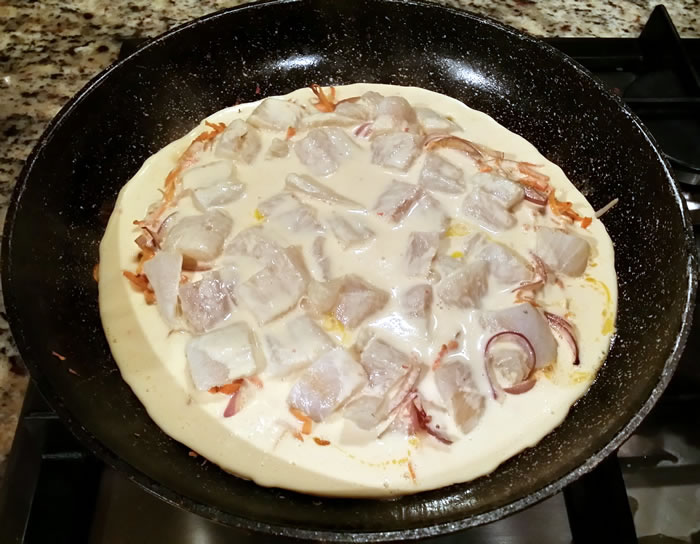 When the batter is set, flip the pancake over.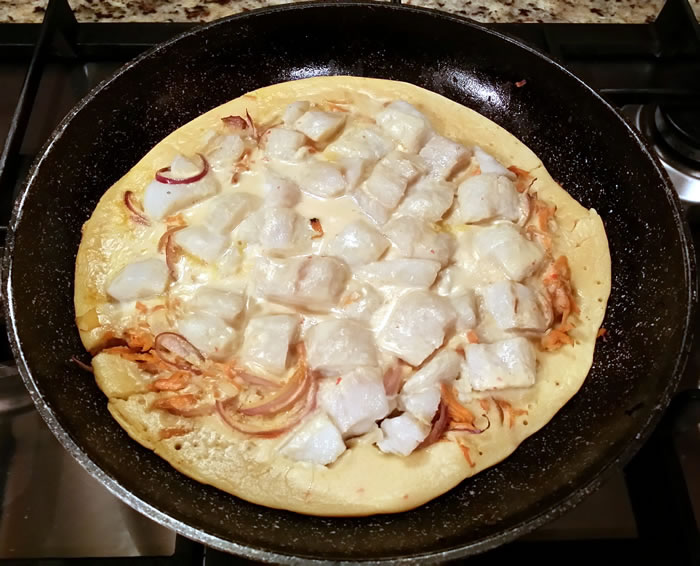 Fry until the fish and batter is cooked (about 5 minutes).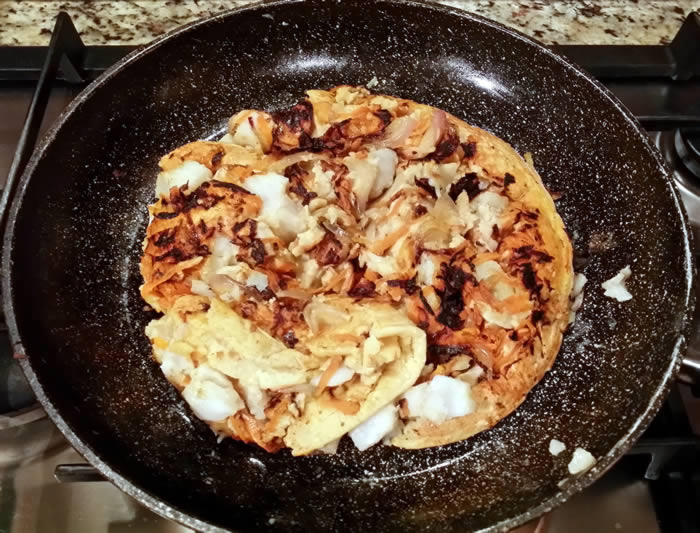 Transfer this pancake onto the top of the other one.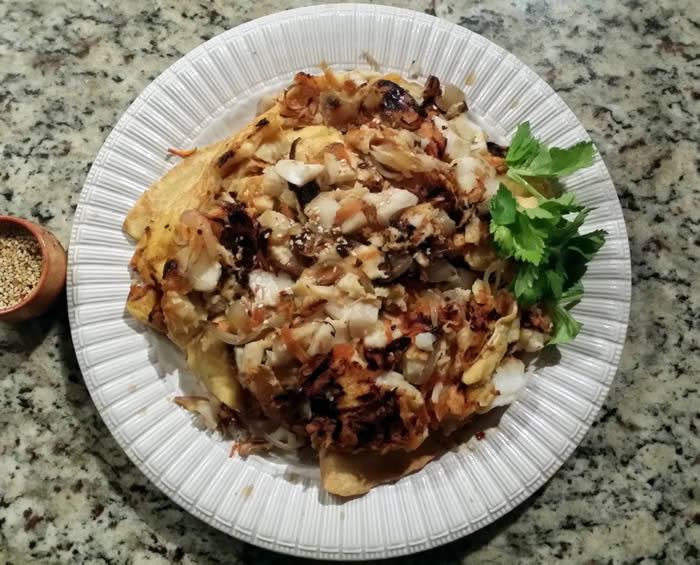 Drizzle a couple of tablespoons of the dressing over the fish and serve immediately with the remaining sauce on the side.