A perfect way to use up left-over cooked chicken – last night's leftovers can become today's lunch!  I used left-over roast chicken which I purchased from the supermarket deli for a quick dinner the previous night.  Penne pasta was my choice for this dish, but macaroni or any pasta you prefer will work equally well.  If you haven't got baby silverbeet growing in the garden like I have, cut the ribs out of a few large silverbeet leaves or use spinach if you prefer.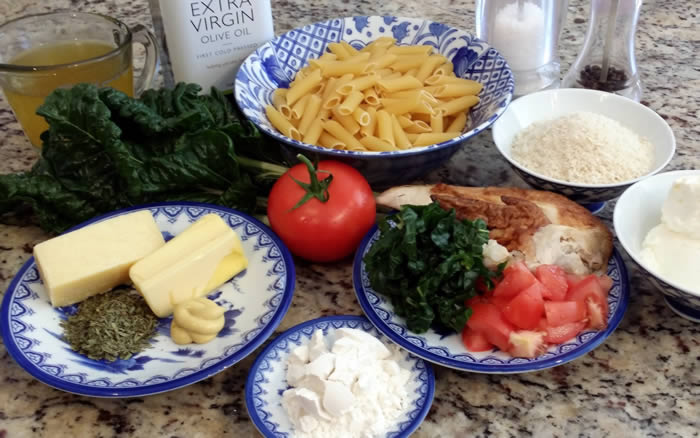 Tarragon Chicken Pasta Bake
(Serves 6)
250 grams pasta (cooked al dente and drained)
375 grams cooked chicken (diced)
2 large tomatoes (diced)
Bunch of baby silverbeet leaves (leaves and stalks finely sliced)
50 grams butter
1 heaped tablespoon flour
300 mls chicken stock
2 teaspoons dried tarragon
2 teaspoons Dijon mustard
1 cup lite sour cream
50 grams parmesan cheese (finely grated)
1 cup panko crumbs
¼ cup olive oil
Freshly ground salt & black pepper
Melt butter over low heat and stir in flour until it becomes a smooth paste, then slowly add chicken stock stirring until thickened. Continuing to stir, add tarragon, mustard, sour cream, half of the parmesan and season to taste. Put the pasta, chicken, tomatoes and silverbeet in a large mixing bowl, add the sauce and stir through gently, but thoroughly. Transfer the pasta mixture to a large, more shallow than deep, greased casserole dish. Season the panko crumbs well with freshly ground salt & pepper, mix together with remaining parmesan and olive oil and spread over the top of the pasta. Bake at 200°C for 20 minutes.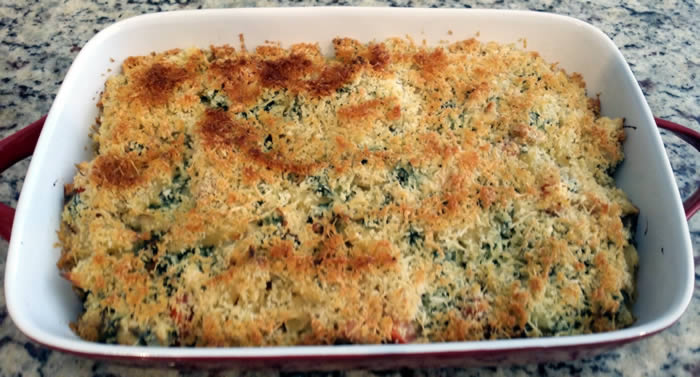 Perfect, casual lunch dish served with a green leaf salad doused with olive oil vinagrette or crusty french bread.  Make sure you completely cover the pasta with the crumb topping because any exposed pasta will become tough and chewy when baked otherwise.