This is such a simple and tasty way to serve tofu and great as a party nibble, entree or main course dish. I have used my own home-made sauces and used two (Persimmon & Plum Sauce) so that there were two different flavours to make it more interesting, but you can use whatever sauce/s or marinade/s that you prefer.
It is really important to press out as much of the water content of the tofu as possible and may need to replace the paper towels a couple of times to ensure this happens. I believe there is something you can buy which is made for this purpose, but I don't have one so just had to resort to paper towels, a plate and my heavy marble spice grinder.
I finished mine off with freshly ground salt and black pepper and some chopped parsley to serve, but if you sauce is quite salty or peppery, you may not need this or may prefer to use salt and paprika or something spicier and whatever herb will compliment your marinade.
Marinated Baked Tofu
600 grams firm tofu
⅔ cup sauce/s (or ⅓ cup each sauce)
Vegetable oil spray
Press tofu to remove as much excess water as possible (see directions above).
Cube tofu and gently combine with the sauce/s, being careful to completely cover it without breaking it up and leave to marinate for at least 15 minutes up to 2 hours.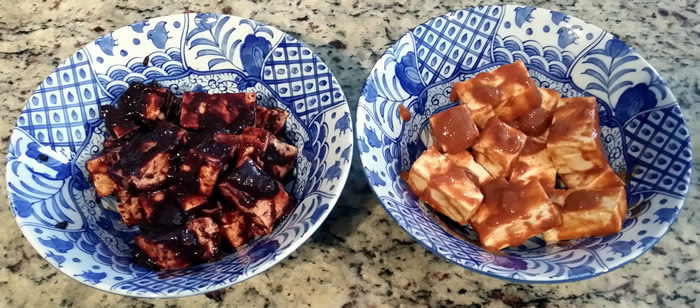 Line oven proof tray/s with baking paper, spray with oil then carefully place tofu on top and lightly spray with oil again. Bake at 200° C for 20 minutes, then turn, spray lightly and bake for a further 20 minutes.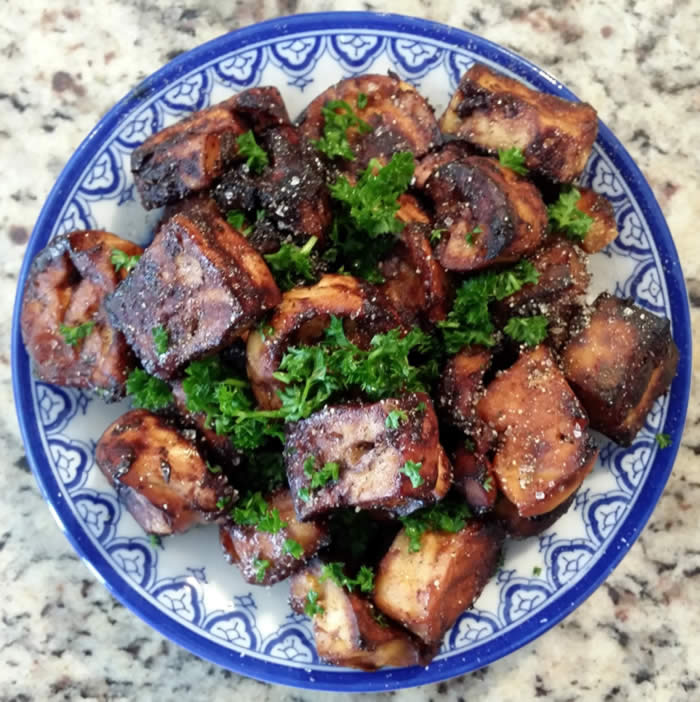 Serve hot or at room temperature with your preferred spices and garnish.