Crunchy, delicate flavoured, lotus root is an edible rhizome (root) of lotus plant and has numerous health benefits.  I have used frozen, sliced lotus root as it is not readily available fresh in New Zealand, but if you can source fresh … even better!
Sumac is a tangy, lemony spice primarily used in Middle Eastern cooking and is available in supermarkets and Asian/Middle Eastern food stores. Sumac can be sprinkled on any dish on which you might squeeze fresh lemon juice.
Serve this as a healthy snack instead of chips or peanuts, or as an interesting side dish or even a garnish on fish, chicken, steak or mash.
This dish takes just a few minutes to prepare, is healthy, full of flavour and once cooked can be eaten hot or at room temperature.
Roasted Lotus Root
(Serves 4/6 as a side or 8 as a snack)
300 grams frozen, sliced lotus root (thawed)
4 tablespoons sesame oil
1½ teaspoons sumac
1 teaspoon dried basil
1 teaspoon ground cumin
Freshly ground salt and black pepper
1 heaped tablespoon toasted sesame seeds
Mix all ingredients, except sesame seeds, together in a large bowl (using your hands is the most effective way to do this).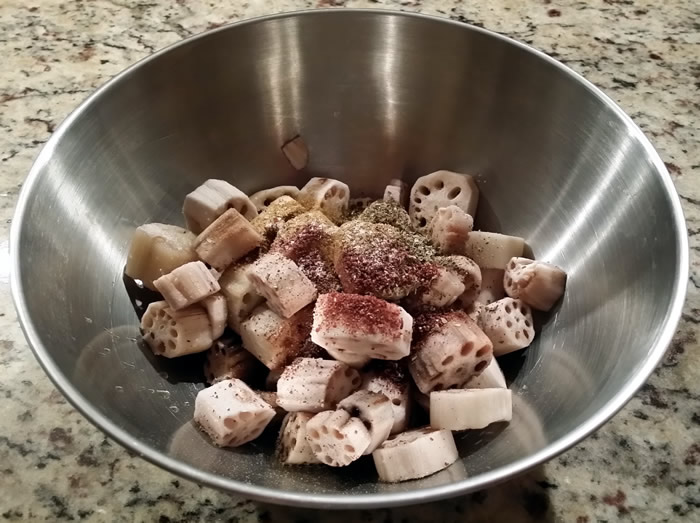 Line a an oven proof tray with baking paper and spread out the lotus root evenly.
Bake at 175°C for 30 minutes.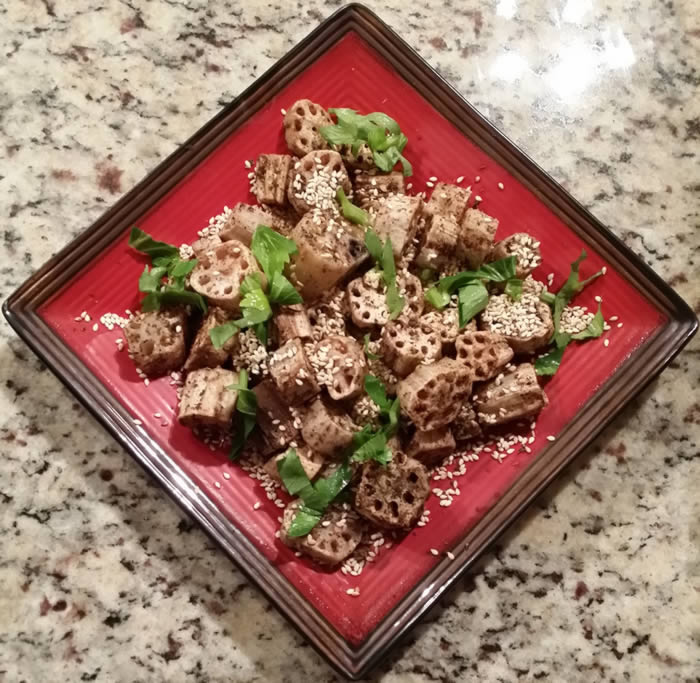 Sprinkle with the sesame seeds (and some chopped fresh coriander or parsley) and serve immediately.