A wonderful, flavoursome, healthy summer soup that is served chilled. I like to use fish stock (must confess though that I did cheat and use Simon Gault's), but chicken or vegetable stock will work well also. Large vine tomatoes are quite easy to peel uncooked if they are well ripened. It's not necessary to peel them as it doesn't alter the taste, the end result just looks a little nicer.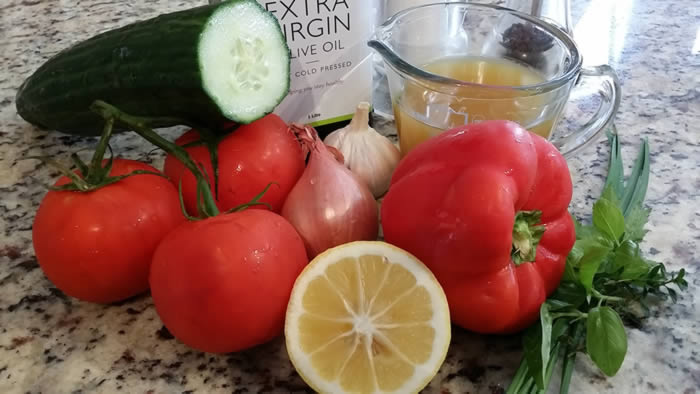 Making your own croutons is so simple, and they taste so much better than bought ones.  For this recipe, cut the crusts off 3 toast slices of wheatmeal bread.  Spray a baking tray with olive oil, then spray the 3 slices both sides with olive oil, cube and put in the tray, spray again with olive oil, then use the grill/bake function on your oven at 180c degrees, and grill/bake, lower than the usual grill placement, for about 10 minutes.  Turn oven off and leave in there to cool and crisp up.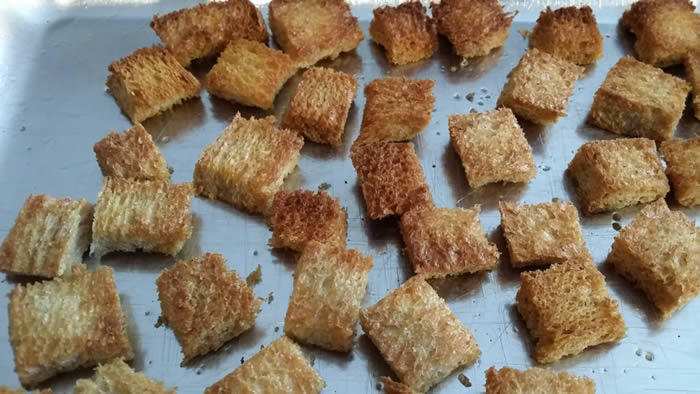 Gazpacho
(Serves 6-8)
1 large red capsicum
6 large ripe tomatoes (skinned if preferred)
1 cup good quality extra virgin olive oil
2 cups of chilled fish stock
2 cloves garlic (crushed)
Juice of 1 lemon
1/2 cup mixed chopped fresh herbs (eg. basil, chives, thyme, parsley)
1 shallot (finely diced)
1/2 large soft skinned cucumber or 6 lebanese cucumbers (diced)
Freshly ground salt & pepper
2 cups croutons
Tabasco Sauce to serve
Combine capsicum, tomatoes, olive oil, fish stock, garlic, lemon juice and fresh herbs in a food processor and blend until smooth (you may have to do this in two lots). Make sure this is very cold (put in fridge if it's not until you are ready to serve it). Pour into bowls and add the shallots and cucumber to each bowl. Top with croutons and season generously with salt & pepper. Serve with Tabasco sauce on the side so your guests can add to their taste.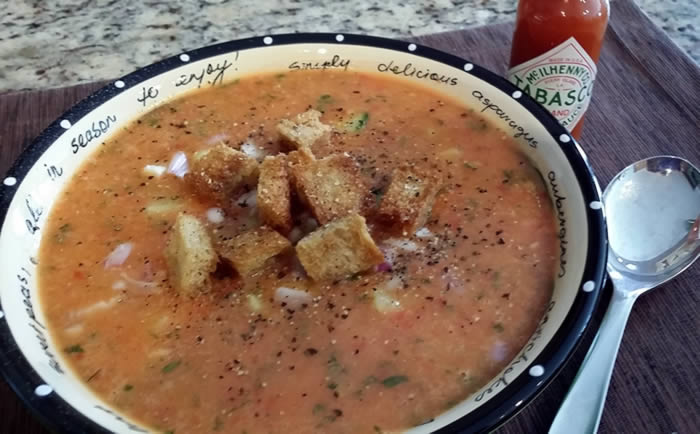 Because no seasonings have been added during the making of the soup, it is important to be generous with the salt and pepper before serving otherwise the soup will taste a little bland. If you want to make it a little more "up market" add some cooked prawn meat to the soup with the shallot and cucumber, and add a one or two cooked prawn cutlets with the croutons to garnish. A perfect starter for a summer BBQ meal or light lunch dish.